Print Options:
warm butternut chickpea salad: destined to be loved!
Yields
8 Servings
Prep Time15 mins
Cook Time3 hrs
Total Time3 hrs 15 mins
This Warm Butternut Chickpea Salad makes a lovely meal or a satisfying side. Chickpeas and butternut squash combine perfectly together to create a nourishing, comforting salad. Because of its plentiful quantity, it is also perfect for your holiday table. You will see that this dish calls for plenty of mild curry powder and quality cinnamon. If you are working with a smaller squash (about 3 lbs), you can reduce the amount of curry powder for the squash to 1.5 tablespoons and cinnamon to 1.5 teaspoons. I would not recommend tinkering with the curry power for the chickpeas, however, because they benefit from a greater flavor. As you will also see, the Warm Butternut Chickpea Salads wants you to pour plenty of olive oil. While I've tried using less, butternut squash and chickpeas are quite dry and bland without it. Put simply, these two vegetables soak up the healthy olive oil. Note also that the recipe asks you to dice butternut squash quite finely, in half-inch cubes. To accomplish that, we used Breville Sous Chef Peel & Dice Countertop Food Processor.
If you are working with pre-cooked chickpeas, the entire dish will take about 50 minutes. That includes passive cooking time. I strongly recommend, however, that you use dry chickpeas. And if do, I would add onion, 3 garlic cloves and 1 bay leaf to the dry chickpeas. When the chickpeas are ready, you can discard these additions.
Once again, I found the idea for the combination of chickpeas and butternut squash in Food & Wine's recipe by Melissa Rubel. My recipe, however, uses completely different proportions of the ingredients and adds cinnamon.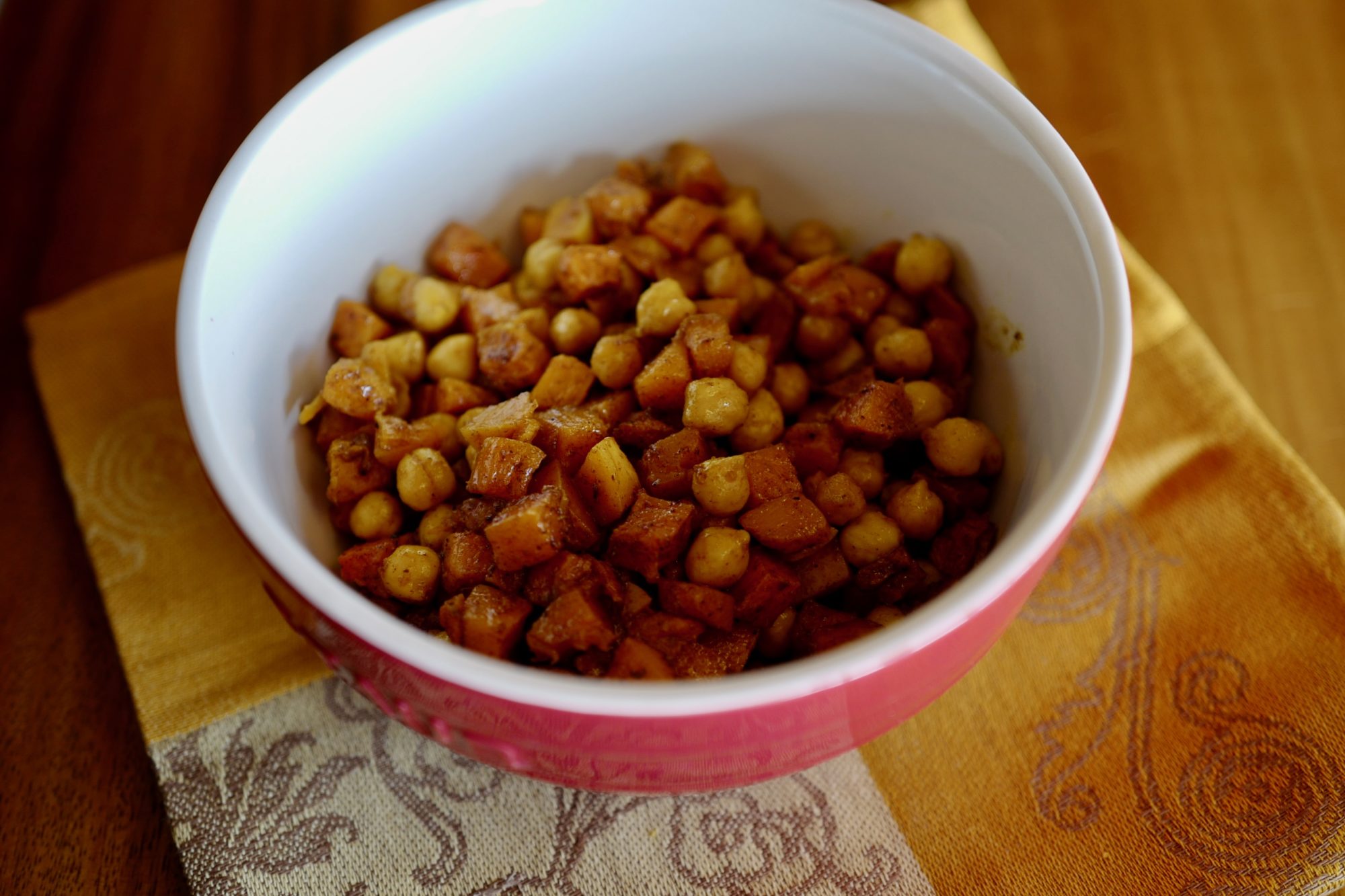 For the Butternut Squash:
For the Chickpeas:
9
oz
(~250 grams) dry chickpeas (garbanzo beans), soaked overnight. When I measured by hand, this was equivalent to 3.5 cups of cooked chickpeas.
ground black pepper and salt to taste
What to Do:
1
Drain and rinse the presoaked chickpeas. Then place chickpeas in a medium saucepan, cover with water and boil until soft, for about 2.5 hours. Preferably, change the water twice while boiling. When ready, drain and dry the chickpeas.
3
Next, stir together chickpeas, 2 tablespoons organic olive oil and 2 teaspoons organic mild curry powder. Transfer to a medium baking sheet and roast for about 15 min at 400 F, or until the chickpeas turn dark golden.
4
At last, stir together butternut squash and chickpeas and add salt and pepper. When the vegetables are no longer hot, share and enjoy your warm butternut chickpea salad.
Nutrition Facts
Servings 0