Gluten-, grain- and potato-free • Low glycemic • Sugar-free • Delicious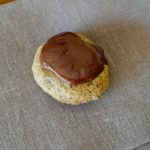 This recipe for gluten free macadamia cookie delivers a chewy dessert with the perfect degree of sweetness. You will love how this gluten free macadamia cookie is moist on the inside, with a delicate crust on the outside. Instead of flour, these cookies use only healthy, wholesome substitutes -- almond flour and nuts. And they derive their sweetness solely from two tablespoons of honey and dried apricots. This is, probably, one of the most delicious, moist and healthiest cookies you will have ever tasted! See Medical News Today.
Prep Time10 mins
Cook Time12 mins
Total Time22 mins
What to Do:
3
Now fold in the egg/honey mixture into the nut/apricot mixture and incorporate. Moisten your hands with cold water and knead the dough using your hands.
4
Form 9 cookies and bake for 11 minutes. Next, place 3 pieces of Valrhona Guanaja feves or your substitute on top of each cookie. Bake for 1 to 2 more minutes. Do not over-bake.
Enjoy!
5
Enjoy your Gluten Free Macadamia Cookie!!!