Vegan • Gluten-, Grain- and Potato-free • Low Glycemic • Suitable for Diabetics • Quick and Easy •  Delicious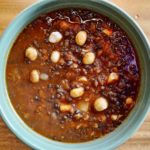 As I am sharing with you the Vegan Black Lentil Soup recipe, I wish to thank my Mom. She discovered or conceived many recipes on this blog. She enjoys bountiful flavors found in the Middle Eastern cuisine and searches through myriads of books to find the right inspiration. Mom discovered the prototype for the Vegan Black Lentil Soup in a German cookbook by Ali Güngörmüş. See Ali Güngörmüs, Das Kochbuch (German) (Oct. 20, 2008); see also a Wikipedia article about Mr. Güngörmüş. And she was right on! This hearty and comforting soup is infused with subtle flavors from ginger and orange zest. Before bringing this recipe to you, we've substantially modified it. Most importantly, we cook our black lentils (beluga lentils) separately and thoroughly before adding them to the soup. (The original recipe would have you sauté the lentils with onions and tomatoes for about 15-18 minutes.) To add more flavor to our Vegan Black Lentil Soup, we use a high-quality tomato sauce in place of the diced tomatoes. Rather than the starchy conventional potato, we use the Japanese sweet potato. We also omit sugar, brown butter, and Crema di Balsamico. Finally, we double the amounts of orange zest and our favorite, incredibly versatile herb - thyme.
Prep Time20 mins
Cook Time35 mins
Total Time55 mins
4
medium to large shallots, diced
1
large garlic clove, minced
6
sprigs of fresh thyme, stems discarded
1
large (weighing 16 oz to 18 oz) Japanese sweet potato, diced into pieces of the same size as your macadamia nuts
16
oz
(450 gr) good quality tomato sauce
1
piece of ginger, peeled and grated (about 1 inch long)
2
stripes of organic orange zest, each 2.3 inch wide x 4 inch long
5
oz
(140 gr) roasted unsalted macadamias
What to Do:
Prepare the Lentils:
Prepare the Base:
2
Meanwhile, in a large 9-inch pan, warm up all of the oil over medium heat. Add shallot, thyme and garlic and saute until translucent, about 5 minutes. Now add the Japanese sweet potato and 1 cup of broth. Increase heat to high and cook until the potatoes are semi-soft, for about 5 minutes.
3
Next, add tomato sauce, tomato paste, ginger, freshly ground black peppercorns or grains of paradise , and orange zest and mix well. Bring the mixture to boil over high heat. Reduce heat to very low and cook uncovered, periodically stirring, for 20 to 25 minutes.
Combine:
4
If you have excess liquid in pot with the lentils, scoop out or drain the excess liquid. Discard the bay leaf. Pour the base into the lentils and stir. If you want your soup thinner, add up to 1 cup of broth. Over medium-high, cook the soup for about 5 minutes.
5
Pour the Vegan Black Lentil Soup into your favorite bowls and top with roasted unsalted macadamia nuts.
Enjoy!