These Japanese Sweet Potato Wedges are magically delicious. They are soft inside and slightly crispy on the outside. The wedges melt in your mouth at every bite. The mild spices create a cozy, savory flavor.
You will love that Japanese Sweet Potato Wedges are not hot. Instead, they are pleasantly seasoned with paprika and coriander (and a little cayenne). These spices both counterbalance natural sweetness and add complexity. After trying this cozy delight, you will likely bid farewell to spuds!
Did you know that Japanese sweet potatoes contain more potassium than conventional potato? According to various sources, this tuber also contains significant amount of antioxidants, minerals and natural compounds that help improve your mood and control blood glucose levels. See a popular source discussing health benefits of Japanese sweet potato. Some even claim that Japanese sweet potato is a "fountain of youth," responsible for longer life expectancy on a Japanese island. See, e.g., a source discussing health benefits of Japanese sweet potato, a newspaper article calling this tuber "a fountain of youth" . According to my family, this vegetable does not taste as starchy as a conventional potato. Wonderfully, even a sizable portion leaves everyone feeling light, yet keeps us satisfied for hours.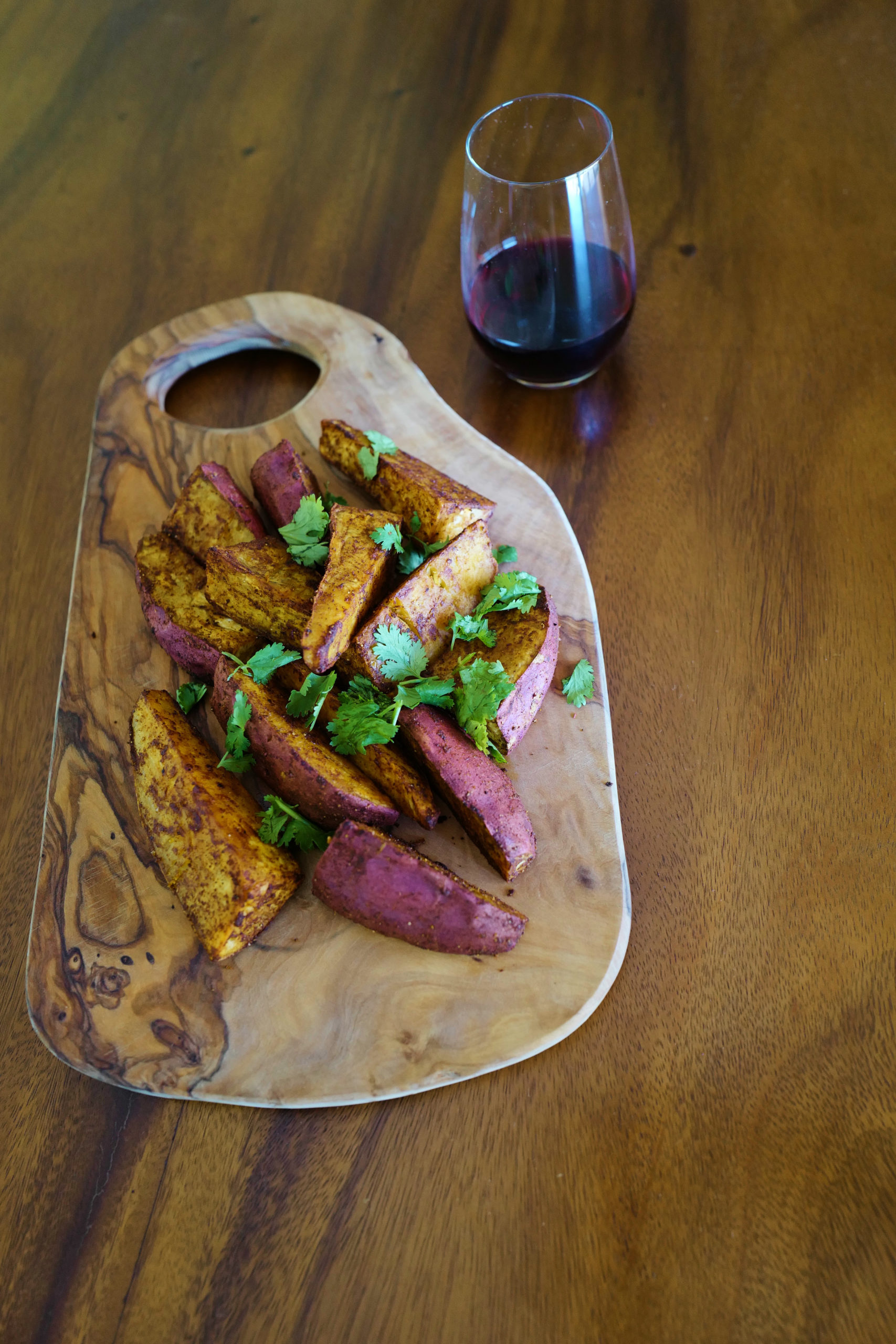 To maximize health benefits, I recommend that you leave skin on. You will need to wash and scrub it thoroughly, of course.
Lastly, this recipe originated in my kitchen. It's been a go-to side for my family for over 5 years. Simply put, you cannot go wrong with this recipe.
Vegan • Gluten-free • Nutrient-dense • Delicious • Easy & Quick