This Flourless Fig Tart is remarkably succulent and is probably the perfect way for cooking a grain-free, sugar-free dessert with fresh figs. No doubt, you know that pistachios, goat cheese, and figs are a match made in heaven. But what makes this dessert truly stand out are a few clever secrets revealed in the recipe below. For one, we pre-roast our figs and use a carefully selected French fruit preserve to complete the palate. No worries – the French fruit preserve is available at your local grocery store (and of course, online). Once you've tried, I know that it will become one of your most beloved desserts.
Fig Tart • Plant-based • Paleo, grain-free • Quick and easy • Vegetarian • Nutrient-dense • Delicious
While we are not known to make the pretentious "best of" proclamations, this recipe is the best way to bake a dessert with figs. This spectacular paleo Fig Tart is made with honey and fruit instead of sugar and ground pistachios and almonds instead of white flour. As a result, this scrumptious treat is as healthy and nutrient-dense as it is delicious. This dessert originates from our educated intuition. When the figs arrived this fall, we couldn't resist baking a flourless or paleo fig tart, but none of the recipes were up to snuff. And so, relying on our intuition and research, we've designed our own fig tart. Before deciding to preroast the figs, we sifted through numerous recipes and confirmed that chefs usually precook the fruit used in the tarts or clafoutis. The crust recipe was easy - it's a basic nut flour concoction. We added pistachios because they are one of our favorite nuts and go well with goat cheese and figs. We've baked the paleo Fig Tart 10 times (and counting, so long as the figs are in season) and ruled out various modifications. For this reason, we recommend closely following this recipe. Lastly, note that this recipe is for an 8-inch tart.
Prep Time20 mins
Cook Time45 mins
Total Time1 hr 5 mins
What You Need for the Fig Tart:
you'll need an 8-inch tart form for the Fig Tart, preferably made out of cast iron. (Cast iron tart forms are the best, because they help achieve uniform browning and cooking.) We use the upper part of a Le Creuset two-in-one set.
25
very ripe black mission figs, medium sized (not small). That's about 1.8 lbs. Extra figs will add pleasant sweetness and fruitiness. If you don't have Mission Figs, use brown Turkish figs (23 medium sized figs), but then increase the roasting time.
½
cup
without heap of raw, unsalted, and shelled pistachio kernels. (Because they are consistently fresh and tasty, we use Lehy Valley Raw Pistachio Kernels from a local Whole Foods Market.)
1
large egg. The egg has to be large. If your eggs are small, use 1 1/3 small eggs.
3
oz
black cherry preserve. That's about 4.5 tablespoons. We recommend black cherry over fig preserve because the Fig Tart simply tastes much better with the black cherry preserve. Nonetheless, if you want to use a fig preserve, we recommend St. Dalfour Fig Preserve. That's The Only fig preserve that has no added sugar, citric acid, lactic acid, or ascorbic acid.
3
oz
fresh goat cheese (you can increase to 3.5 oz). We prefer Mitica goat cheese that we purchase at our local Whole Foods Market.
2
pinches
butter (optional; you can use 1/2 teaspoon avocado oil instead) for greasing the parchment paper
What to Do:
Roast the Figs:
1
Preheat oven to 425 F (220 C). Meanwhile, wash and gently pat dry the figs. Cut the stem off and slice each fig in half.
2
Next, line a baking sheet with aluminum foil. Then arrange the figs on the baking sheet, cut side up, without any overlapping. Roast for 25 minutes. Note: If you are using brown Turkish figs, roast for 35 minutes. (Because Turkish figs are moister and larger in size, they will take longer to caramelize.)
Prepare the Form:
3
Begin by cutting an unbleached parchment paper circle with a 6.5-inch diameter. Next, grease an 8-inch tart form with avocado oil. Then place the parchment paper circle on the bottom of the form. Now grease the circle with a little butter. (This will help prevent sticking and make your tart easily removable from the form.) Set the form aside.
Prepare the Crust:
4
In a large bowl, fluff the almond flour and a pinch of Himalayan salt with a fork. Add the coarsely ground pistachio kernels and, using a spatula, stir into the almond flour.
5
Next, in a small bowl, beat 1 egg(s) with 1 tsp orange blossom honey, or buckwheat honey. Whisk the egg(s) and honey until the honey is incorporated.
6
Next, pour egg/honey into the almond flour/pistachio mixture. Using a spatula, stir well to form dough. Using your hands, form a ball. Then flatten the dough ball.
Assemble:
7
Preheat oven to 350 F (175 C) and set it on the convection setting (if possible). Moisten your hands to prevent the dough from sticking to your hands. With damp hands, press the dough onto the bottom and sides of the tart form and gently pat it with the palms of your hands.
10
Finally, arrange the figs on top of the cheese, cut side up, tightly next to each other and overlapping. (An overloaded fig tart is delicious.) Bake the tart at 350 F (175 C) for 20 - 22 minutes, until the crust just begins to brown. Note that we use convection setting in our convection oven, but you can bake the tart in any oven, of course! Before serving, let the tart cool, uncovered.
Enjoy!
11
Lastly, the Paleo Fig Tart (especially if made with the brown Turkish figs) tastes even better after one hour of refrigeration and keeps well in the fridge for at least 3 days.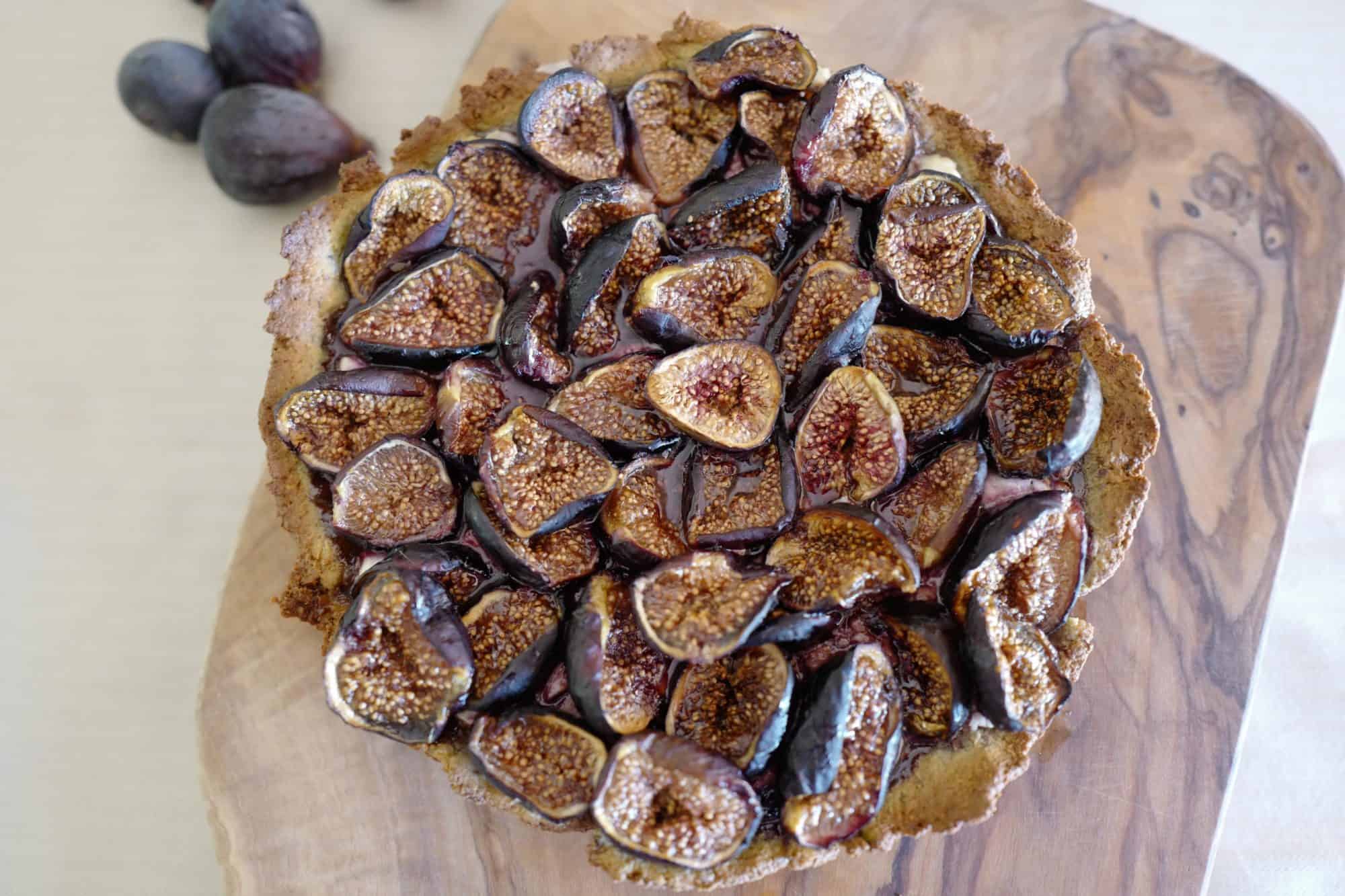 99