A traditional French dish, ratatouille differs at the hand of every cook.  The basics, however, remain the same. In essence, it is a stew of summer vegetables – eggplant, tomatoes, zucchini, bell peppers and onions – that celebrates seasonal abundance.  Toss this dish with fish, cannellini beans,  or crackers, cheese and red wine, and you will enjoy a lovely Mediterranean meal.
Though ratatouille allows for many a variation, a few tips are critical to a tastier dish.  Cooking the vegetables in a correct order and slow simmering deepen the flavors.  It also ensures the right texture of the cooked vegetables. (For example, no one likes overcooked, soggy peppers. Bell peppers should therefore be added last to the dish.) Substituting some of the tomatoes with the tomato sauce reduce the cooking time and intensifies the flavor.  You will find all of these tips in the recipe below.
Low Glycemic • Gluten-free • Vegan • Nutrient-dense • Delicious • Easy
Our easy ratatouille recipe uses diced tomatoes and a delicious tomato sauce. This dish is perfect for the vegetables from your prolific summer garden. Do you know what "ratatouille" means? According to one source, this vegetable stew likely originates from Provence and has become most popular in Nice. Dating back to 18th century, it means "stir up." Ratatouille usually consists of various vegetables, such as eggplant, onion, zucchini, pepper, tomatoes and garlic, cut in bite sizes. Some chefs cook all ingredients together, while others separately sauté each vegetable. A similar dish exists in other countries in Southern Europe and Mediterranean. Thus, for example, a close relative of ratatouille in Moldova (where we were born) is a "ghiveci," often made with cauliflower. Our easy ratatouille recipe can be used for making a side dish or main dish with grains or, better yet, with grain-free, flourless Simple Mills crackers.
Prep Time15 mins
Cook Time1 hr 20 mins
Total Time1 hr 35 mins
What You Need:
1
large sweet onion, diced
1
medium eggplant, leave skin on and cut into bite sized pieces
2
small zucchini, leave skin on and cut into bite sized pieces. We recommend using small crisp zucchinis because they are tastier.
2
red, yellow or orange bell peppers, sliced or diced
1
jar of preservative-free tomato sauce. The use of your favorite tomato sauce (and a couple of other tricks) is the secret to our easy ratatouille recipe.
freshly ground black pepper and salt to taste
What to Do:
2
Next, reduce heat to low. Now add onion, bay leaf, and grains of paradise and sauté, covered, for about 15 to 20 minutes, or until the onion becomes lightly golden.
3
Add eggplant and garlic and continue cooking, covered, until eggplant softens, about 10 minutes. Stir periodically.
4
Next, add zucchini and cook for 10 minutes or until tender. To avoid burning, stir periodically.
5
Now add organic, preservative-free diced tomatoes and preservative-free tomato sauce, and bell peppers. Stir well. Increase heat to medium high and bring to boil. Once boiling, reduce heat to low and, with the lid ajar, continue cooking for 40 to 45 minutes. Stir every 10 minutes. If you are wondering about the long cooking time, note that it helps the tomatoes to caramelize and enrich other vegetables with their sweetness.
6
And this is the end of the easy Ratatouille recipe. Serve the dish warm or chilled. If serving as a main, we highly recommend Simple Mills crackers on the side.
Enjoy!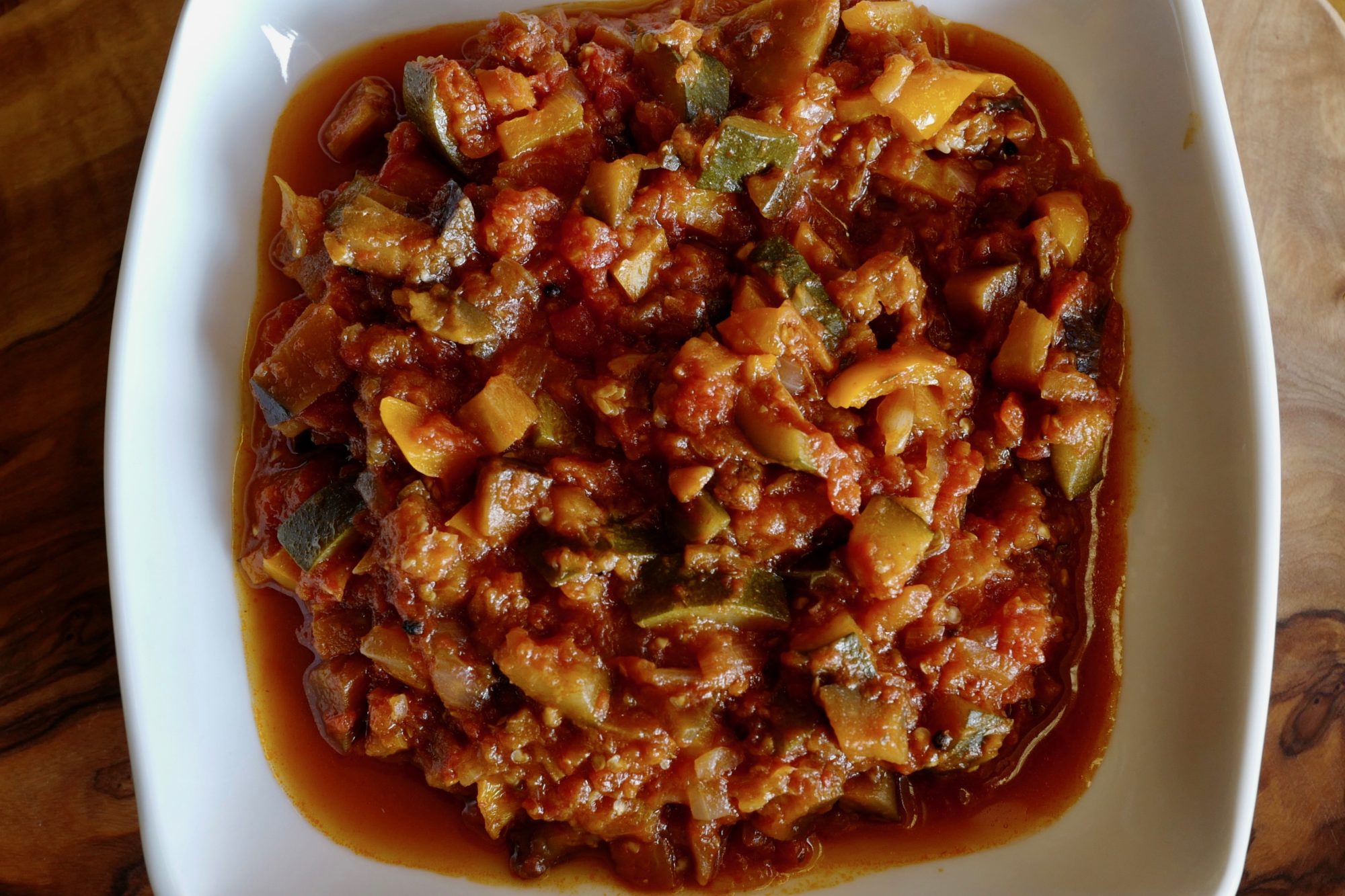 78