Would you like to try an Italian version of hummus? Admittedly, chickpea puree with wilted greens is not known as hummus. But I cannot help but think of hummus when I enjoy this dish. The Italian version of hummus is free of tahini and Middle Eastern spices. On the other hand, Italian chickpea puree is thoroughly infused with spectacular herbs – rosemary and sage. Add a generous drizzle of your favorite olive oil to this dish, and you are in paradise.
In texture, the puree is much fluffier and less fatty than hummus. In our version, fluffiness comes from the baked Japanese sweet potato. (The traditional recipe uses a regular baked potato.) The wilted sharp greens (traditionally, dandelion greens, which we substitute with less sharp broccoli rabe) add a new dimension to the mild, cozy flavors of the dish. In addition to wilted greens, this dish pairs well with mild seafood, such as calamari, white fish, and shrimp … and a glass of white wine.
Heart Healthy • Vegan • Low Glycemic • Gluten-free • Dairy-free • Nutrient-dense • Delicious • Easy
This velvety dish is inspired by a traditional and beloved Italian dish of mashed chickpeas with dandelion greens. (If you understand Italian, take a look at the original here. In essence, Crema di Ceci e Rapini is a rich, velvety chickpea puree with a touch of Japanese sweet potato drenched in fresh herbs, garlic and olive oil. The Italians traditionally serve Crema di Ceci e Cicoria with bitter dandelion leaves (i.e., "cicoria"). But we chose broccoli rabe ("rapini"), which is more widely available in our grocery stores and less bitter than dandelion leaves. For maximum taste, we recommend using fresh chickpeas, and for this reason, the cooking times appear long. In reality, much of the cooking is passive, and you are free to do anything you like while the chickpeas are cooking. For a heartier meal, Crema di Ceci e Rapini pairs wonderfully with shrimp, calamari and halibut.
Prep Time10 mins
Cook Time2 hrs 30 mins
Total Time2 hrs 40 mins
What You Need:
16
oz
dry chickpeas, picked and rinsed, soaked for 10 hours
0.50
oz
packet of sage, stems discarded
5
large garlic cloves, peeled
1
small to medium Japanese sweet potato
2
bunches of broccoli rabe, woody stems removed; roughly chopped
What to Do:
Cook the Chickpeas and Sweet Potato:
1
Unlike conventional recipes, this step asks you to (a) remove foam while cooking the chickpeas; and (b) change water halfway. (This procedure is traditional in the Mediterranean and makes legumes easier digestible.) Rinse presoaked chickpeas. Next, transfer to a large saucepan, add 8 cups cold water, and bring to boil (uncovered) over high heat, skimming off foam when it forms with a perforated straining spoon. Reduce to low and simmer for 45 minutes.
2
Meanwhile, bake the Japanese sweet potato at 400 F. Let cool when ready.
3
Turn off the heat. Drain the chickpeas in a colander placed over your sink and rinse them with cold water. Return the chickpeas to the saucepan and add 6 cups cold water. Bring to boil (uncovered) over medium heat. Then reduce to low and cook for at least 1 hour.
4
Meanwhile, peel the baked Japanese sweet potato and cut in a few large pieces.
5
Now add organic olive oil, garlic, rosemary sprigs, sage leaves, bay leaf and Japanese sweet potato to the chickpeas. Set the stove at the lowest setting and simmer for 35 minutes, or until the chickpeas are tender.
Prepare the Broccoli Rabe (Rapini):
6
While the chickpeas are cooking, bring a medium pot of water with 1/2 teaspoon salt to boil. Turn off heat and add chopped broccoli rabe. Cover and cook on low for 4 minutes. Transfer rabe onto a towel and gently press to remove excess liquid.
7
Next, in a small skillet, warm up 2 tablespoons organic olive oil. Add broccoli rabe and cook on low for about 3 minutes, stirring.
Put the Dish Together:
8
When the chickpeas are ready, remove the rosemary sprigs, sage, and garlic. (Some rosemary leaves will remain, and that's fine.) Add some salt if desired.
9
Using a stick blender, puree the chickpeas mixture until desired creaminess.
10
Now transfer the chickpea mixture to a serving bowl, add black pepper, generously drizzle with extra olive oil, if desired. Arrange broccoli rabe around the plate.
11
The Crema di Ceci e Rapini is ready to enjoy!
Enjoy!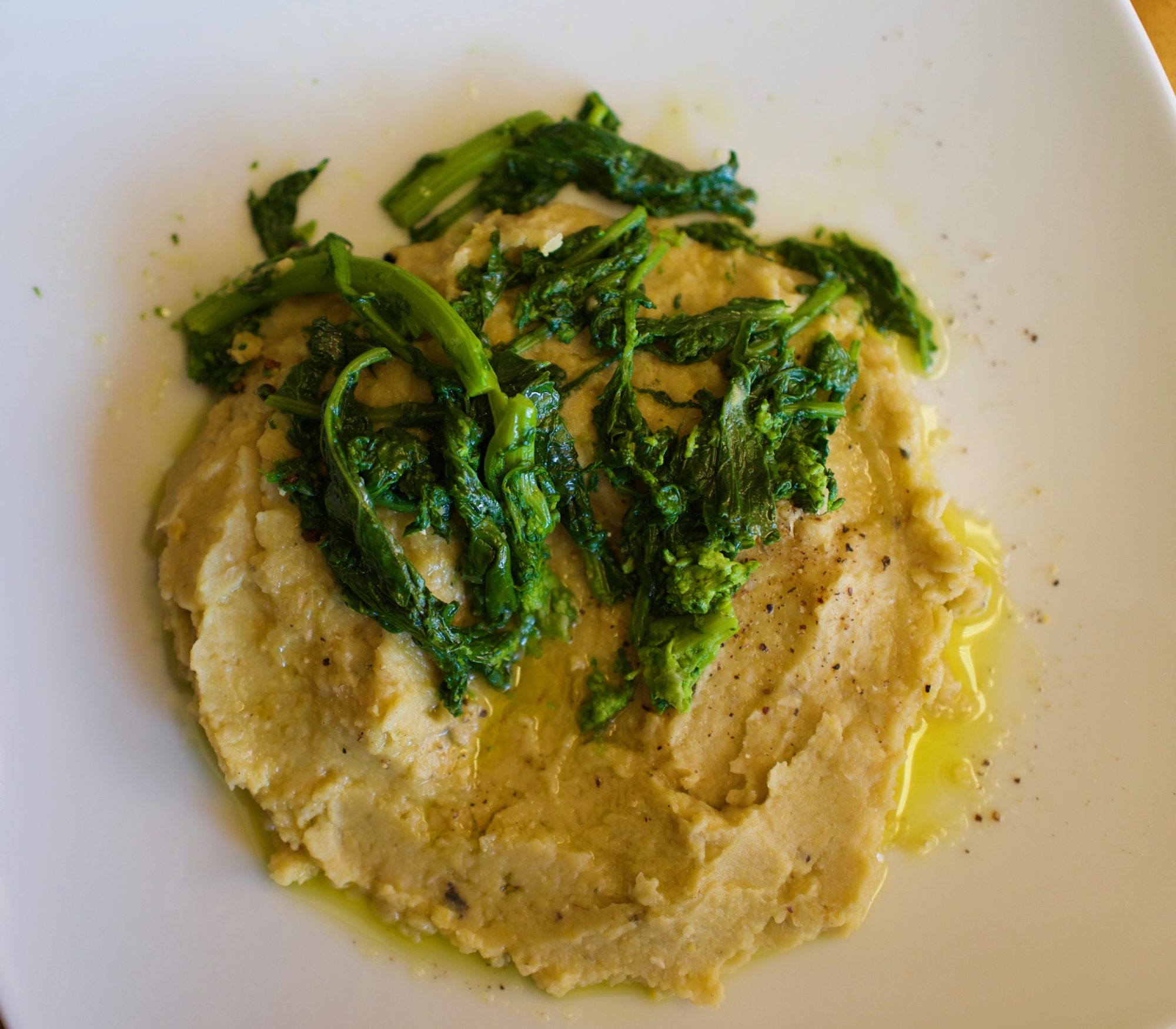 75