Vegan • Nutrient-dense • Paleo • Grain-, gluten-, potato-free • Dairy-free • Delicious • Easy
This autumn-perfect Delicata Squash Paleo Soup is my husband's favorite. Its story will make you smile. Earlier this year, my husband surprised me with a Wolf Sub Zero high-performance blender. It would make our life easier and healthier, he said, because we could eat more soup. So I gave the blender a try. This Delicata Squash Paleo Soup was an early try, and, together with the Tomato Fennel Soup, it convinced us: the high-speed blender wa a keeper! Thanks to the cauliflower and the naturally delicate flavor of the Delicata squash, this soup is creamy and just pleasantly sweet. The shallots add depth, balancing the Delicata squash. The hazelnuts intensify the depth and creaminess. Spoon after spoon, you won't believe that the Delicata Squash Paleo Soup was made without cream or butter. When you cook our Delicata Squash Paleo Soup, you will notice that it is more like a puree, and it tastes that way best. But if you prefer thinner soups, simply add more broth. For a thicker crème, reduce the broth by 1/4. This recipe makes 4 generous cups of soup/creme.
Prep Time35 mins
Cook Time1 hr 10 mins
Total Time1 hr 45 mins
What You Need:
5
shallots, sliced crosswise (though you can replace the shallots with 1 large onion, shallots have a sweeter and milder taste; if using onion, make sure to caramelize it well for about 15 min)
4
long thyme sprigs, stems discarded (Please do not use dry thyme leaves, because they taste sharper and stronger.)
2
medium to large garlic cloves (unpeeled)
2
large Delicata squashes, cut in half crosswise and then cut in half lengthwise, seeds and fibers discarded; or 2 medium Acorn squashes, cut in half, seeds and fibers discarded
small cauliflower, cut in large florets. (This recipe calls for a small cauliflower, because excessive cauliflower will spoil this soup's delicate taste.)
3
tbsp
avocado oil or extra virgin olive oil for brushing or sauteeing. Avocado oil is preferred because of its higher smoking point.
What to Do:
Roast:
1
Preheat oven to 350 F (175 C) and line a baking pan with unbleached parchment paper. Arrange the squashes cut side up. Using a brush, brush them with up to 1 tablespoon avocado oil and sprinkle with freshly ground pepper and salt (to taste). Bake the squashes for 35 to 45 minutes, or until soft when poked through with a fork.
2
In a large mixing bowl, toss cauliflower florets with 1 tablespoon avocado oil. Arrange the florets on a lined baking dish together with the unpeeled garlic cloves. Roast at 350 F (175 C) for 20 minutes or until they have just begun to brown, flipping the florets after first 12 min.
Caramelize the shallots:
3
On medium heat, warm up 1 tbs avocado oil or extra virgin olive oil. Add the shallots and thyme and saute on low heat until the shallots are soft and translucent, for about 6-8 min. Stir frequently and avoid browning and burning.
Chop:
4
When the squashes are ready, remove their skins. If using Delicata squash, no need to peel. Roughly chop the squash flesh in big chunks and set aside with the shallots. Squeeze the garlic out of the peel and set aside with the squashes and shallots.
Blend:
5
Transfer all ingredients into the blender, starting with the broth (from vegan cube is fine), then adding the shallots, squash and garlic, and finishing with the cauliflower and raw nuts. Then blend on the soup setting if using a high performance blender or a Vitamix food processor. If using another blender, first puree the Delicata Squash Paleo soup and then gently reheat it on the stove, stirring.
Enjoy!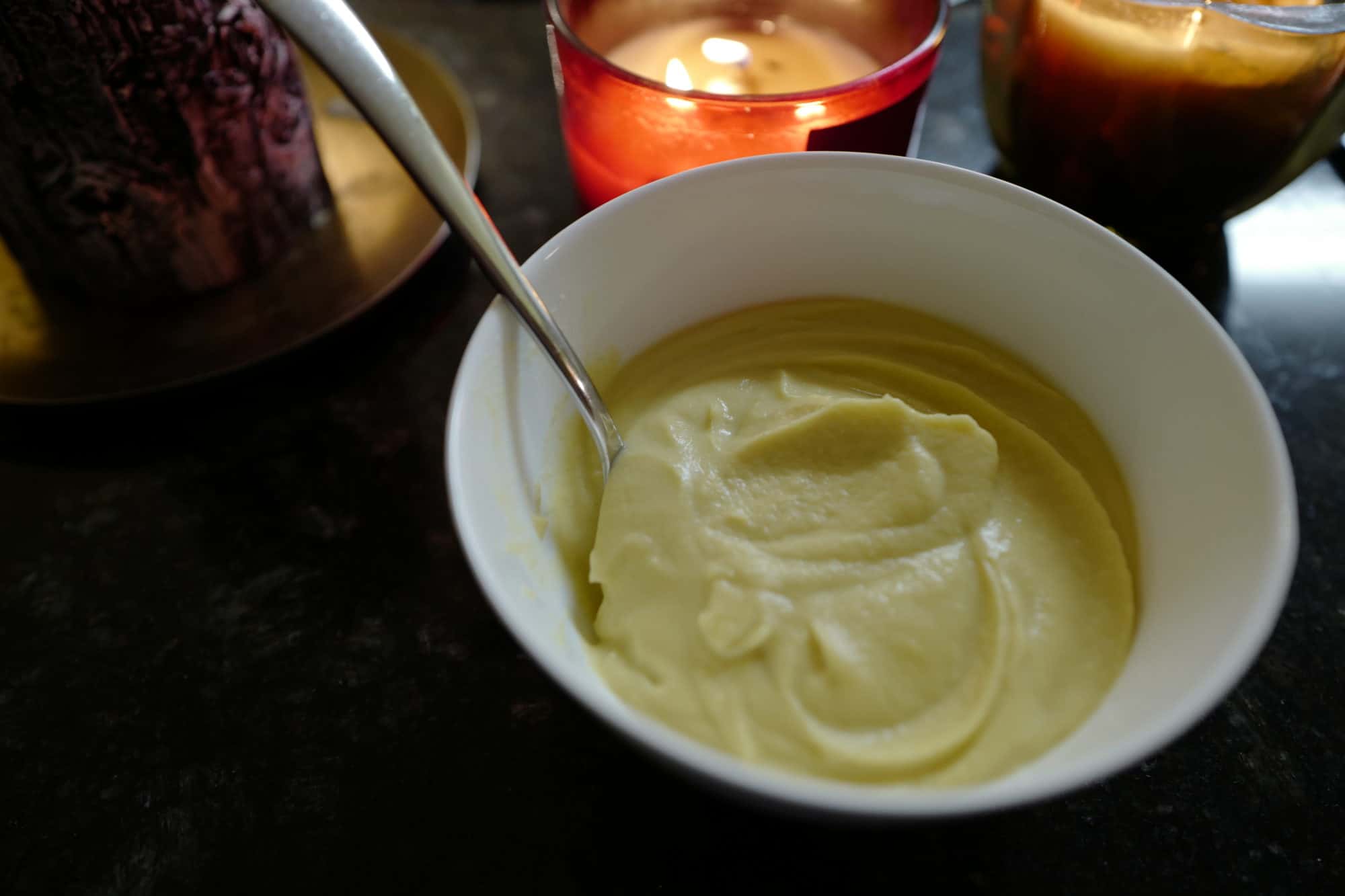 63