Polish red beet soup, or borscht, is nourishing, delicious and loved by children and adults alike!  But ordinarily it takes a long time to cook the traditional version with shredded cabbage, carrots, tomatoes, parsnips etc.  To make the matters worse, most common recipes would have you cook the broth separately and then sautee the vegetables likewise separately.  For this reason, I was quite skeptical when my husband told me about the holiday Polish barszcz that requires absolutely no sauteeing or shredding.  Instead, this beet soup consists of chopped beets, carrots, parsnip, celeriac, herbs and spices.  And the headline for this recipe may well be "set it and forget it."  To my surprise, and I am surprised every time I make it, this soup is incredibly delicious.  For the sake of your taste buds and health, try it.  The red beet soup is perfect all around. 
Heart Healthy • Vegan • Low Glycemic • Gluten-free • Dairy-free • Nutrient-dense • Delicious • Easy
This rich, savory borscht takes only 10 minutes of your active cooking time. Are you skeptical? Don't be. The Polish Borscht recipe is a traditional, time-tested and beloved way of cooking the festive beet soup in Poland, where my husband hails from. Of course, this borscht has a secret: it requires an extraordinary amount of brightly colored beets and a reduced cooking time. The borscht will not turn out if the beets are not brightly colored. Similarly, when cooked longer than suggested here, it will lose its scarlet color and flavor. Richly infused with simmered vegetables, the borscht is a delightful elixir of health. It is no wonder that my toddler demands his red beet soup every time, and happily sips it from a cup or devours it spoonful after delicious spoonful.
Prep Time10 mins
Cook Time35 mins
Total Time45 mins
What You Need:
3
large dark red beets (about 2.5 lbs). Inferior, unsuitable beets will be pale and have a stronger grassy smell.
1
parsnip. Because of the inferior taste, avoid large, oversized parsnips.
10
stems of Italian parsley (flat-leaf, not curly), without the leaves. Reserve the leaves for serving.
a small sprinkle of lemon juice (optional)
What to Do:
1
For the Polish Borscht recipe, you will need a 5.5-quart saucepan or Dutch oven. With cookware ready, peel and roughly chop beets, carrots, and parsnip. Then transfer to Dutch oven.
3
Cover with water and bring to boil, with the lid ajar, over medium high. Cover, reduce to low and continue simmering for 25 minutes. Add broth cubes and stir well to dissolve. Continue simmering for another 10 minutes, or until the vegetables become soft (but not mushy). Sprinkle lemon juice, if desired, and stir.
4
Following our take on the traditional Polish borscht recipe, serve this scarlet elixir of health with chopped parsley.
Enjoy!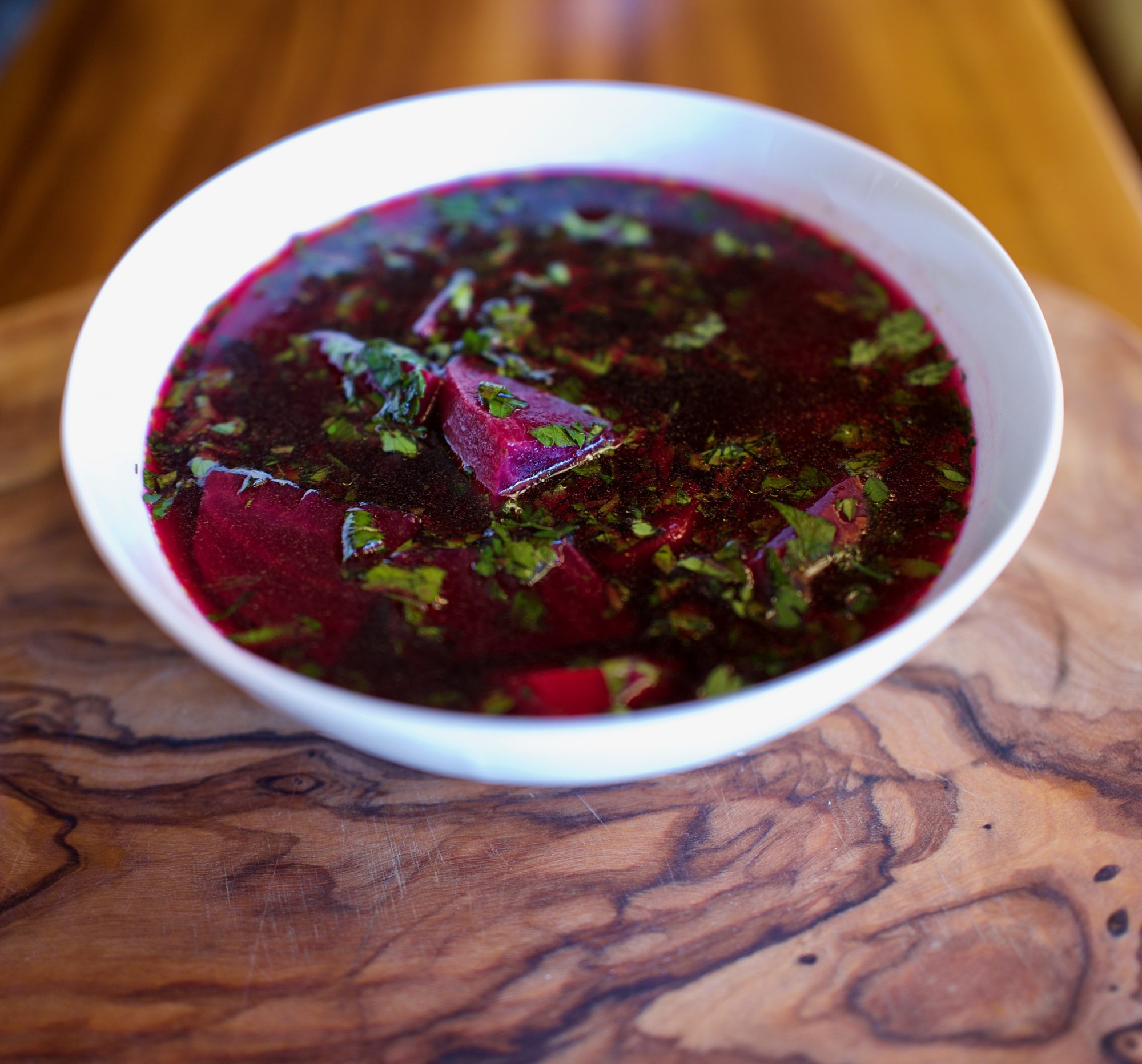 73