Gingery chickpeas with carrots are wonderful! This healthy treat is a perfect combination of warm flavors: carrots + ginger, chickpeas + tomatoes, parsley + lemon zest. Ginger and lemon zest add just the right amount of flare, without overtaking. Ginger balances carrots and helps neutralize acidity of tomato sauce. Lemon zest adds a new dimension to the taste.  I use plenty of carrots and slowly simmer tomato sauce. (I use tomato sauce from a jar, for example, Rao's tomato sauce.) For these reasons, the dish is not sour. Rather, it's perfectly balanced.  And it is easy to make.  
Here is a brief description of the cooking process.  First, I cook pre-soaked garbanzo beans until they are soft.  (You can use the ones from a BPA-free can.)  Then I simmer onions until they are caramelized (without any sugar, of course).  After that, I add ginger and carrots and cook until soft.  Then I add my favorite mild tomato sauce (preservative- and sugar-free). I simmer the sauce for a while, until tomatoes release their natural sweetness. Lastly, I stir in and simmer parsley and zest, combine the sauce with the beans and simmer for a little longer.  And now I have a saucepan brimming with taste! My family enjoys Gingery Chickpeas with Carrots as our main plant-based meal, or a hearty side.
Note that I do not add any broth to this dish. Slowly simmered to release its natural sweetness and deepen its flavors, the sauce works magic.  Broth would only subdue the exuberant flavors.  I also recommend using dry beans rather than their canned version, because they taste much fresher.  Additionally, unlike the dry variety, canned chickpeas contain sodium. See a FoodNetwork article discussing health benefits of chickpeas. They also have fewer nutrients and an inferior taste. See a Livestrong article discussing disadvantages of canned chickpeas.
Lastly, this dish keeps well refrigerated.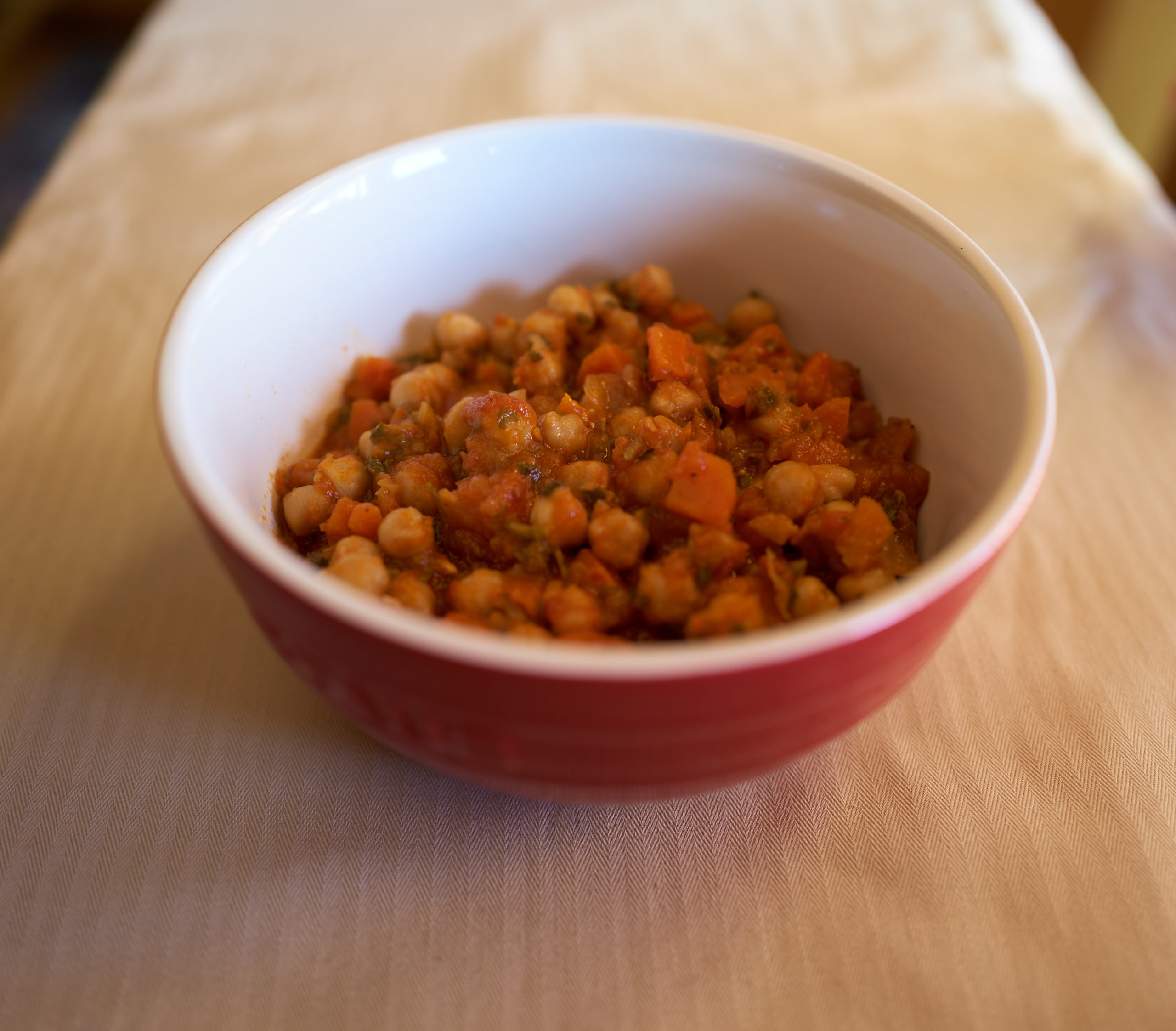 Vegan • Low glycemic • Flavorful • Easy • Nutrient-dense • Sugar-free • Delicious