Nutrient-dense • Vegan • Grain- and potato-free • Dairy-free • Paleo • Delicious • Easy
Of all squashes, Delicata is our favorite. With its velvety texture, honey-like flavor and extraordinarily delicate edible skin, Delicata is the queen of the squashes. In our Delicata Squash Salad, we juxtapose the sweetness and creaminess of Delicata squash with the spicy, crunchy pecan nuts. We use cinnamon and cardamom, cayenne and chili, shallot and cilantro to create a uniquely fragrant, spectacular dish. Even though it's quick and easy to make, this delight tastes as a fancy restaurant dish! When winter squashes are in season, we eat the Delicata Squash salad at least once a week. What is your favorite Delicata squash recipe?
Prep Time25 mins
Cook Time40 mins
Total Time1 hr 5 mins
What You Need:
2
medium Delicata squashes, thoroughly washed and dried, seeds and fibers discarded, sliced crosswise into 1/2-inch thick slices. Do not peel the squashes.
1
small bunch of cilantro, leaves roughly chopped, stems discarded
½
shallot, thinly diced (optional)
⅔
tsp
sumac (optional). It does add nice tartness to the spicy nuts.
For Dressing:
2
tbsp
freshly squeezed lemon juice, or to taste
What to Do:
Roast the squash:
2
Next, using a flatware dinner knife, cut the delicata squash slices in half. (We prefer uses half-slices in the Delicata Squash Salad.)
Roast the nuts:
Prepare the dressing:
4
In a small bowl or cup, mix olive oil, lemon juice, and salt and pepper to taste.
Mix:
5
In a large bowl, mix the halved delicata squash slices, spicy nuts, cilantro, shallot (if using), and the dressing. The Delicata Squash Salad is ready to enjoy!
Enjoy!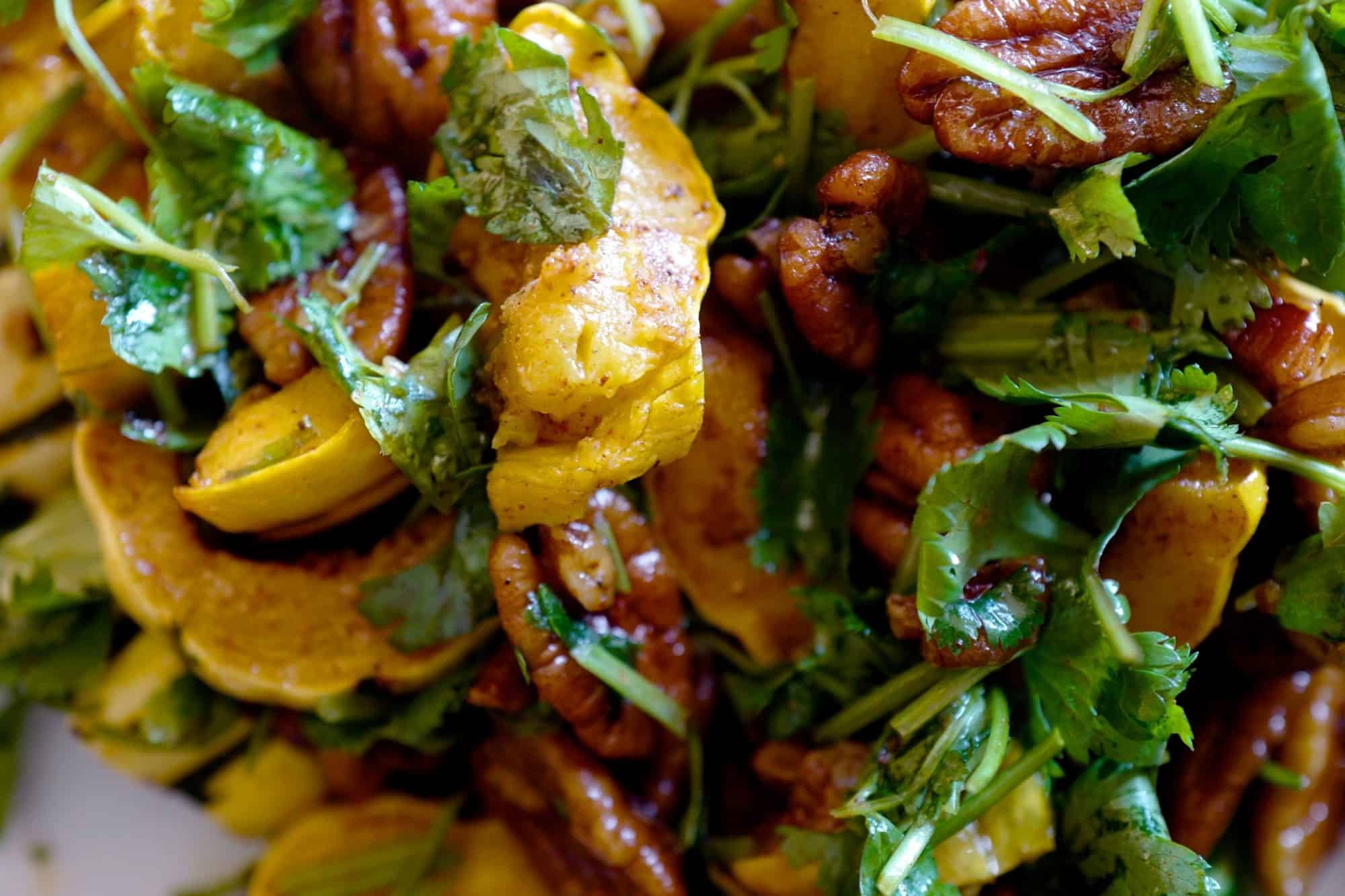 123