In a starring role of our mung dal are the healing super spices. And all of them are familiar: cardamom (or cardamon), garam masala, turmeric, ginger, chili flakes, pepper and caraway seeds. Did you know that cardamom has powerful antioxidant and blood-pressure lowering properties? Take a look at : https://www.livestrong.com/article/338907-health-benefits-of-cardamom/. Did you know that turmeric absorbs by your body substantially better when combined with with black pepper? See, e.g., University of Massachusetts article. And garam masala comprises of all the healthiest spices. See https://www.healingplantfoods.com/health-benefits-of-garam-masala/.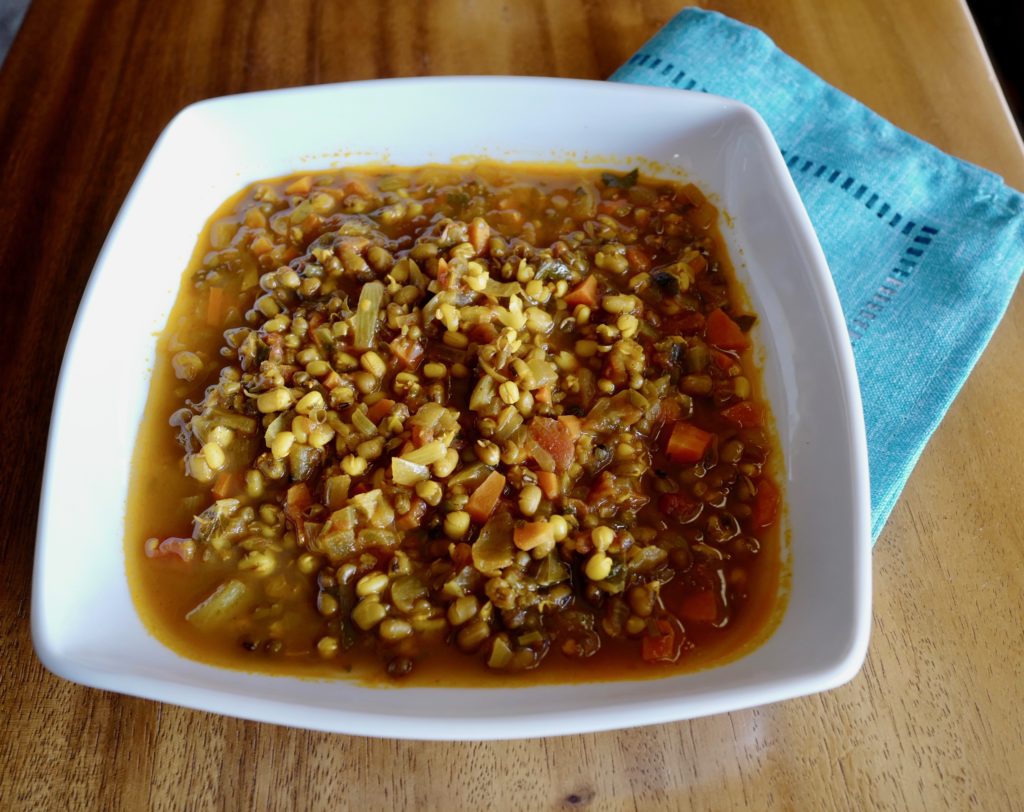 For this recipe, we simmer the magical spices in a warming tomato sauce and then combine them with mung beans. Are you out of mung beans? Be sure to improvise and use red or green lentils or both. We recommend making this dal several hours, or up to a day, in advance to give the flavors a chance to blend and deepen. Although the ingredients are few, and the dish is very easy to make, you will be impressed with its intense flavors! Make this mung dal for dinner and you'll be licking your fingers! This is a recipe to treasure.
Vegan • Starch- and Sugar-free • Grain-free • Aromatic • Low Glycemic • Nutrient-dense • Delicious • Easy
What if your dinner was a superfood? How about an aromatic, spicy, finger-licking superfood? We invite you to make this recipe for your wholesome dinner or lunch. Even if you've never cooked a dal before, this one will surprise you with its ease and simplicity. And you will see for yourself that carefully selected spices make all the difference. Though our mung dal is spicy, that too is beneficial for your health. According to multiple sources, an ingredient found in black pepper (piperine) increases absorption of turmeric's curcumin by 2000%. E.g., University of Massachusetts article. Without piperine, the benefits of curcumin are difficult for your body to unlock. Coupled with ginger, these herbs form a magic potion that protects your body from inflammation, cancer, and cardiovascular disease. See study published in the International Journal of Rheumatic Diseases. So savor mung dal by spoonful, nourishing your senses -- and your body. Note: You can make this dal with red lentils. Just be sure to add an extra cup of water.
Prep Time10 mins
Cook Time35 mins
Total Time45 mins
Wholesome Products:
1
very large yellow onion, finely diced
2
medium carrots, finely diced
1
oz
ginger root (1.5 inch piece), finely diced
2
garlic cloves, thinly sliced
1
bunch fresh Italian parsley, leaves chopped
Spices:
Cook the Beans:
1
Cook the beans according to the instructions on the package. Do not drain!
Make the Sauce:
2
In a sautéing pan, warm up organic olive oil. Add onion and cook for 6 minutes. Using a spatula, move the onion to the edges of the pan and place the spices in the center. Stir and cook until fragrant, about 1 minute. Now mix in garlic, ginger and carrots. Sauté for another 4 minutes.
Mix Together:
4
Add the tomato sauce to the beans and stir well. Bring to boil and simmer for 5 to 10 minutes.
Enjoy!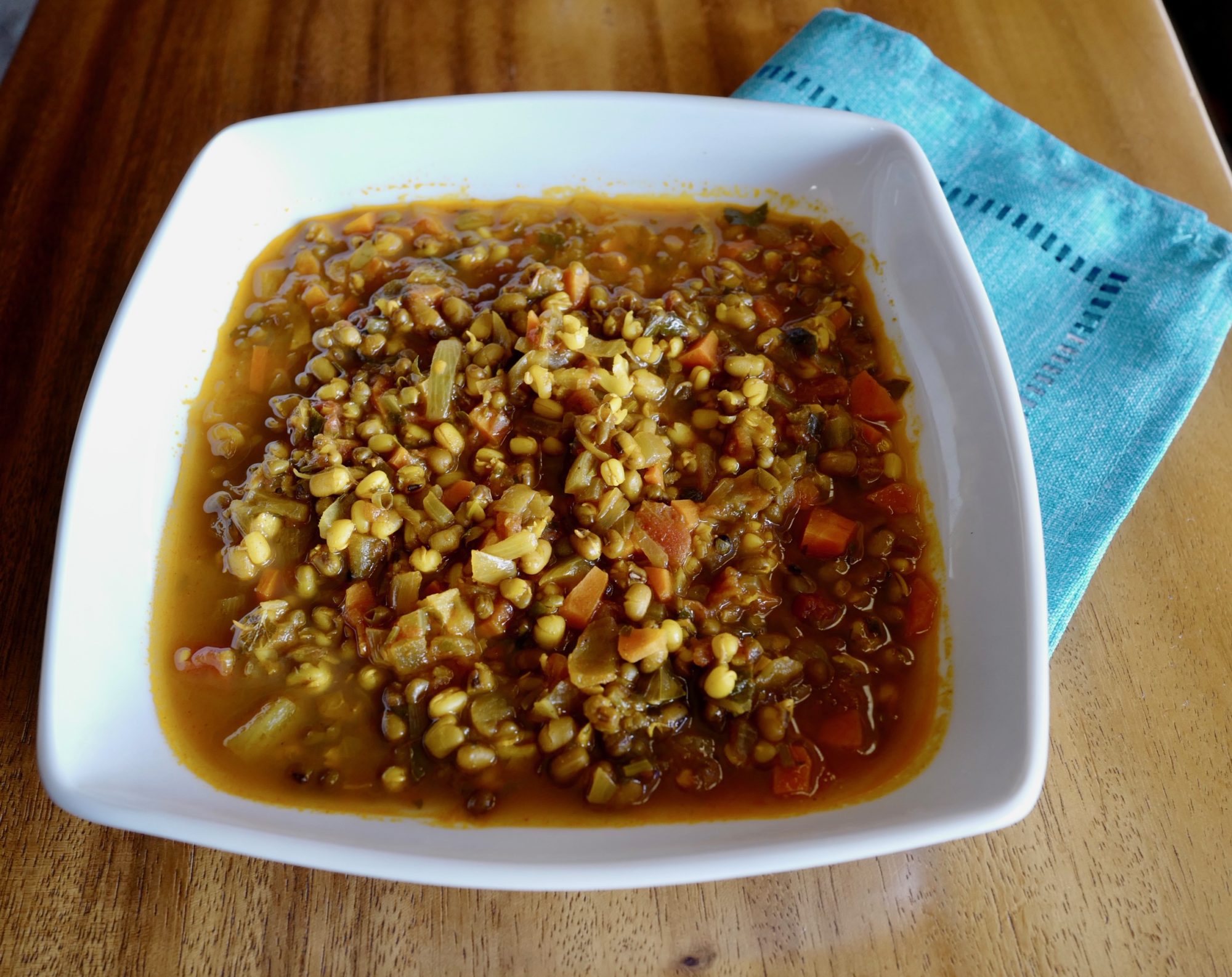 61