Looking for a bowl of comfort this season? How about a nourishing, vegetarian, gluten-free soup that requires minimum of your active time? The White Bean Kale Stew is perfect for your entire family.  Infused with fresh rosemary and parmesan rind or pieces, this stew takes white beans (cannellini) to a new level.  The stew is creamy, but without any cream (parmesan rind or pieces work magic!).  Because it's hearty and mild,  even your kids will enjoy it.  Most amazingly, this soup simmers quietly by itself while you're working from home or enjoying your personal time. And don't despair if you can't find the main ingredients at your local grocer's nowadays. I included below a recommendation for you where to find organic cannellini beans online.
Here's a personal tip:  When cooking beans (but not lentils) of any kind, I usually change the water twice. This step makes them easier to digest. The recipe below, however, calls for a single change of water.  If you have the time, I recommend changing the water twice and then proceeding to cook until they are soft.  
Low Glycemic • Gluten-free • Vegetarian • Nutrient-dense • Delicious • Easy
Ever since I tried a kale white bean stew, I'd wanted to recreate one at home. Unlike the common versions, the soup for my family had to be tomato-free but still flavorful. (Tomato sauce and tomatoes are used too frequently in legume soups.) In my initial attempts, I used leeks instead of onions, and that helped create a creamier and more refined flavor. I then turned to my favorite cookbooks for inspiration and found a perfect fix of parmesan rind and rosemary. For sure, a generous amount of parmesan rind, rosemary and thyme infused the stew with a rich creamy flavor. Try this hearty Kale White Bean Stew! It's easy, budget-friendly and nutritious and may become your cold weather staple! (My favorite inspiration sources were The New York Times and Eating From the Ground Up.) Finally, if finding cannellini beans at your grocer's has been challenging, you can purchase organic grown from this vendor, and conventionally grown on Amazon.
Prep Time15 mins
Cook Time3 hrs
Total Time3 hrs 15 mins
What You Need:
5
oz
Parmesan rind or Parmesan pieces
4
sprigs of fresh rosemary, each at least 6 inches long
1
large leek, white and light green parts only, sliced
10
oz
baby kale leaves or Lacinato Kale leaves, stems removed, thinly sliced. (Curly kale can remain tough even after extensive cooking.)
4
large garlic cloves, peeled
4
sprigs of fresh thyme (optional). I like how thyme balances leeks, but you can omit it.
What to Do:
Prepare the Beans:
1
Drain and rinse presoaked beans. Place them in a Dutch oven and add 8 cups water. Bring to boil, skimming off foam. Reduce heat to low and simmer for 1 hour. Then drain the beans. Add cold water covering the beans up to 1.5 inch over. Add bay leaf, Parmesan rind or pieces, rosemary and garlic. Bring to boil, then reduce heat to low. Continue cooking until the beans are very soft, for at least 1.5 hours.
2
Half-way through cooking, stir in 2.5 to 3 cups broth from 3 broth cubes.
3
Remove rosemary stems (but not leaves), bay leaf and garlic.
Sautee Kale and Leek:
4
Meanwhile, warm up olive oil in a large skillet. Add leek and thyme (if using) and simmer, stirring, for about 3 minutes, until soft. Stir in kale and 5 tablespoons water. Simmer until wilted, for 5 minutes.
Combine:
5
Now discard thyme (if using). Stir in kale, leeks, salt and pepper into the beans and simmer for 25 minutes, or until kale softens.
Enjoy!
6
Enjoy the Kale White Bean Stew warm.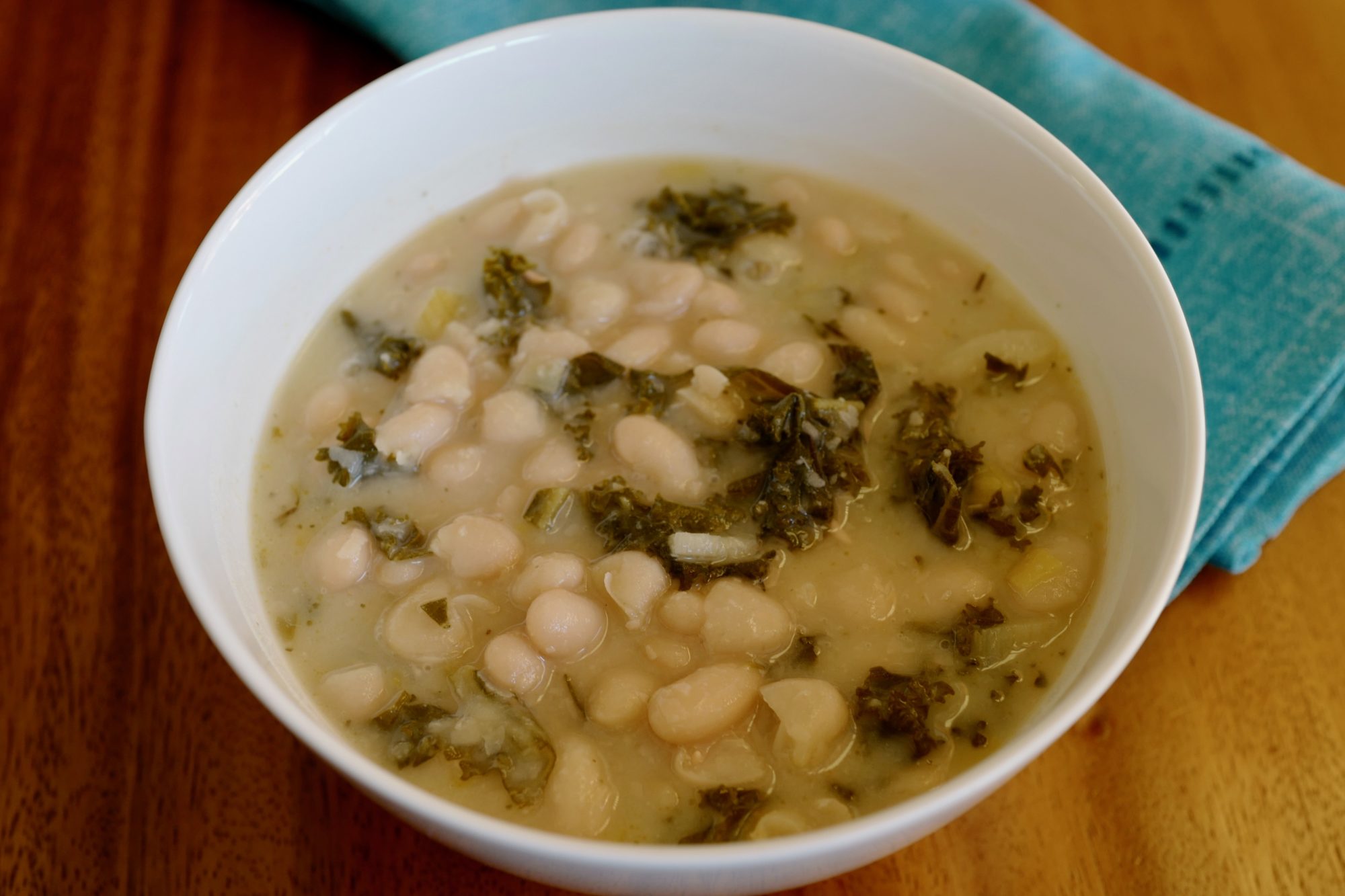 162