Gingery chickpeas with carrots are wonderful! This healthy treat is a perfect combination of warm flavors: carrots + ginger, chickpeas + tomatoes, parsley + lemon zest. Ginger and lemon zest add just the right amount of flare, without overtaking. Ginger balances carrots and helps neutralize acidity of tomato sauce. Lemon zest adds a new dimension to the taste.  I use plenty of carrots and slowly simmer tomato sauce. (I use tomato sauce from a jar, for example, Rao's tomato sauce.) For these reasons, the dish is not sour. Rather, it's perfectly balanced.  And it is easy to make.  
Here is a brief description of the cooking process.  First, I cook pre-soaked garbanzo beans until they are soft.  (You can use the ones from a BPA-free can.)  Then I simmer onions until they are caramelized (without any sugar, of course).  After that, I add ginger and carrots and cook until soft.  Then I add my favorite mild tomato sauce (preservative- and sugar-free). I simmer the sauce for a while, until tomatoes release their natural sweetness. Lastly, I stir in and simmer parsley and zest, combine the sauce with the beans and simmer for a little longer.  And now I have a saucepan brimming with taste! My family enjoys Gingery Chickpeas with Carrots as our main plant-based meal, or a hearty side.
Note that I do not add any broth to this dish. Slowly simmered to release its natural sweetness and deepen its flavors, the sauce works magic.  Broth would only subdue the exuberant flavors.  I also recommend using dry beans rather than their canned version, because they taste much fresher.  Additionally, unlike the dry variety, canned chickpeas contain sodium. See a FoodNetwork article discussing health benefits of chickpeas. They also have fewer nutrients and an inferior taste. See a Livestrong article discussing disadvantages of canned chickpeas.
Lastly, this dish keeps well refrigerated.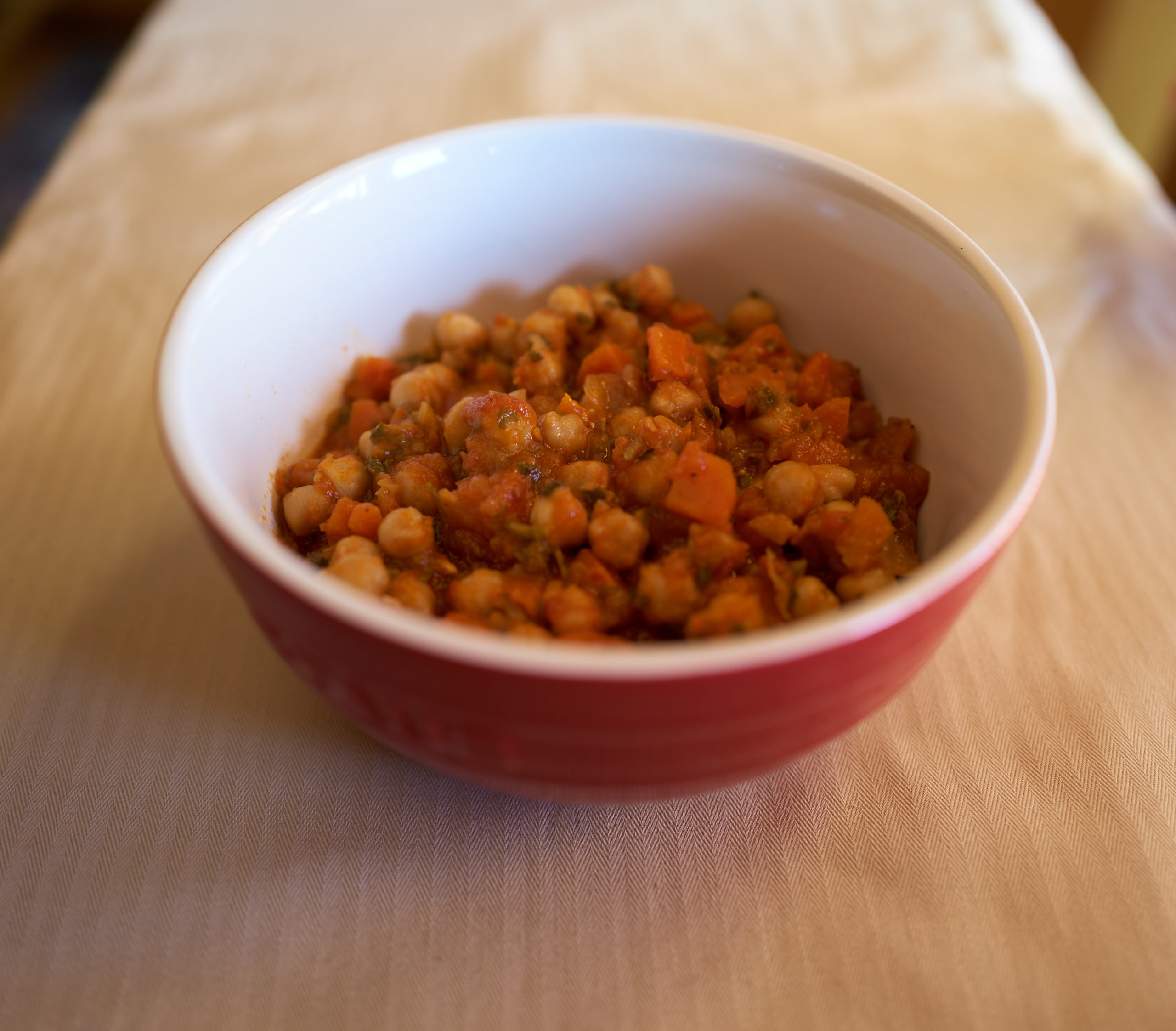 Vegan • Low glycemic • Flavorful • Easy • Nutrient-dense • Sugar-free • Delicious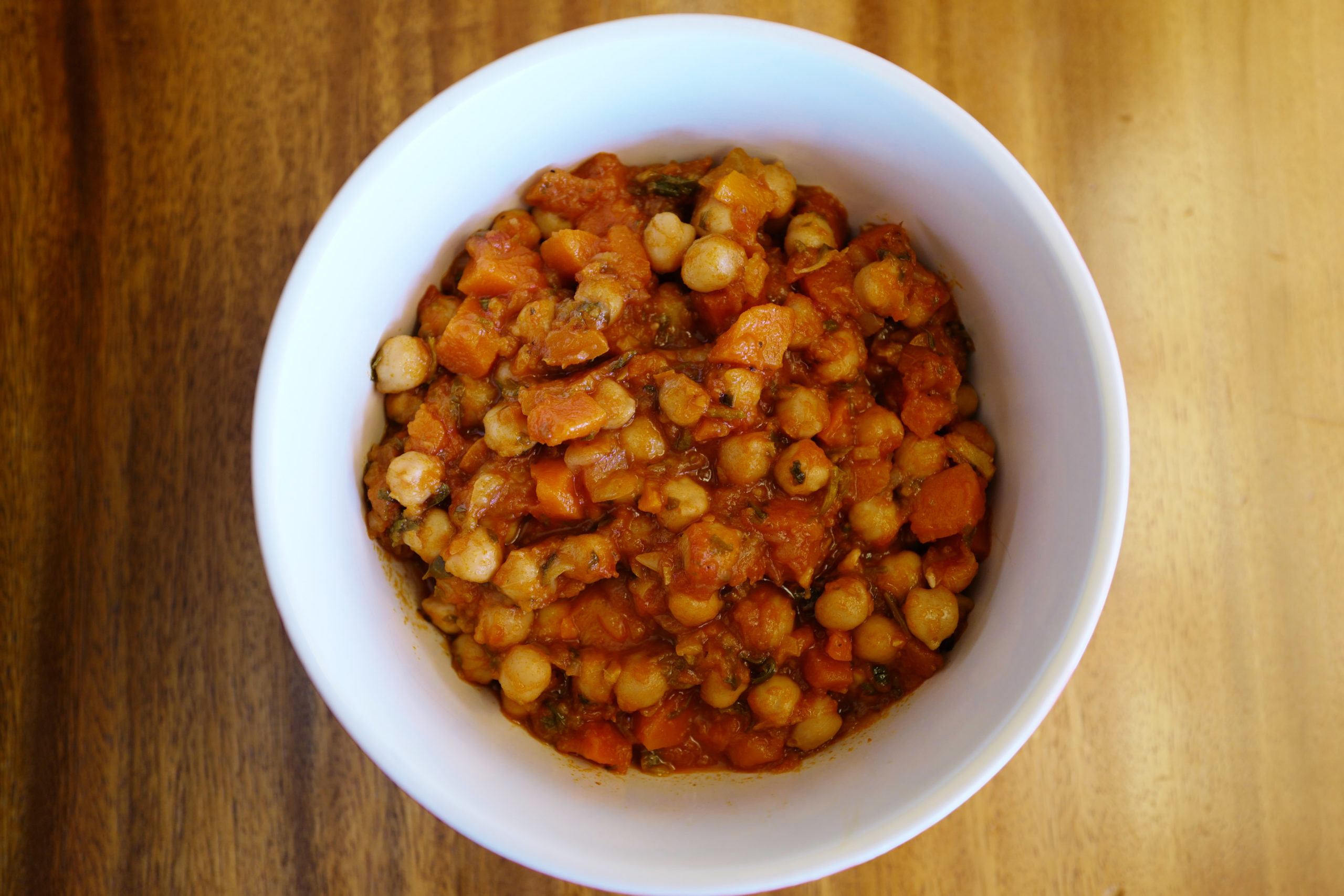 Gingery chickpeas and carrots are spectacular! Just imagine chickpeas soaked in a nectar of tomato sauce with carrots, ginger, parsley, and caramelized onions. All sugar-free, of course! This healthy treat is a perfect combination of warm flavors: carrots + ginger, chickpeas + tomatoes, parsley + lemon zest. And though ingredients are few, the dish is richly flavorful, but not spicy. Ginger and lemon zest add just the right amount of flare, without overtaking. This delight is neither sour nor sweet - perfect to the last bite.
This plant-based delight also shows how versatile garbanzo beans are. For most of us, they usually mean hummus. In reality, you can cook them with anything. They combine well with a whole medley of spices and herbs and vegetables. In my previous posts, for example, I combined chickpeas with butternut squash and eggplant mash -- and the dishes were delicious! Another example is FoodNetwork's Moroccan chickpea soup when made without sugar, of course.
Thinking back to that soup recipe, I decided to combine this wonderful legume with tomato sauce. Tomatoes, of course, are quite acidic. To reduce their acidity, I included plenty of carrots and a generous amount of ginger. Inspired by chef chef Michael Chiarello's recipe, I added lemon finely grated zest and chopped parsley. The result is the recipe below, and it's glamorous! Indeed, Gingery Chickpeas and Carrots are more than yummy. They are neither acidic nor sweet - just a perfect combination of flavors, with a ginger and lemon zest flare.
Lastly, note that, again, I recommend changing water when you cook beans. This step helps make them easier to digest.
Prep Time20 mins
Cook Time3 hrs 20 mins
Total Time3 hrs 40 mins
For the Chickpeas:
2
cups
dry chickpeas, soaked overnight, rinsed and drained
For the Sauce:
2
yellow onions, diced in 0.25-inch squares
2
inch piece of ginger root, finely diced
1
tbsp
finely grated or chopped lemon zest
freshly ground black pepper and salt to taste
What to Do:
1
Rinse and drain chickpeas. Then transfer to a large a 5.5-quart saucepan and cover with water. Bring to boil, skim foam and simmer for about 1 hour.
2
Next, drain and rinse chickpeas again. (I recommend this step to make chickpeas easier to digest.) Cover with water, add garlic, organic bay leaf and parsley stems and simmer until chickpeas are soft, for about 1.5 hours.
3
Once the chickpeas are soft, drain and discard bay leaf, parsley stems and garlic cloves.
Make the Sauce:
4
Meanwhile, in a large pan, warm up organic olive oil on medium heat. Reduce heat to low. Add onion and stir. Then cover and cook for about 7 minutes, stirring. Add carrots and ginger and cook, covered, for about 10 minutes. Be sure to stir periodically.
5
Next, add tomato sauce. Increase heat to medium-high and bring to boil. Reduce heat to low, cover and cook for about 25 minutes, periodically stirring. Add zest and parsley and continue cooking for another 5 minutes. *Note: longer simmering brings out natural sweetness in tomatoes.
Combine:
6
Next, add the sauce to chickpeas and add 3 tablespoons of water. Add salt and pepper to taste. Then cover and continue cooking together on moderate heat for about 15 minutes. Again, be sure to stir. If needed, add more water.
7
Enjoy Gingery Chickpeas with Carrots warm as a plant-based meal or a healthy, hearty side.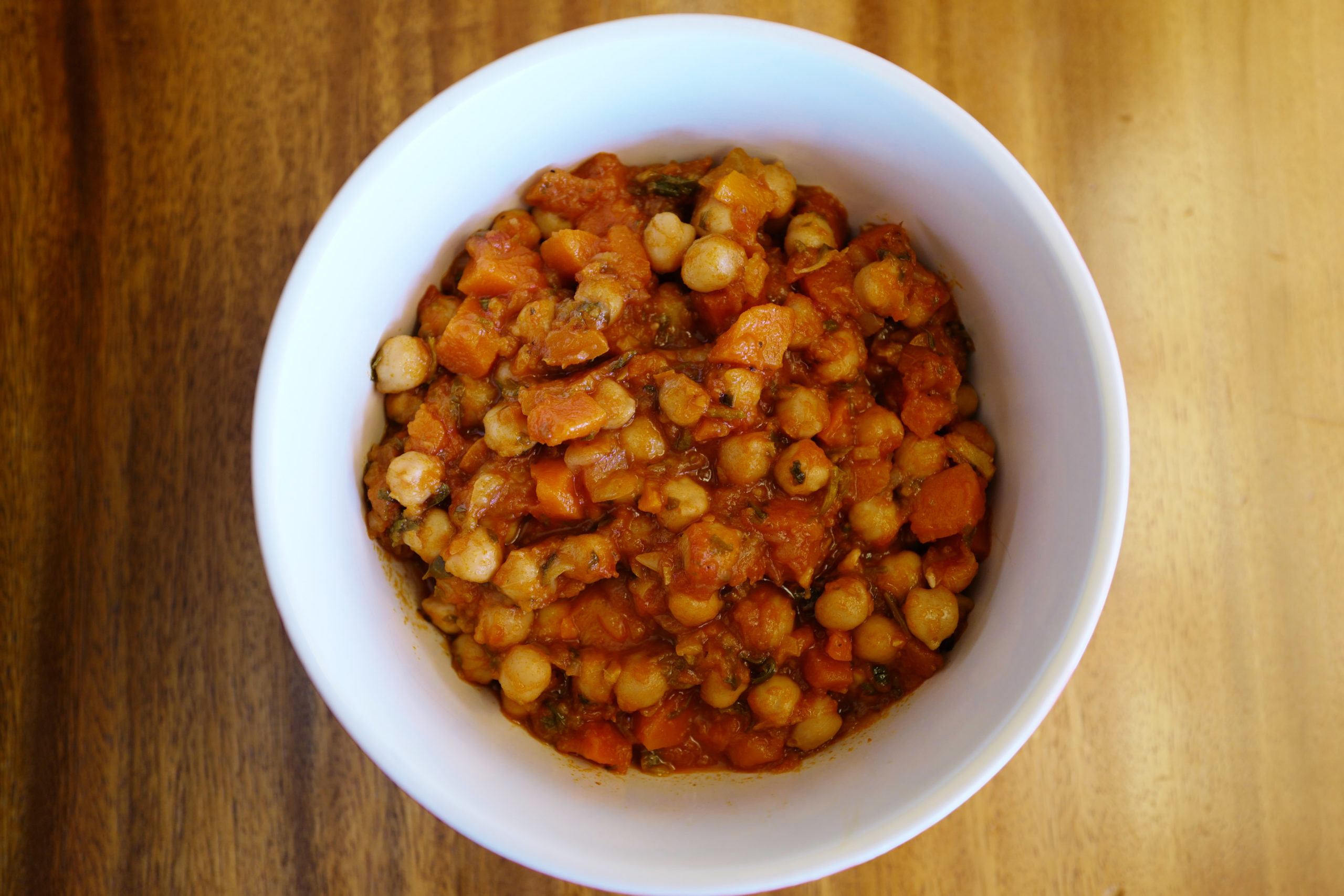 80