Nutrient-dense • Vegan • Grain-, gluten-, potato-free • Dairy-free • Low glycemic • Delicious
Sesame Sweet Potato Wedges (or rounds) with Eggplant-Chickpea Mash is a plant-based entrée with a big flavor. It is also well-balanced with proteins from sesame and chickpeas, healthy carbs from sweet potatoes and chickpeas, healthy fats from olive and avocado oil and sesame, and fiber. Bite after bite, Sesame Sweet Potato Wedges with Eggplant-Chickpea Mash will nourish your body and impress your palate.
Prep Time50 mins
Cook Time1 hr 35 mins
Total Time2 hrs 25 mins
For the Sesame Sweet Potatoes:
3
small or 2 medium red sweet potatoes (Beauregard, Jewel, or Garnet), peeled and cut in 3/4-inch thick rounds or wedges. (Make sure that the slices are about the same size. If using a large or wide potato, cut the big rounds in halves or even quarters.) If you don't peel your sweet potatoes, scrub them really well.
For the Eggplant Chickpea Mash:
2
large eggplants. (Italian eggplants are preferred for this recipe.)
5
garlic cloves (from a roasted head of garlic, see below in the recipe)
1
cup
chopped cilantro leaves
½
cup
chopped mint leaves
1
tsp
Kosher salt for draining and salting eggplant (optional)
2
cups
drained cooked chickpeas. (That's equivalent to 1 cup dry chickpeas.) Please reserve the chickpea water and note again that this recipe calls for 2 cups of drained chickpeas.
Prepare the Sweet Potatoes:
2
Next, arrange the sesame sweet potato wedges on a lined baking pan in a single layer. Because sesame seeds don't stick, scrape and distribute them over the potato rounds. When ready, tightly cover the pan with aluminum foil. Set oven to 420 F (215 C), place the pan in cold oven, and roast for 25 min. (We are placing our sweet potatoes into a cold oven because of the wonderful technique in America's Test Kitchen, The Cook's Illustrated Cookbook 292 (1st ed. 2011).)
3
Next, remove the foil from the baking pan, return the pan into the oven and roast for another 10 min. (until the sweet potatoes just begin to brown). At last, flip the sesame sweet potato wedges and roast for 5 min.
Meanwhile, Roast the Eggplants and Garlic:
4
Meanwhile, adjust the rack to middle position and preheat oven to 500 F (260 C). Using a paring knife, make shallow cuts in the eggplants to prevent them from bursting. Next, line a baking sheet with foil, arrange the eggplants, and roast, turning every 20 min., until they are uniformly soft when pressed with a fork, about 50 min. When done, let the eggplants cool (for about 10 min.). (As we had traditionally grilled our eggplants, we adapted the roasting method from The Cook's Illustrated Cookbook 9-10 (1st ed. 2011).)
5
While the eggplants are in the oven, cut the top portion of the garlic bulb and drizzle with oil. Arrange the garlic next to the eggplants and roast for about 15 min.
Drain the Eggplants:
6
When the eggplants are done, set a colander over sink. Peel the skins off using a paring knife. Be sure to leave the stems on, since that will make it easier to mash the flesh. Next, transfer the peeled eggplants to colander, sprinkle with 2 tsp Kosher salt, cover with a weight (e.g., a bowl of water), and drain for 30 min. When done, shake the salt off and press to drain.
Meanwhile, Mash the Chickpeas:
7
In the meantime, squeeze 5 roasted garlic cloves out of their shells. Reserving their liquid, place the chickpeas in a food processor or blender. Then puree the chickpeas, 6 tbs extra virgin olive oil, 6 tbs lemon juice, 5 garlic cloves, 3 tsp organic ground cumin, and 2 tbs chickpea liquid.
Mash the Eggplant:
8
On a shallow plate, holding the eggplants by their stems, coarsely mash the flesh with a fork.
Mix and Serve:
9
When done, transfer the mashed eggplant to a bowl. Then mix in the chickpeas, mint, cilantro, pepper and 1 tsp Maldon salt. Drizzle the mash with more olive oil. Finally, serve with the Sesame Sweet Potato Wedges, sprinkled with white sesame seeds.
Enjoy!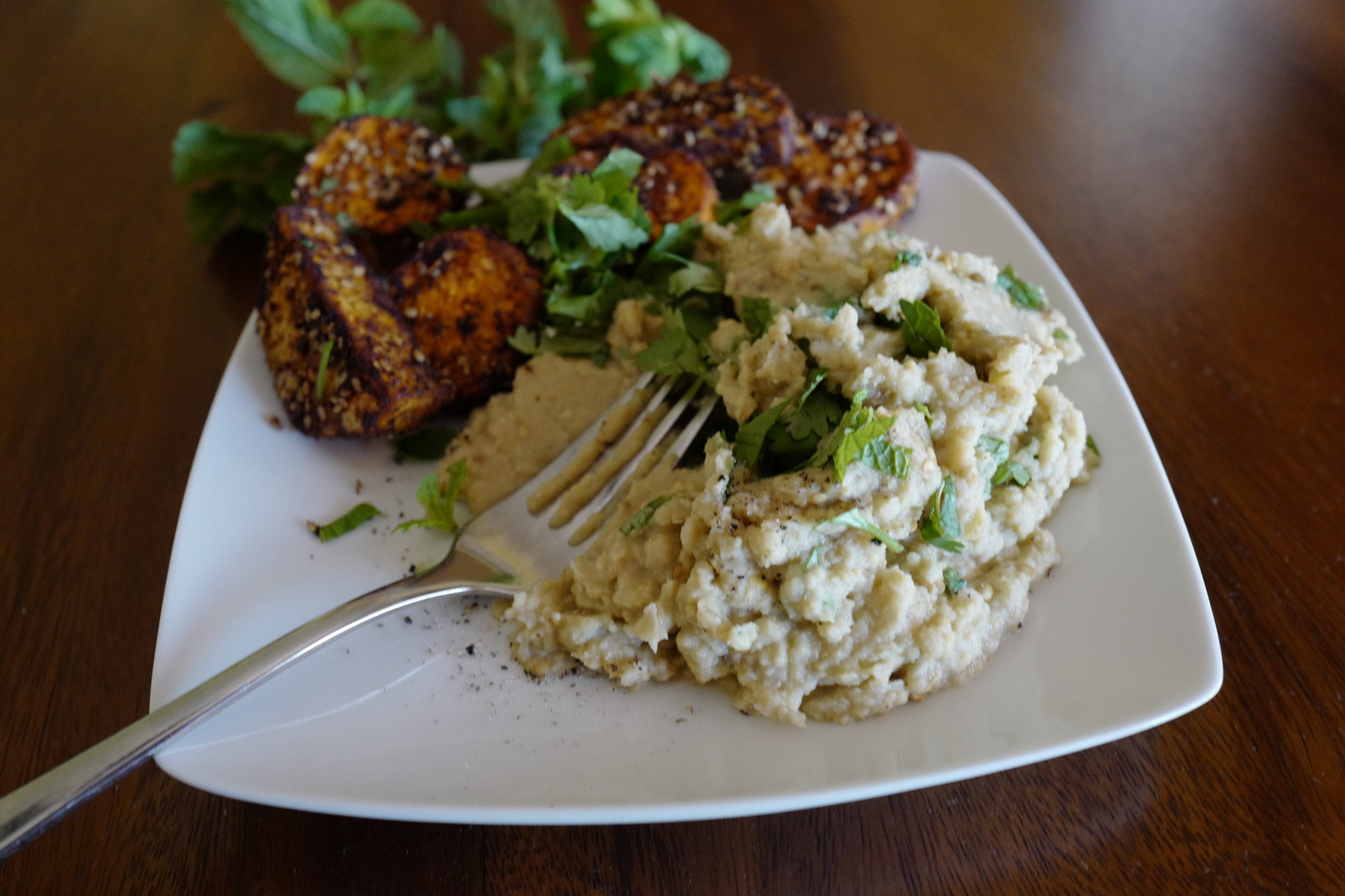 32