Nutrient-dense • Vegetarian • Grain-, gluten- and nut-free • Low carb • Low glycemic • Delicious • Easy
Stuffed portobello vegetarian caps with sundried tomatoes and white beans are a soul-satisfying, flavorful entree. I love mushrooms and cannellini beans and was happy to finding a way to incorporate both into a single recipe. I made these Stuffed Portobello caps (with Prosciutto instead of sundried tomatoes) for the first time for my husband's birthday, and he loved them! Together with my Mom, we tried replacing the ham with sundried tomatoes, using broth, or adding pine nuts. Unless used sparingly, broth can make the stuffing too soupy (it happened to us). Pine nuts go well, but without hot peppers, and with basil or oregano instead of sage. The recipe below - Stuffed Portobello Vegetarian Caps with sundried tomatoes and cannellini beans- is our favorite.
Prep Time15 mins
Cook Time30 mins
Total Time45 mins
What You Need:
4
Portobello Mushrooms, caps separated from stems, gills removed and discarded; stems diced and set aside
2
tsp
avocado oil or extra virgin olive oil for cooking + 1 tsp oil for brushing the caps. Because of its higher smoking point, avocado oil is preferred.
¼
cup
shallots, finely chopped (about 1 shallot)
10
medium-sized fresh sage leaves, finely chopped
8
sundried tomatoes, unsulfured and organic, chopped. Meat eaters can substitute the sun-dried tomatoes with 1 ounce (30-40 gram) chopped nitrate- and nitrite-free Prosciutto ham, fat trimmed and discarded.
2
tbsp
Parmeggiano Regano or Pecorino Romano cheese, finely grated. We recommend Mitica Parmeggiano Regano that we purchase at our local Whole Foods Market, because it's the perfect tasting parmesan, even on its own.
½
or 1 fresh Fresno or other chile pepper, finely diced. (If you love it hot, like we do, use the entire Fresno or other chile pepper.)
What to Do:
Prepare the caps:
1
Set broiler on high. (We use the broiler function in our convection oven.) Brush the bottom of the caps with 2 tsp avocado oil. Place the caps (hollow sides up) on the grilling rack or tray. Place the grilling rack 4 inches away from the heating element. (If the caps are too tall and touch the heating element, position the rack 6 inches away from the heating element and double the broiling time.) Broil the caps until tender and have released their juices, about 8-10 min.
2
When the caps are ready, transfer to a plate, placing them upside down to drain. Reserve the liquid from the caps.
Prepare the stuffing:
3
Now prepare the filling for the Stuffed Portobello Vegetarian caps. First, on medium heat, warm 2 tsp oil in a 9- to 12-inch skillet or frying pan. Then add shallots and pressed garlic and, stirring, simmer for about 2 min.
4
Next, add diced mushroom stems. Then cover, stir frequently, and simmer until tender, about 4 min. (If the stems don't release their juices after the first minute, add some of the liquid from the cannellini beans can or reserved from the caps.)
5
Now add sage, bean liquid, cannellini beans, chopped sundried tomatoes (or ham, if using instead), Fresno pepper, and salt and pepper. Cook another 7 min., stirring. (Note that the stuffing should be creamy. If your stuffing is getting too dry, scoop a spoonful of juice from the caps and add to the simmering stuffing.)
Bake:
6
Preheat oven to 420 F (215 C) and line baking sheet with parchment paper. Using a spoon, stuff the caps with the bean mixture. Sprinkle the cheese on top of the stuffed caps (if desired). Bake the Stuffed Portobello vegetarian caps for 5 to 7 min.
Enjoy!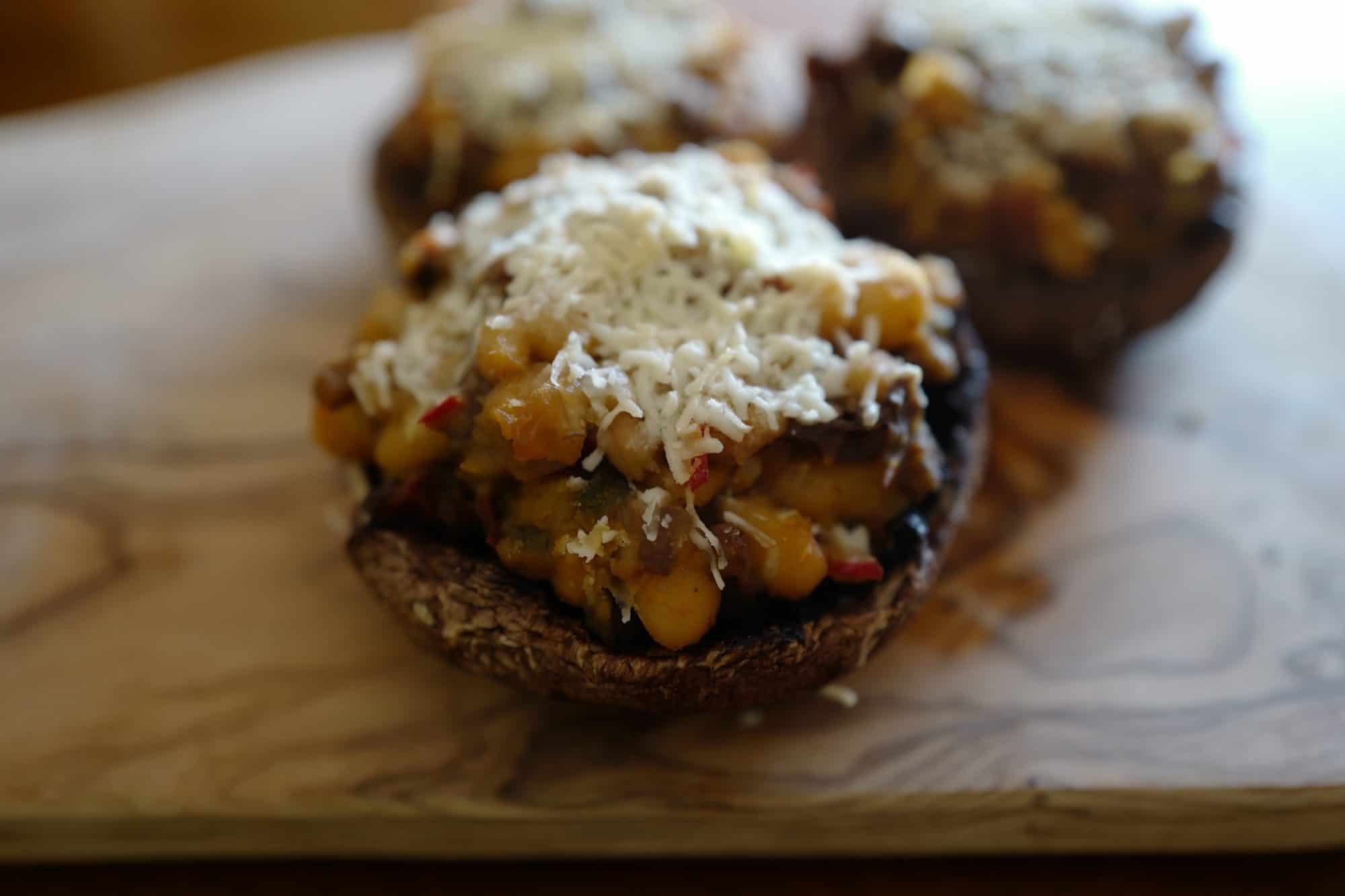 37