Nutrient-dense, plant-based • Vegetarian • Grain-, potato-, and nut-free • Dairy-free • Low fat • Delicious
You will love this meatless, flourless, light and satisfying dish. You can enjoy Beluga Lentil Meatballs (meatless balls made with black lentils) as a main dish accompanied by sliced avocado, or as generous side. We picked beluga lentils (black lentils) for this recipe, because they have a robust flavor, a distinct color, and a "meaty" taste. This dish is, therefore, a perfect substitute to meat. We have carefully selected the herbs used in this recipe and recommend using mint, marjoram, and thyme. However, if you do not have these in your fridge, fresh basil and parsley will do. The best part yet is that these "meat"balls are packed with nutrients. Unlike the more ubiquitous green lentils, black lentils contain anthocyanins. That is the same flavonoid with antioxidant properties found in blueberries and blackberries. And rather than taking our word for it, peep into the Science Daily news story. Garnish your Beluga Lentil Meatballs with avocado, yogurt, chives, scallions or grated Pecorino. Either way, you are in for deliciousness! This recipe yields 18 to 20 black lentils balls (about 6 servings for an entree).
Prep Time45 mins
Cook Time1 hr 10 mins
Total Time1 hr 55 mins
What You Need:
1
large egg (be sure to use a large one)
6
sprigs of fresh marjoram, stems discarded, leaves finely chopped (If you cannot find marjoram, you can use 1 big handful of basil leaves, finely chopped)
0.75
oz
fresh mint, finely chopped (that's one small package)
3
sprigs of fresh thyme, stems discarded (In place of mint or thyme, you can use 1 big handful of parsley leaves, finely chopped)
0.35
oz
fresh chives, chopped; or 2 green onion spears, chopped
1
tbsp
Pecorino cheese, grated (optional)
What to Do:
Bake and Mash the Sweet Potato(es):
1
Preheat oven to 400 F (205 C). Line a baking sheet with parchment paper. Wash the Japanese sweet potato(es), pat dry, and poke twice with a fork. Place the Japanese sweet potato(es) on the lined baking sheet and bake for 40 minutes, until soft when poked through with a fork.
2
When the sweet potato(es) have cooled, peel and discard their skin(s). Mash the peeled sweet potato(es) with a fork or puree in a food processor.
Prepare the Zucchinis and Black Lentils:
4
While the zucchinis are releasing their juices, coarsely puree the cooked beluga lentils in a food processor or blender. Then transfer the pureed black lentils to a large bowl.
5
Next, using your hands and working in batches, squeeze excess juice out of the zucchinis. Then transfer the drained zucchinis to a large mixing bowl with the pureed black lentils.
Assemble:
6
Preheat oven to 420 F (205 C). Using 1-2 tsp avocado oil, grease a large rimmed baking sheet.
7
Transfer the mashed sweet potato(es) to a large bowl with the black lentils and zucchinis. Add the egg, garlic, mint (or parsley), marjoram (or basil), thyme, chives or scallion spears, 2 tsp avocado oil or extra virgin olive oil (increase oil, if desired), and freshly ground black pepper (if using). Using your hands, form "meatballs" and arrange on the baking sheet. The balls should be about 2.3-inch in diameter.
Bake:
8
Finally, bake the Beluga Lentil Meatballs for 20 minutes on the middle rack. (We use convection setting in our convection oven.) When done, set the broiler setting on high and broil for 2 minutes to obtain golden crust. If you still see released juices, broil for 2 minutes longer. The Beluga. Lentil Meatballs are ready to enjoy!
Enjoy!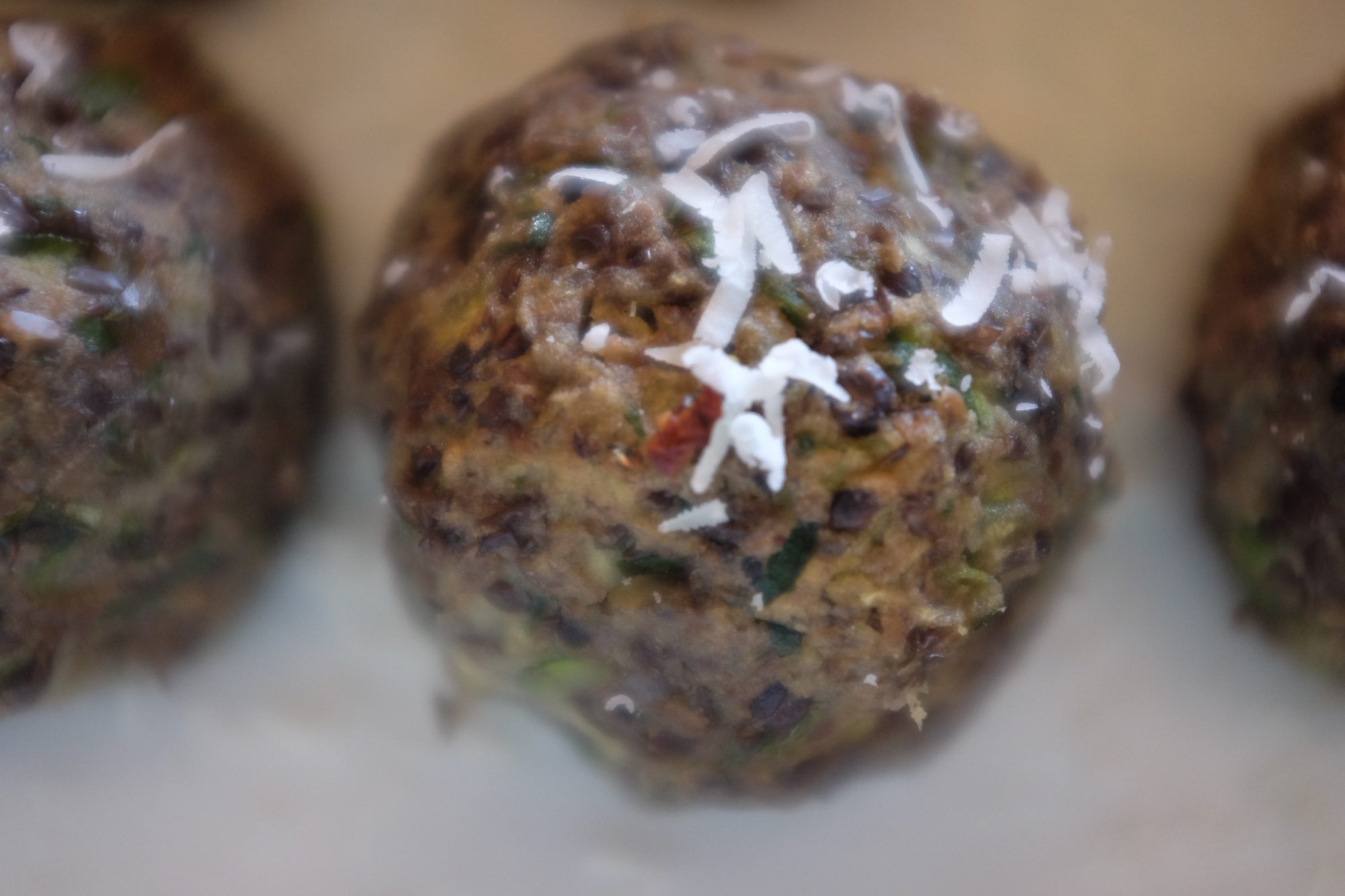 25