Nutrient-dense • Vegetarian • Gluten-, grain- and potato-free • Paleo • Low carb • Low glycemic • Delicious • Easy
Roasted Fennel + Pesto made with Pistachio and Mint was born when we were searching for the foods that would complement pistachio-mint pesto. The answer appeared when we were enjoying for dinner a side of roasted fennel. When we made the Roasted Fennel + Pesto we realized that the fennel's subtle anise flavors are the perfect match for the delicate pistachio pesto. Because its flavors are rich, delicate and multifaceted, Roasted Fennel + Pesto will be the gem of your dinner table.
Prep Time10 mins
Cook Time30 mins
Total Time40 mins
For the Pistachio-Mint Pesto (makes 1/2 cup)
¼
cup
raw pistachio nuts. Because they have a consistent fresh, sweet taste, we buy Lehy Valley's raw pistachio nuts at our local Whole Foods Market.
¼
cup
finely grated Parmigiano-Reggiano cheese. We highly recommend Mitica Parmeggiano Reggiano (also at Whole Foods), since it has a creamier, cheesier taste.
1 ½
cups
fresh mint leaves separated from the stems; stems discarded
freshly ground pepper to taste
For the Roasted Fennel:
2
medium fennel bulbs, or 3 small, fronds removed, hard bottoms trimmed
What to Do:
Roast the Fennel:
2
Roast the fennel wedges for about 25 min at 375 F (190 C), turning after the first 12 minutes. When the roasted fennel is ready, let just slightly cool.
Make the Pesto:
3
In the meantime, make the pesto. Place 1/4 cup extra virgin olive oil, followed by the mint, pistachio nuts, garlic, salt, and pepper (if desired) into a food processor or high-performance blender. Next, process until finely chopped and blended. After that, transfer the pesto to a small bowl and fold in Parmigiano-Reggiano and 2 tbsp extra virgin olive oil.
Combine:
4
While the fennel wedges are still warm, toss them to cover with 6 tbsp pistachio pesto. (You will probably have 1 tbsp pesto left.). The Roasted Fennel + Pesto is ready to enjoy!
Enjoy!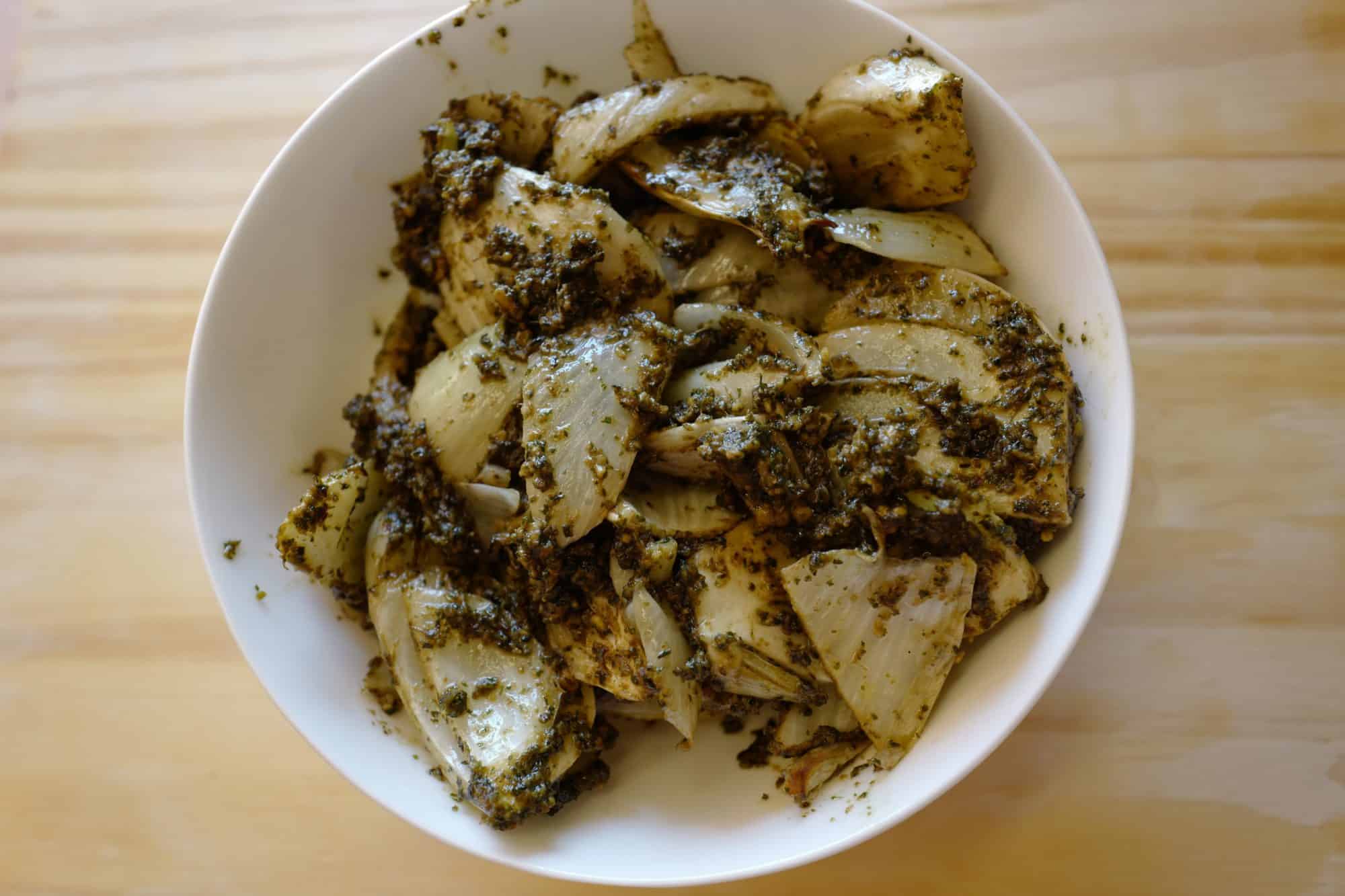 20