Nutrient-dense • Vegetarian • Vegan • Grain-, gluten-, potato-, and nut-free • Low glycemic • Low fat • Paleo • Delicious
Though it's plant-based, my favorite borscht is rich and full-bodied. It tastes like the traditional Ukrainian borsch but is healthier. Because my Mom cooks the veggies in separate groups and makes her own broth, her Paleo Borscht derives its body from the veggies, herbs, olive oil, and a little butter (optional). No potatoes, sugar, meat or flour. Mom's Paleo Borscht is quite different from other beet soups we prepare, like my husband's Polish Barszcz without veggies, and my Dad's Bulgarian borsch with mint and white beans. Curiously, my toddler loves this Paleo Borscht! He calls it a "red soup" and asks for more. Because the steps are straightforward, don't be discouraged by the long instructions. As you will see, you can dice, julienne, shred and cook the veggies while the broth is simmering. The delicious taste and veggies are worth it! Plus, with a 5.5-quart pot of Paleo Borsch, you will have plenty left for a few days! Just like most soups, the Paleo Borsch tastes best the next day. Finally, if you prefer meat broth, use lean beef marrow bones to make the broth.
Prep Time1 hr
Cook Time2 hrs
Total Time3 hrs
For the Vegetable Broth:
1
medium parsnip, peeled. If you don't have a parsnip, use instead for the broth 10 short stems of Italian parsley, separated from the leaves and tied together with a nontoxic cooking twine.
2
oz
piece of celery root, peeled. If you don't have celery root, use 2 celery stalks, white parts and leaves trimmed, stalks cut in halves crosswise.
6
sprigs of dill, stems separated from the leaves, tied together with a cooking twine, and reserved for the broth; leaves reserved for the borsch
1
large carrot, peeled. Double the carrot if not using parsnip.
1
leek (use only the white and light green parts), because leeks make a tastier broth than onions do.
4
long sprigs of thyme, stems discarded, tied together with a cooking twine
For the Borsch (Beet Soup):
1
medium yellow onion, peeled
½
medium white cabbage, coarse and wilted outer leaves discarded
2
long sprigs of thyme, stems discarded
2.50
oz
piece of celery root (celeriac), peeled
leaves from 6 sprigs of dill (sprigs were used for the broth)
a handful of Italian parsley leaves
What to Do:
Make the Broth:
1
First, in a 5.5 qt Dutch oven or stock pot, bring 3.5 quarts water to boil. Meanwhile, tie the thyme, dill stems, and parsley stems if using with the cooking twine. Next, reduce heat to low and add 1 parsnip, 1 piece of celery root, 1 carrot, 1 leek, bay leaves, black peppercorns, 1 small beet, and the herbs. Once boiling, increase heat to high and return to boil. Finally, reduce heat to low and cook, covered, for about 1 hour until the veggies are soft.
Julienne the Veggies:
2
Julienne parsnip into 1-inch long and 0.1-inch wide sticks, carrot into 1.5-inch long and 0.15-inch wide sticks, and celery root into thin sticks and then set aside in a bowl. Next, julienne the beet(s) into 1-inch long and 0.1-inch wide sticks and set aside in a small bowl. (Because finely julienned beets taste better, it's important to achieve thin sticks.) Next, using a sharp knife, thinly shred cabbage and set aside in a large bowl. Then, finely dice onion(s) and transfer to a bowl. Finally, chop dill and parsley leaves and set aside.
Saute the Veggies:
3
First, on low to medium heat, warm up 2 tbsp olive oil in a 10- to 12-inch frying pan. Add onion and simmer on low until translucent. Then add thyme leaves, carrot, parsnip, celeriac and 3 tbsp simmering broth and cook, stirring every 2 minutes, until crunchy soft, about 5-7 minutes. (Make sure the veggies are crunchy.) Set aside.
4
Next, on low to medium heat in a frying pan, warm up butter (or olive oil). Add the julienned beets and 3 tbsp simmering broth and simmer on low for about 5 minutes. Stir in tomato paste and lemon juice (or apple cider vinegar) and simmer for additional 2 minutes. Set aside. Because salted beets don't taste well in borsch, do not salt them.
Finish:
6
Remove the cooked veggies, stems, and bay leaves from the broth and discard. Add cabbage to the broth and bring to boil on high heat. Reduce heat to low and cook until the cabbage is crunchy soft, for about 3 minutes. Next, add all the cooked veggies (carrots/parsnip/celeriac, beets, tomatoes), salt and pepper to taste, and bring the broth to boil over high heat. Finally, add parsley, dill and simmer for 1 minute.
Enjoy!
7
Although it is traditionally served with a dollop of sour cream dropped into each bowl, Mom's Paleo Borscht just as tasty without it.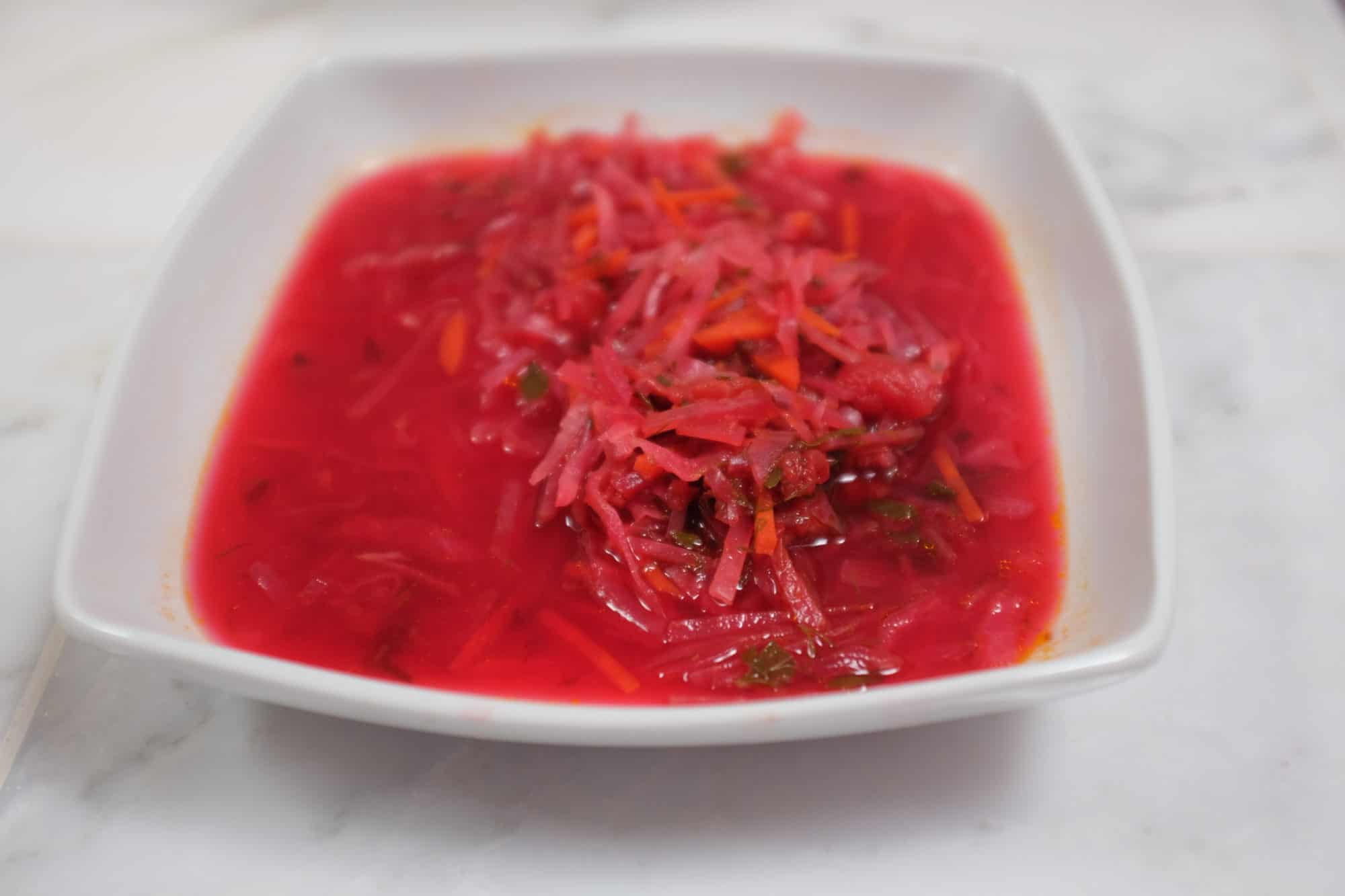 24