Vegan • Gluten-, grain- and potato-free • Paleo • Low Glycemic • Delicious • Easy
Our exclusive Vegan Butternut Squash Soup with Fennel is elegant and exquisite. It belongs to an upscale restaurant where it would be served in autumn and winter. Though butternut squash is quite simple and rustic, our Vegan Butternut Squash Soup with Fennel will impress you with a complex gourmet taste. The fennel, herbs, lemon zest, and sesame seeds create a refined and rich flavor. If you wish, you can even transform the Vegan Butternut Squash Soup with Fennel into a thinner soup by adding extra broth. Try this soup, for it will be your meal's masterpiece.
Prep Time25 mins
Cook Time1 hr
Total Time1 hr 25 mins
What You Need:
1
medium butternut squash
6
medium sage leaves. (Don't overdo with the sage!)
5
medium shallot halves, sliced first lengthwise and then crosswise (about 2 cups). (Note: if using one large onion instead, you'll need to caramelize it really well, for about 15 to 20 minutes.)
2
garlic cloves, unpeeled
½
medium fennel bulb, or 1 small fennel, sliced lengthwise in three parts
2
tsp
thyme leaves, tightly packed. That's about 5 long stems of thyme.
¼
organic lemon, chopped zest of. (Zest of 1/4 organic lemon, chopped.)
2
tbsp
white sesame seeds (not toasted), or 2 tbsp raw and unsalted pistachio nutmeats. Sesame seeds are preferred, because they add a nice bite.
salt and freshly ground pepper to taste
What to Do:
Roast the Butternut Squash:
1
Preheat oven to 400 F (205 C). Pour 1 tablespoon avocado oil into the butternut squash halves and arrange on a lined baking sheet. Roast for about 40-50 minutes, or until soft when poked through with a fork.
Roast the Fennel and Garlic:
2
Preheat oven to 375 F (190 C) and line a baking sheet with unbleached parchment paper. Using a pastry brush, lightly brush the fennel parts with 1/2 tablespoon avocado oil and arrange on the lined baking sheet. Add unpeeled garlic cloves. Roast fennel and garlic for at least 15 minutes, turning half-way.
Prepare the Broth:
Sautee the Shallots and Thyme:
4
In the meantime, in a dutch oven or skillet warm up 1.5 tablespoon oil over medium heat. Add shallots and thyme and, periodically stirring, cook on low for about 5-7 minutes, until soft and translucent but not browned.
Chop the Squash:
5
Next, scoop out and roughly chop the butternut squash flesh and transfer to a large bowl. Squeeze out the garlic cloves and, together with the fennel, add to the butternut squash.
Process or Blend the Ingredients:
6
As a final step, pour 2/3 cups of broth into a high performance blender, or Vitamix food processor and add the butternut squash, fennel, garlic, shallots, sesame seeds, sage, lemon zest, and salt and pepper to taste. Blend the Vegan Butternut Squash Soup with Fennel on the soup setting.
Enjoy!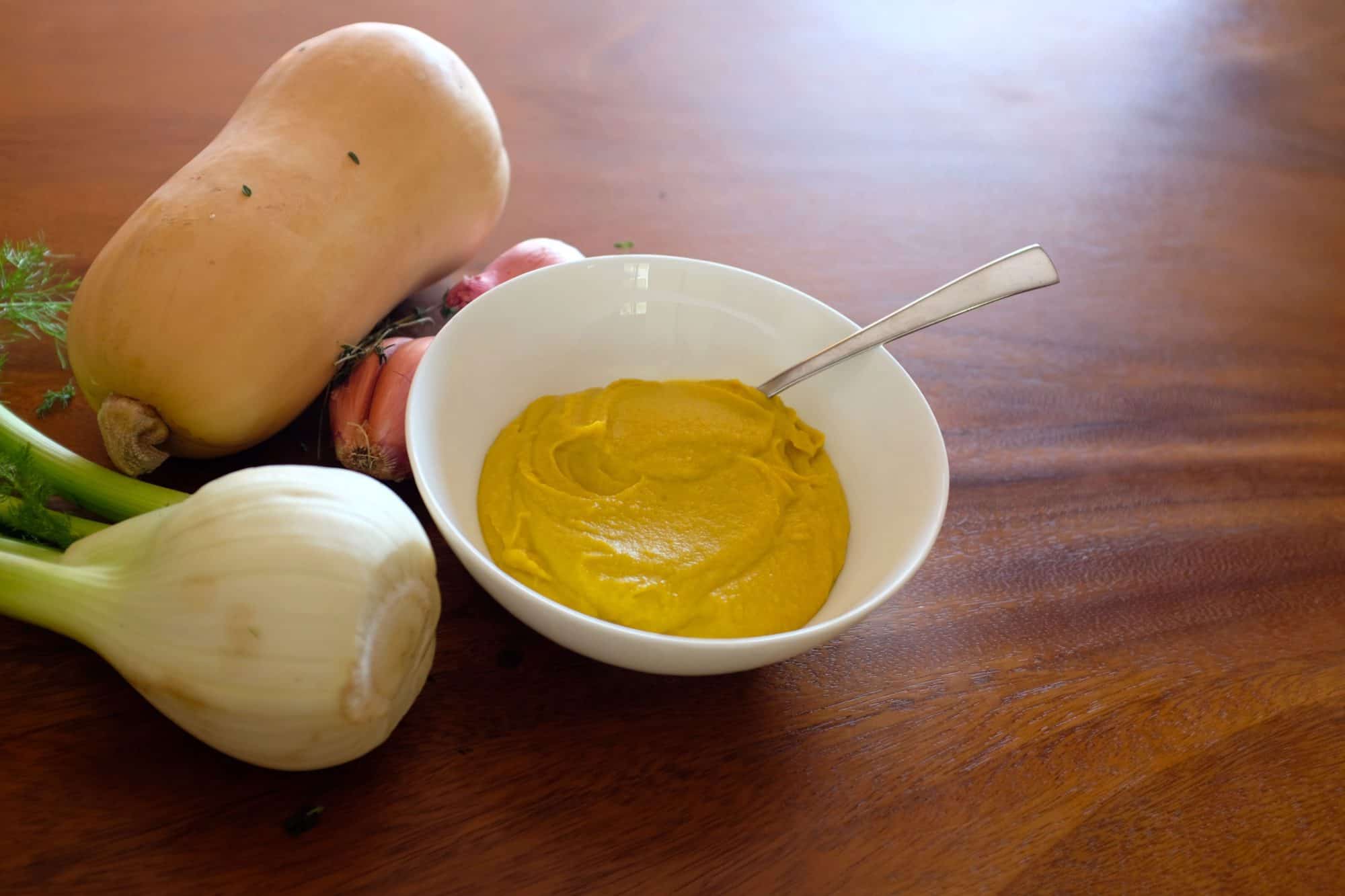 38