This recipe – mung bean salad – is 100% vegan and 100% easy, and keeps in the fridge surprisingly well! It also uses very few necessary ingredients (mung beans, sun-dried tomatoes, shallot, fresh mint and cilantro, and a splash of lemon juice).
Why did we choose mung beans, a legume, to make this satisfying, nourishing salad? Legumes make a great salad, and they add flavor without any unhealthy dressing. In particular, mung beans' nutty flavor and crunchy texture work well with many unconventional flavor combinations. Here, we dress up our mung bean salad with refreshing mint and cilantro, sour-sweet sun-dried tomatoes, and a spicy pepper (optional). This way we are highlighting the natural flavor in mung beans without overpowering them. What's more, unlike leaf-based salads, this mung bean salad can be made well in advance and leftovers keep surprisingly well! Because the flavors develop over time, this delightful salad tastes best after a a few hours in the fridge. Enjoy!
Vegan • Grain, Potato, and Nut Free • Low Glycemic • Gluten Free • Nutrient Dense • Delicious • Easy
We especially enjoy Silvena Rowe's cookbook Purple Citrus and Sweet Perfume (Harper Collins 2011). The inspiration for this recipe is Ms. Rowe's delightful Mung Bean salad with Caramelized Onions and Nigella Seeds. See id. at 197. We've modified the original recipe to uncover the new flavors. We added more mung beans, reduced the onion, and probably quadrupled the sun-dried tomatoes. We also brought in mint and cilantro, thyme, lemon juice and a fresh chili pepper and omitted nigella seeds. This versatile, protein-rich salad makes a delicious and nutritious entree. But if you prefer serving it as a side, the Mung Bean Salad with Sun-Dried Tomatoes complements fish, chicken, flourless tortillas, roasted sweet potato wedges, or a baked sweet potato. Our Mung Bean Salad recipe makes generous 6 servings as a main dish. And if you are lucky to have any leftovers, they will keep surprisingly well for 3 days in the fridge.
Prep Time30 mins
Cook Time10 mins
Total Time40 mins
What You Need:
1
large yellow onion, sliced into quarter rings (first sliced lengthwise and then crosswise)
3
long sprigs of fresh thyme, stems discarded
5
tbsp
fresh chopped mint, stems discarded. (That's a standard 0.5 oz package you will find in any grocery store.)
6
tbsp
chopped fresh cilantro leaves, stems discarded. (That's 1 small to medium bunch of cilantro.)
1
fresno chili pepper or other red hot pepper, cored and thinly sliced. Avoid touching your eyes while and after working with Fresno or chile peppers. You may want to wear rubber gloves.
What to Do:
Caramelize the Onion:
1
In a 10- to 11-inch skillet over medium-low heat, warm up 1-2 tbsp oil from the sun-dried tomatoes jar. Add the onion and thyme and reduce the heat to low. Cook uncovered, stirring periodically to avoid burning, for 15 to 20 minutes. The onions are ready when soft, translucent and have just begun to brown. Let the onions cool.
Chop the Sun-Dried Tomatoes:
2
Scoop the sun-dried tomatoes out of the jar, without squeezing out the oil (they should remain moist). Chop the tomatoes in two to three stripes. Reserve their oil.
Assemble:
3
In a large salad bowl, mix the cooked mung beans, chopped cilantro and mint, sliced Fresno or chile pepper, and 4 tablespoons oil (from sun-dried tomatoes jar). Stir in the chilled onion and salt and pepper. The Mung Bean Salad is ready to enjoy!
Enjoy!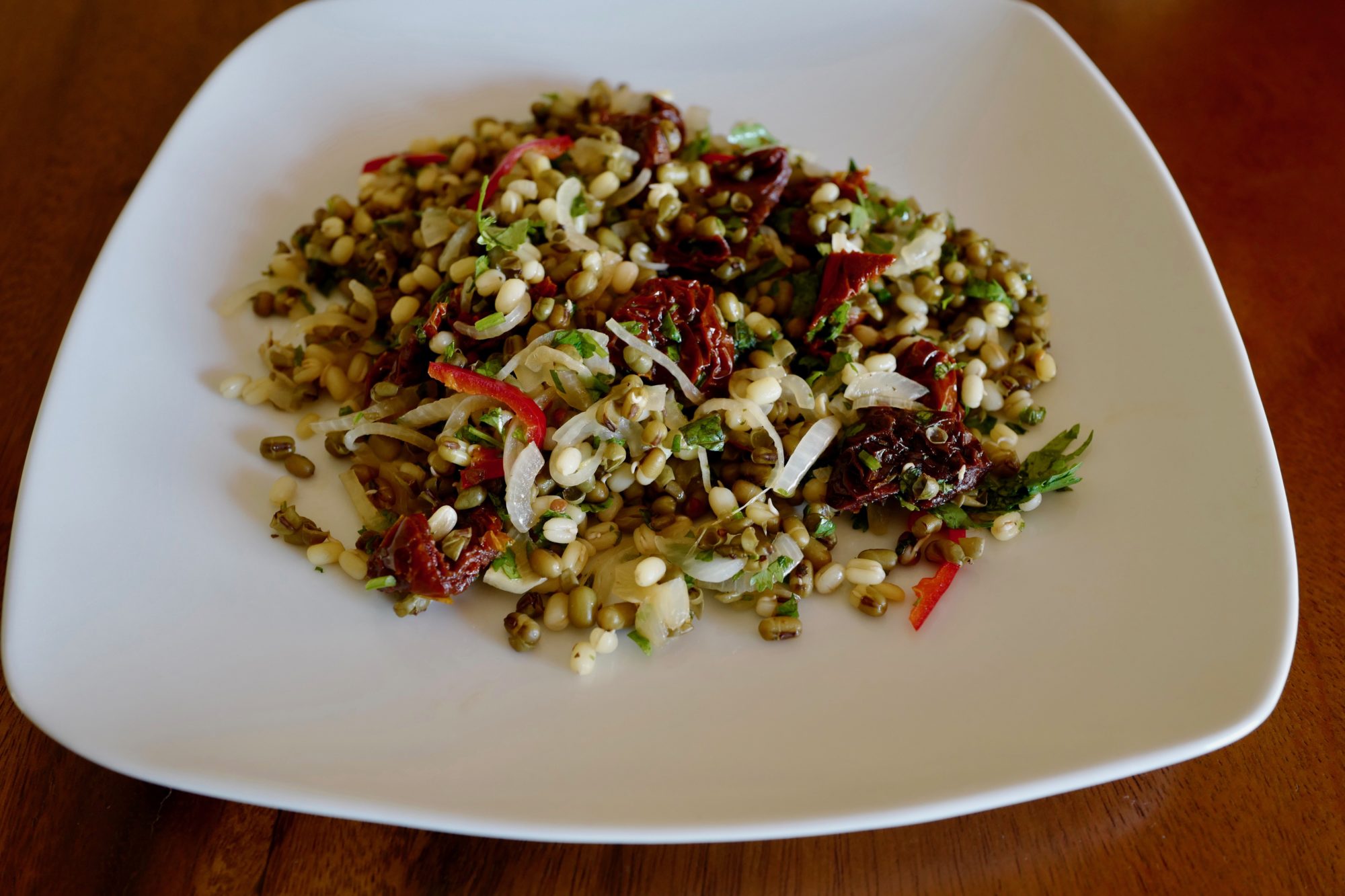 115