Would you like to bake an unmistakably delicious, tried-and-true pie for your holiday table? The custard will inevitably turn out fluffy, sweet and glossy, and the crust perfectly moist. Then read on. From this post, you will learn how to make a perfect and healthy delight destined to become the glory of your holiday dinner. This decadent dessert (Paleo Kabocha Squash Pie) is sugar-free, flourless and requires only a limited number of ingredients (kabocha, olive oil, almond flour, pecans or walnuts, honey, eggs, a dash of milk and spices). Did you know that kabocha squash is sweeter, fluffier and richer in flavor than pumpkin? (Take a look at https://en.m.wikipedia.org/wiki/Kabocha.) Thanks to these properties, bite after bite the custard made with kabocha squash tastes better than the one made with pumpkin. Now let me tell you why my crust turns out moist and perfect. To avoid burning and drying, I place the crust only on the bottom. Although I tried various techniques for a wraparound crust, none of them were up to snuff. Prebaked crust was a disaster, and even unbaked crust and frozen unbaked crust burned and hardened. Only when I concentrated the crust on the bottom, it turned out moist and tasty, complementing the fluffy custard. I recommend that you do what I did – place the crust only on the bottom. For further tips and your perfect festive Paleo Kabocha Squash Pie, follow the recipe below!
Nutrient-packed dessert • Paleo • Gluten-free • Delicious • Easy
My favorite part of a holiday dinner is dessert. Sweet aroma of spices and pumpkin are, of course, synonymous with Thanksgiving. But for our holiday dessert, in place of pumpkin, I chose flavorful (and very nutritious) kabocha squash. The result - honey-sweetened, flourless Paleo Kabocha Pie - is indulgent. Because kabocha squash is sweeter and fluffier than pumpkin, the pie has an unbeatable chestnut-like texture and a complex sweetness. (To assure you, according to Wikipedia, Kabocha has an exceptional sweet flavor, even sweeter than butternut squash.) And unlike more common versions of the dessert, Paleo Kabocha Pie is overloaded with luscious custard. But these are not the only reasons to love this heavenly dessert. Bite after bite into the pie, you will savor the remarkable flavors of the fall: pumpkin, cinnamon, nutmeg, ginger, cloves. Now let me give you a few serving tips. I would recommend decorating the Paleo Kabocha Pie with walnuts or pecans. And if you wish to go over the top (and end in heaven!), drop a dollop of fresh, lightly sweetened whipped cream. But if you are still skeptical that kabocha squash is the perfect "pumpkin" for your festive dessert, just give it a try. I surmise you will forever replace your holiday pumpkins with this scrumptious squash.
Prep Time15 mins
Cook Time40 mins
Total Time55 mins
For the Crust:
½
cup
raw pecans, or walnuts, ground in food processor
For the Custard:
2 ½
cups
roasted kabocha squash (brush halves with oil and roast at 400 F until soft, or for 40-45 minutes.)
2
tbsp
full-fat coconut milk or full-fat dairy milk for thinning. You may need to adjust this amount depending on the texture.
For the Spice Mix:
¼
tsp
sumac (optional)(slightly tart sumac adds nice complexity)
Prepare the Pie Form:
1
Cut out a 9-inch circle from parchment paper. Grease a 9-inch round pie form with oil and place the circle on top. Grease the circle.
Prepare the Crust:
3
In a small bowl, whisk 1 egg and 2 tbsp honey until incorporated.
4
Now fold together with nuts and incorporate. Knead the dough. Press the dough only on the bottom (!!!!) of the prepared pie form. Refrigerate.
Prepare the Custard:
5
Preheat oven to 350 F. In a food processor, puree kabocha squash, the rest of the custard ingredients and spices until smooth.
6
Pour custard on top of the refrigerated crust. Bake the Paleo Kabocha Pie for 40 minutes at 350F at convection setting, or until the pie custard is just a little jiggly in the center. (It will settle more as it cools.)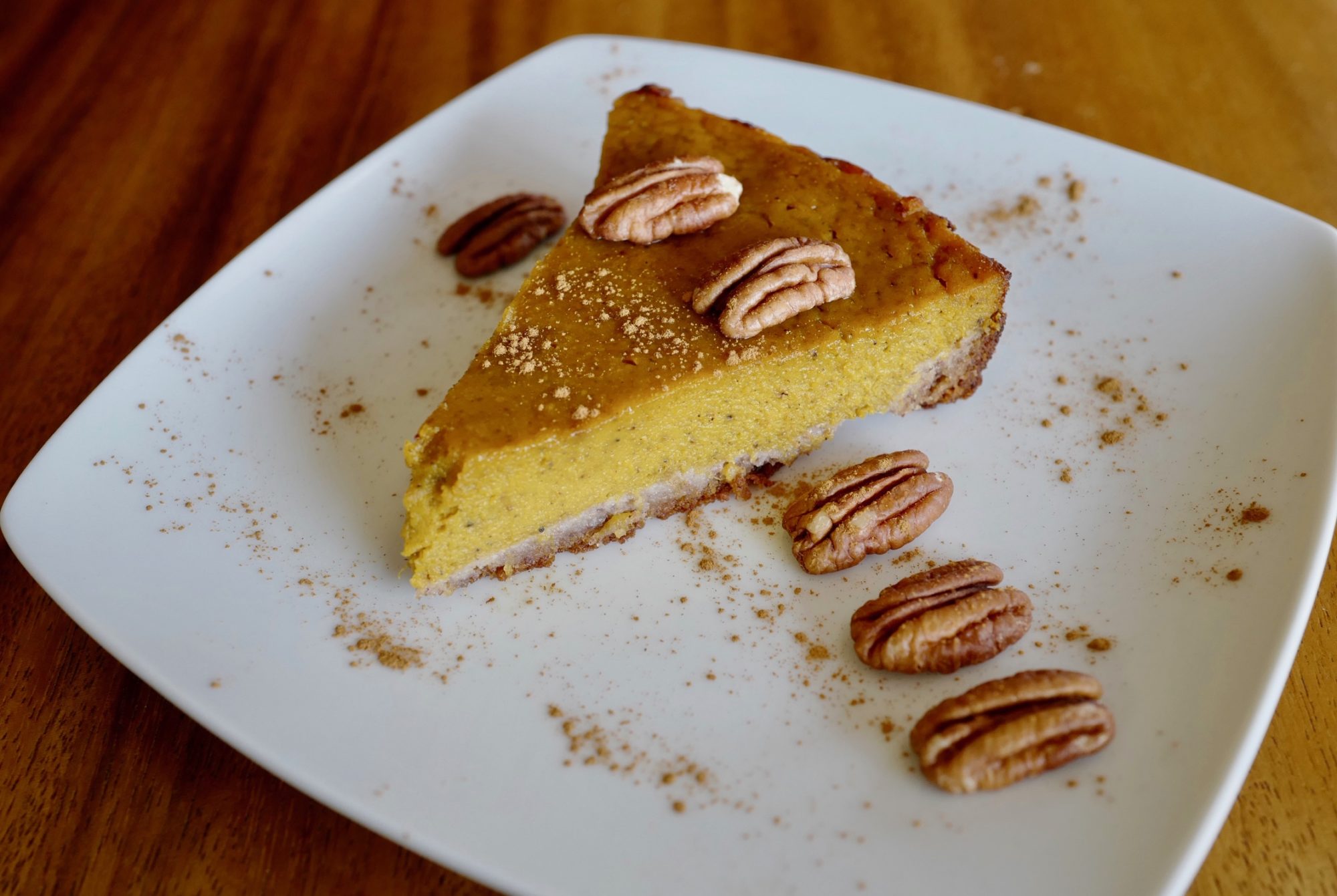 59