Vegan • Gluten-, Grain- and Potato-free • Low Carb • Low Glycemic • Quick and Easy • Nutrient-dense • Nut-free • Delicious
This is the best - absolutely the best - red lentil soup we have ever tried, including renowned ethnic restaurants and top selling cookbooks. Red Lentil Soup with Red Bell Peppers and Tomatoes is unusually flavorful. The flavor comes from the slowly cooked thyme, marjoram, grains of paradise (<- these can be substituted with black peppercorns), parsley, cayenne powder, caramelized diced tomatoes ... and your favorite tomato sauce, also caramelized. (The use of the caramelized sauce is the secret to the rich taste of the soup.) Though light (in fat and calories), the Red Lentil Soup is both nourishing and satisfying. With the meticuloulsy selected herbs and ingredients, this soup will always turn out good, we promise! (In fact, the soup is so good that our 4 year old eats a full bowl every time.)
Prep Time20 mins
Cook Time45 mins
Total Time1 hr 5 mins
2
medium yellow onions, or 1 very large, thinly diced
1
full handful of parsley leaves, thinly chopped
2
large garlic cloves (or 4 small), pressed
2
red bell peppers, diced in 1-inch squares or thinly sliced
¼
oz
fresh marjoram or oregano leaves, lightly packed. That's 1/2 of the standard 0.5 oz package on the shelf of your grocery store.
7
medium to long sprigs of thyme, stems discarded. That's 1/3 of the standard 0.5 oz package on the shelf of your grocery store.
⅓
tsp
ground cayenne pepper or 1/2 teaspoon ground chili pepper. Increase cayenne to 1/2 teaspoon for a spicier version.
1
tbsp
parsley, thinly chopped, for garnishing
Prepare the Lentils:
1
Bring 6 cups (1.5 liters) of water to boil. Combine hot boiled water with the red lentils in a 5.5-quart Dutch oven. (The Dutch oven must be large enough to hold the entire soup.) Bring to boil, uncovered. Then simmer gently with the lid ajar until tender, for 20 minutes.
2
Now pour the broth into the lentils and continue cooking, covered, for about 5 minutes, or until the lentils are tender. When ready, set aside.
Saute the Onion, Red Bell Pepper, and Spices:
3
While the lentils are cooking, stir together a handful of finely chopped parsley and 2 large garlic cloves in a small bowl.
4
On medium heat, warm up avocado oil or olive oil in a large 9-inch pan. Now add diced onions, bay leaves, and thyme and cook uncovered, stirring, on low heat for about 5 minutes.
5
Once the onion becomes translucent, add marjoram (or oregano) leaves and diced or sliced bell peppers. Sautee for 3 to 4 minutes, covered. Add the parsley and garlic and cayenne or ground chili pepper. Sautee for 4 minutes, covered.
Caramelize the Tomato-Pepper Sauce:
6
Next, add the tomato sauce and diced tomatoes to the pan with the onion and red bell pepper. Bring to boil over medium-high heat, stirring periodically. Reduce the heat to low, cover, and cook for 15 minutes, stirring periodically. Now uncover and cook for another 5 minutes, stirring periodically.
Combine the Tomato-Pepper Sauce with the Lentils:
7
When the sauce is ready, add the sauce to the pot with the lentils. Then bring to boil over medium heat and simmer for 5 minutes. Serve the Red Lentil Soup garnished with parsley.
Enjoy!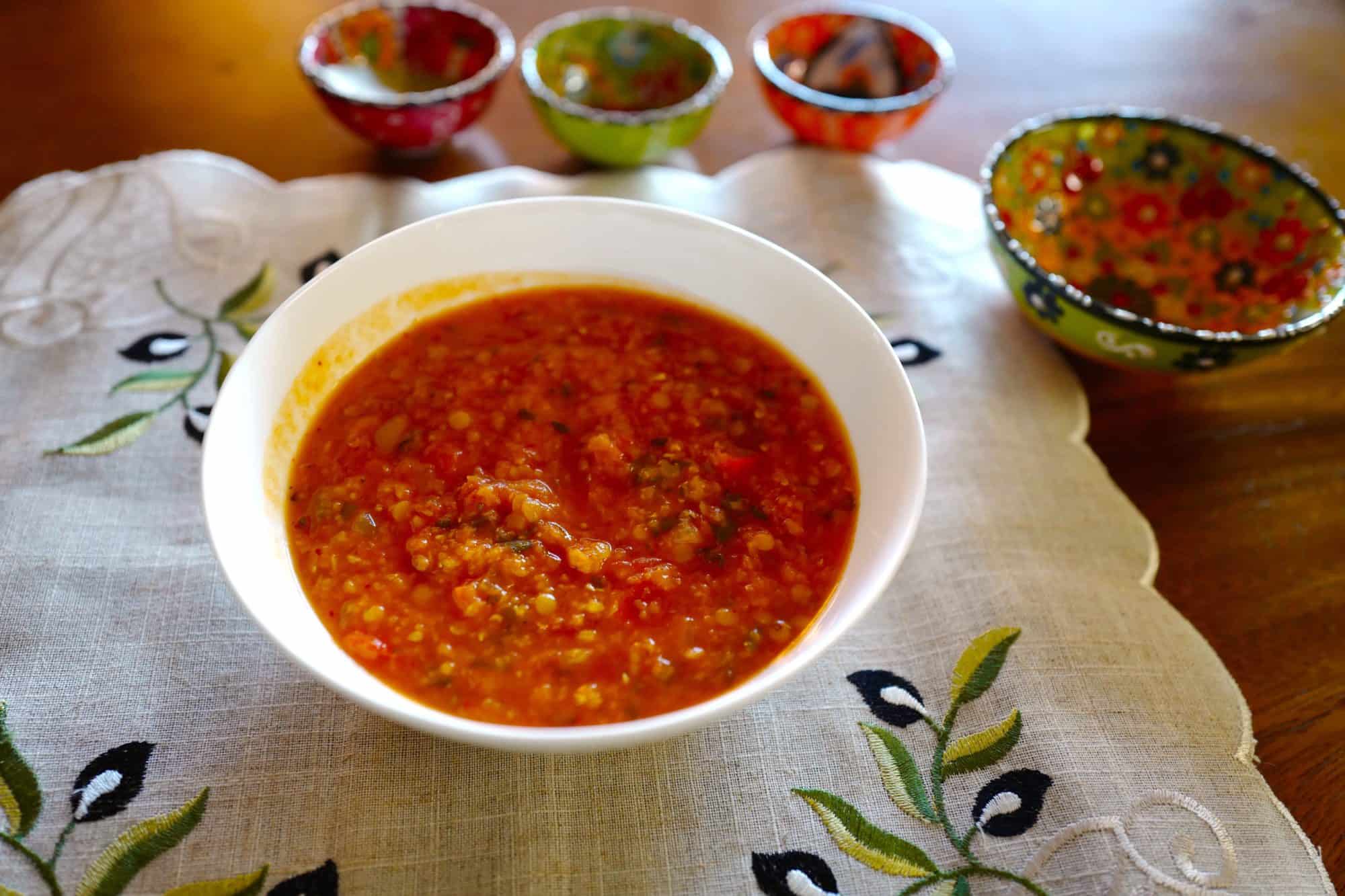 79