Vegetarian • Gluten-, grain- and potato-free • Easy • Out-of-this-world delicious
Jamie Oliver's potato salad with cilantro and feta inspired our Sweet Potato Feta Salad. Just as the original, our version will impress your palate with fresh, varied flavors. We altered (healthified) the recipe by (a) using only sweet potatoes, (b) adding sumac (to reduce sweetness and intensify citrus), and (c) finely chopping a little Feta. These ingredients plus cilantro and Fresnos create a spectacular, multi-faced flavor. Did you expect THAT MUCH flavor from a humble sweet potato? This salad complements any dish, but tastes best with roasted salmon (or, for omnivores, chicken).
Prep Time20 mins
Cook Time40 mins
Total Time1 hr
1
large Japanese sweet potato (about 16 oz), thoroughly washed and scrubbed from any dirt
2
medium sweet potatoes (about 22 oz total), washed
2
fresh red Fresno peppers, diced. (You can find them any day at your local Whole Foods Market or other grocery store.)
1
generous bunch of cilantro, stems discarded, leaves roughly chopped
1
lemon, preferably organic, cut lenghtwise into two halves
2.50
oz
Feta cheese (made with sheep milk), finely diced
Roast:
2
In the meantime, cut the Japanese sweet potato into quarters and the red sweet potatoes lenghtwise into halves. Arrange the potatoes on the baking sheet skins down, brush with avocado oil, and sprinkle sumac. Next to the potatoes, place the lemon halves skins up.
3
Roast the lemon for 25 minutes. When ready, set aside, skin down. Roast the potatoes until soft when poked through with a fork, for 35 - 40 minutes, and let cool.
Peel:
4
Remove the skins from the red sweet potatoes. No need to peel the Japanese sweet potato. Next, roughly chop them and transfer to a large bowl.
Roughly Puree:
5
Squeeze the juice and scoop out the flesh out of the baked lemon and add to the potatoes. Add olive oil. Using a bamix blender or fork, roughly puree the sweet potatoes, achieving chunky consistency. Transfer to a serving bowl.
Mix and Serve:
6
Mix in the chopped cilantro, Feta, and Fresnos to the Sweet Potato Feta Salad. Serve chilled or at room temperature.
Enjoy!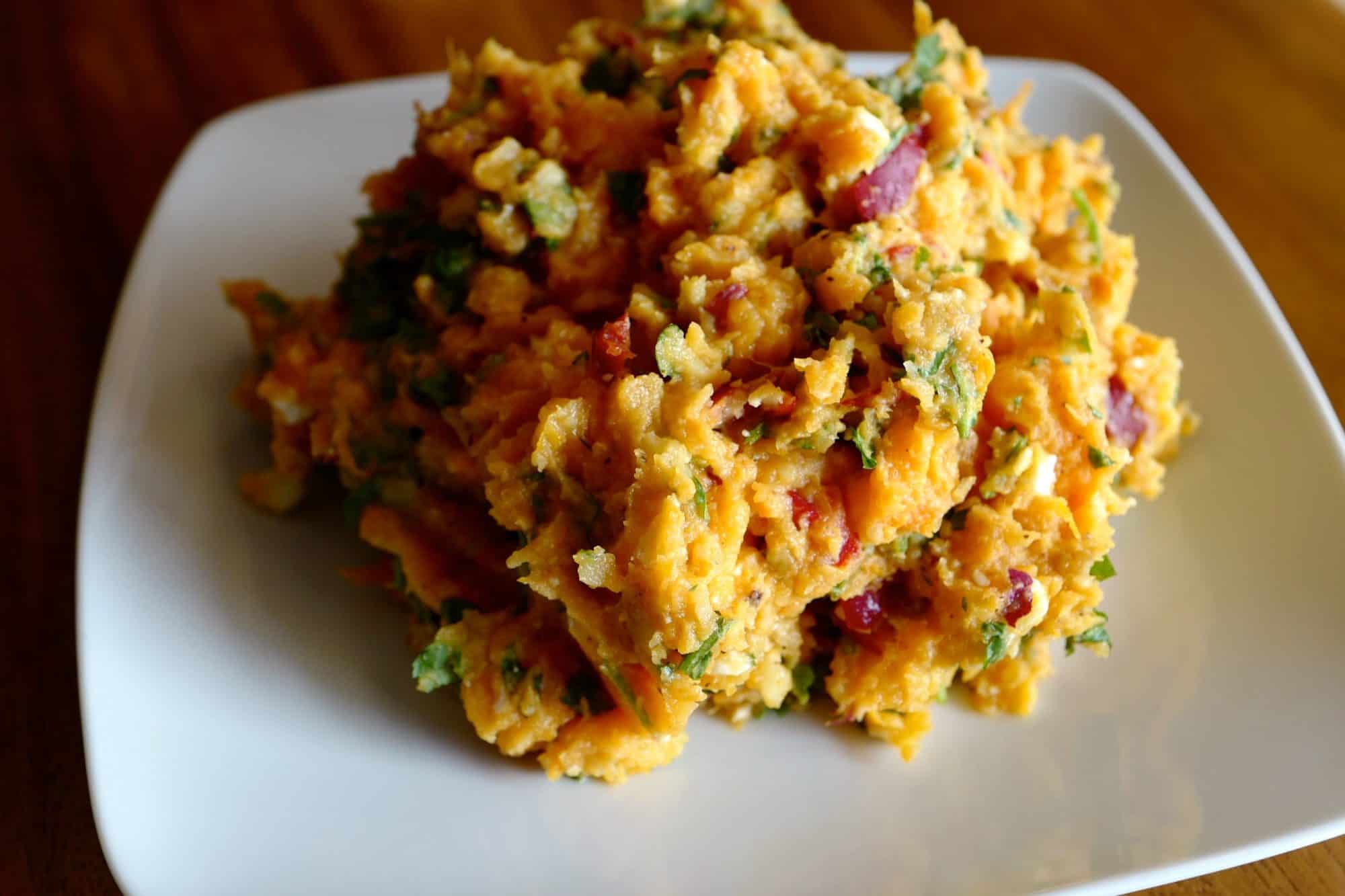 81