Vegetarian • Grain- and gluten-free • Paleo • Nutrient-dense • Delicious
The Roasted Eggplant Stacks with Sweet Potato, Feta and Herbs are inspired by Silvena Rowe's wonderful recipe Eggplant Stacks with Pomegranate, Mint and Yogurt Sauce. See S. ROWE, PURPLE CITRUS AND SWEET PERFUME: CUISINE OF THE EASTERN MEDITERRANEAN 200 (Harper Collins 2011). To make this delight lighter and spicier, we have modified it. First, instead of frying, we bake our sweet potatoes and roast the eggplant. Second, to add depth to the mash, we use both Japanese sweet potatoes and garnet sweet potatoes. Third, we do not use any flour. (Because flour is processed and refined, we eschew it.) Fourth, we salt and drain our eggplant to make it softer and sweeter. Fifth, to spice up the dish, we add lemon juice, cilantro, hot peppers and cayenne. Finally, we have omitted the yogurt/pomegranate molasses sauce. This vegetarian recipe makes 8-10 eggplant stacks (depending on the diameter of your eggplant), or 4-5 servings (as a main course).
Prep Time1 hr 30 mins
Cook Time1 hr 30 mins
Total Time3 hrs
What You Need:
2
medium globe eggplants, sliced in finger-thick round slices (Try to choose eggplants that are uniform in size, so that the round slices are of about the same size.)
2
medium garnet sweet potatoes
6
oz
sheep milk or goat milk Feta cheese chopped into thin 1/4 inch squares (If that's too hard, you can instead coarsely chop it.)
2
medium Japanese sweet potatoes (You can use only garnet sweet potatoes, or even the same amount of pumpkin, but this dish tastes better with at least one Japanese sweet potato mixed in.)
½
tbsp
lemon juice, freshly squeezed
3
tbsp
finely chopped fresh cilantro leaves
2
fresh Fresno or other chile peppers, thinly chopped (If you don't have chiles, use instead ½ teaspoon cayenne pepper.)
2
tbsp
finely chopped fresh mint leaves
¼
tsp
cayenne powder (optional)
½
tbsp
Kosher salt (optional; for salting and draining the eggplants)
freshly ground pepper to taste
Bake the sweet potatoes:
1
Preheat oven to 400 F (205 C) (Because convection setting results in even roasting, we use convection setting in our gourmet countertop oven.) Wash, pat dry, and, using a fork, poke sweet potatoes (i.e., garnet sweet potatoes and Japanese sweet potatoes) a couple of times. Arrange the sweet potatoes on a baking sheet. Bake for 45 minutes, or until soft inside. When ready, let cool slightly, so you can work with them.
Drain the eggplant (optional):
2
This step is optional, but it does make eggplant sweeter and silkier. Arrange the eggplant slices in a colander placed over a sink or bowl. Sprinkle with 1/2 tbsp Kosher salt, place a weight (e.g., one-quart bottle or bowl filled up with water) on top of the eggplant slices and let drain for 45 min, turning once or twice. (Don't leave the eggplant with salt on for over 1 hour, as the salt will harden the eggplant.) When done, thoroughly rinse the eggplant slices with cool water, wiping off the salt, and gently pat dry with paper or kitchen towels.
Roast the eggplant:
3
Preheat oven to 375 F (190 C). Line baking sheet with parchment paper. Generously brush the eggplant slices with olive oil or avocado oil, using 2 tbsp (or as desired). Arrange the eggplant slices on the baking sheet and roast, turning halfway, for 25-30 minutes, until just begin to brown. Once ready, cool the roasted eggplant slices for 10 minutes.
Mash the sweet potatoes:
4
When the sweet potatoes have cooled, peel them using a paring knife. Coarsely mash (do not puree!) the flesh with a fork or pulsate on low in a food processor until it becomes chunky (but not creamy or smooth!). Transfer the sweet potato mash to a large bowl. Stir in lemon juice, 2 tablespoons extra virgin olive oil, Fresno or other chile peppers (or cayenne if using instead), feta, mint, cilantro, and freshly ground pepper (and salt, only if desired).
Assemble:
6
Working in batches, build the eggplant stacks on the baking sheet, starting with an eggplant slice on the bottom and the sweet potato, feta, and herb mash on top of each slice. When finished, dust the stacks with a pinch of sweet paprika powder and, if desired, a tiny pinch of cayenne pepper.
7
Bake the Roasted Eggplant Stacks for 10 minutes, and they are ready! And, if you'd like to read Silvena Rowe's recipe that inspired our recipe, here's the absolutely wonderful cookbook.
Enjoy!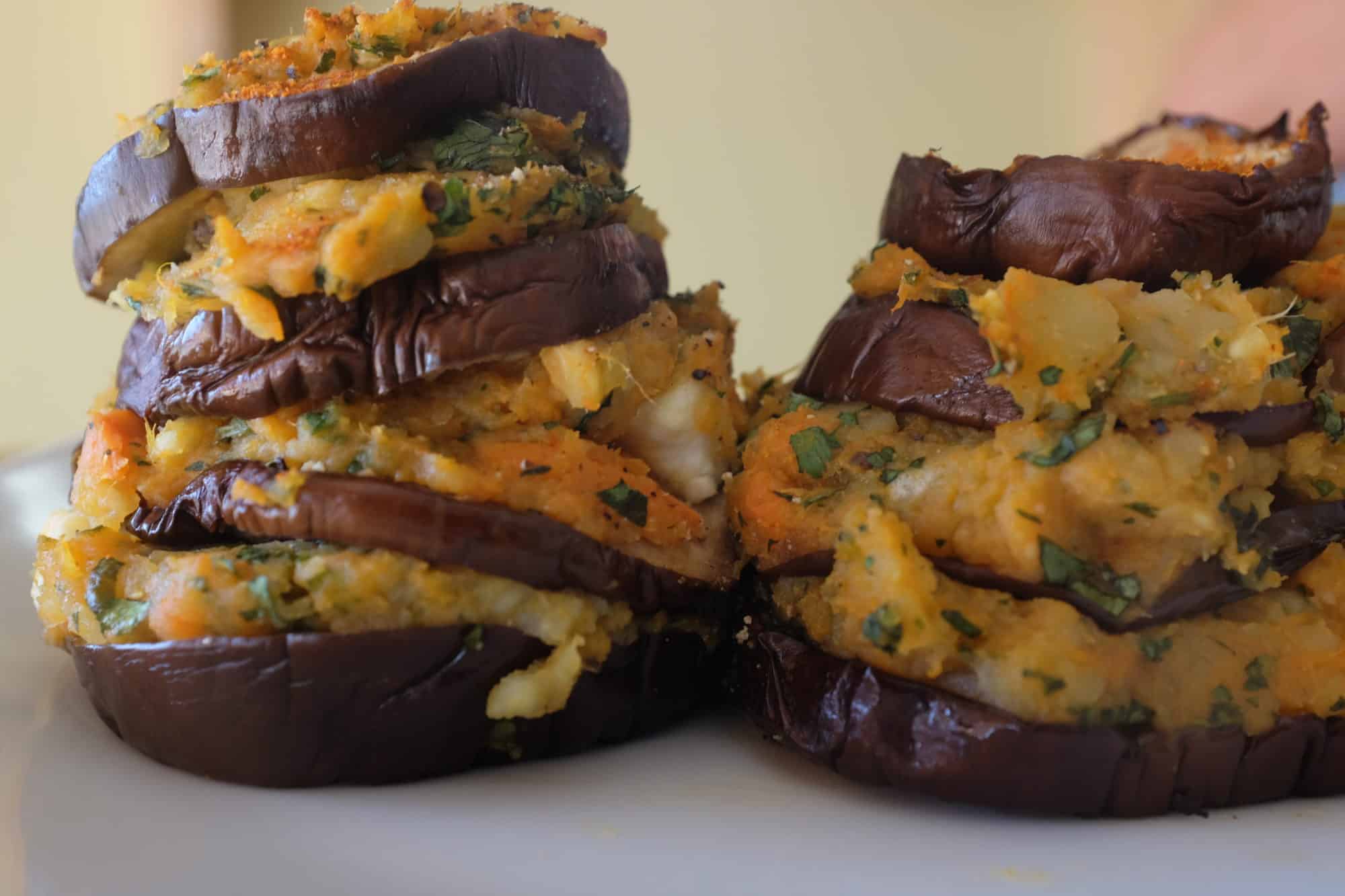 62