As you may already know, we hail from Eastern Europe. When I was growing up, much like borsch, sautéed cabbage was a staple in my family. And just as I refused to eat borsch, so too I eschewed this humble vegetable. When I learned the tricks of cooking vegetables to perfection and the secrets of using herbs, my attention eventually turned to this old staple. After a number of tries, this dish surpassed all expectations I had for this crucifer. With leeks, parsley (and if you like, a touch of tarragon), and cooked slowly to caramelize, Sautéed Cabbage is an unexpectedly decadent dish. And, as you will see from the recipe below, it's easy to make on any day.
Vegan • Grain-, Potato-, and Nut-free • Low Glycemic • Gluten-free • Nutrient-dense • Delicious
Ever wondered what to do with the seemingly boring white cabbage? Ever thought you could turn it into a decadent dish? This recipe accomplishes just that: In 50 minutes of rather passive cooking time, you will have unexpectedly tender and decadent sautéed, semi-caramelized Cabbage and Leeks. With plenty of parsley and thyme, you will be biting into a mouthful of delicate spring flavors. Best yet? This dish is easy (and inexpensive). Did you know that leeks-cabbage-thyme are a well-established triad? Jamie Oliver roasts Leeks with Thyme. The New York Times Cooking column offers a splendid recipe for a Cabbage, Potato and Leek Soup. Lastly and before you get to cooking, note that the recipe calls for fresh herbs; no substitutes please!
Prep Time15 mins
Cook Time50 mins
Total Time1 hr 5 mins
What You Need:
1
medium head of white cabbage, shredded; wilted leaves and core removed
3
handfuls of fresh parsley leaves, chopped
1
very large leek or 2 medium leeks, diced. Be sure to wash the leaves thoroughly, removing all the dirt.
freshly ground pepper to taste
5
sprigs of fresh thyme. Use only leaves.
½
tsp
fresh tarragon leaves, finely chopped (optional)
What to Do:
1
On a large 11-inch skillet, warm up organic olive oil over medium-low heat. Add leaks and thyme and stir. Then sauté on low for about 6 minutes, turning periodically to avoid burning while allowing the leeks to caramelize.
2
While the leek is cooking, knead cabbage with Kosher salt just a couple of times. Now add it to the leeks and cook for about 35 to 45 minutes, until soft. Stir periodically for uniform cooking.
3
Stir in parsley and cook for another 3 minutes, until wilted.
4
The sautéed, semi-caramelized Cabbage and Leeks are ready to enjoy!
Enjoy!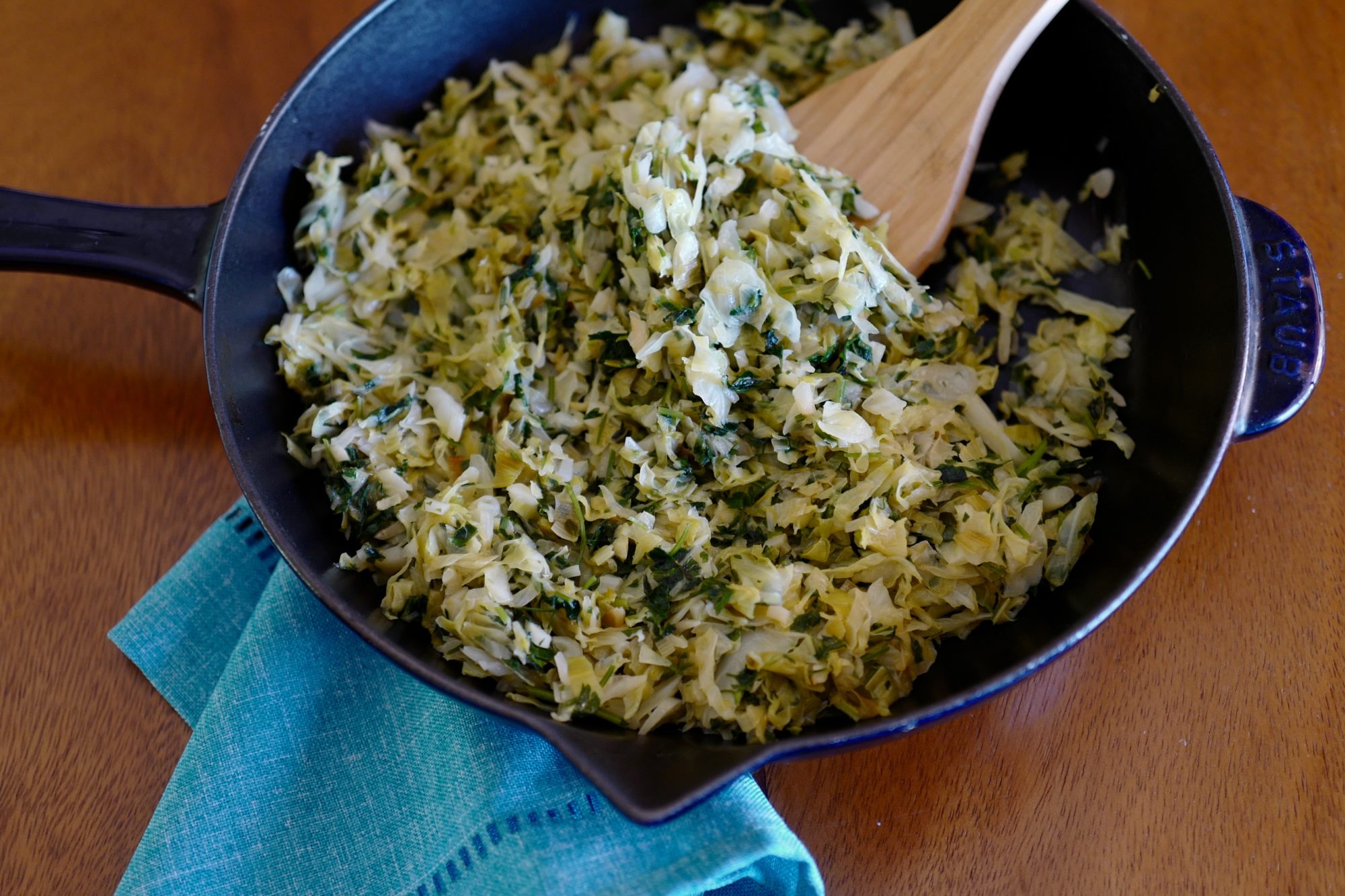 53