What would it taste like if the veggies could dance? The recipe below embodies just that experience. With a meticulously chosen combination of herbs and carefully calculated cooking times, this recipe lets the flavors of the veggies bloom. And the best part yet? All the ingredients are quick & easy to find. Nothing fancy; other than the result, of course!
Vegan • Gluten-, Grain- and Potato-free • Low Glycemic • Suitable for Diabetics • Quick and Easy •  Delicious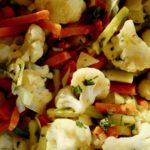 Herbed Cauliflower with Zucchinis and Carrots is a dance of elegant, silky veggies with just the right crunch. Enhanced with the herbs, our cauliflower develops a complex flavor with only a hint of sweetness. Because it's cooked on the skillet, the cauliflower remains juicy and firm, not dry or mushy. With the help of the herbs and a leek, the herbed cauliflower develops a spectacular flavor. Though cooked without any cream or butter, it feels velvety. Are you curious what inspired this dish? Only one thing: My Mom's love for the veggies and herbs. Make this recipe yours and enjoy!
Prep Time15 mins
Cook Time35 mins
Total Time50 mins
What You Need:
1
medium cauliflower divided into equal florets
1
large carrot, cut into 2-inch-long by 1/2 inch-wide strips
1
medium zucchini, cut just like the carrots
3
sprigs of fresh tarragon, stems removed and discarded, leaves diced
3
handfuls of parsley leaves. Discard the stems and dice the leaves.
2
handfuls of fresh coriander leaves. Discard the stems and dice the leaves.
1
medium leek, cut in half-rings. Use only the white and light green part.
freshly ground pepper to taste
What to Do:
1
In a deep sautéing pan with a lid, warm up 1.5 tablespoon oil over medium-low heat. Reduce heat to low, add cauliflower, cover and cook for about 22 minutes. To avoid sticking or burning, be sure to stir periodically.
2
Now uncover the cauliflower and, using a spatula, create an empty space in the center of the pan. Then pour 1 teaspoon of oil into the center of the pan and let it warm up. Next, add all of the tarragon, half the parsley and half the cilantro and gently stir the herbs. Separately from the cauliflower, sauté the herbs for about 1-2 minutes. Now combine the herbs with the cauliflower and add salt and pepper. Cover the pan with the herbed cauliflower and set it aside.
3
In the meantime, warm up 1 tablespoon in medium-size skillet. Then add carrots and sauté for about 2 minutes, stirring. Stir in zucchinis and leeks and cook for 5 minutes.
4
Next, add carrots, zucchinis and leeks to the cauliflower and combine well. Cover and sauté on low for 2 minutes. Finish the dish by folding in the remaining parsley and cilantro. Herbed cauliflower with carrots and zucchinis is ready to enjoy.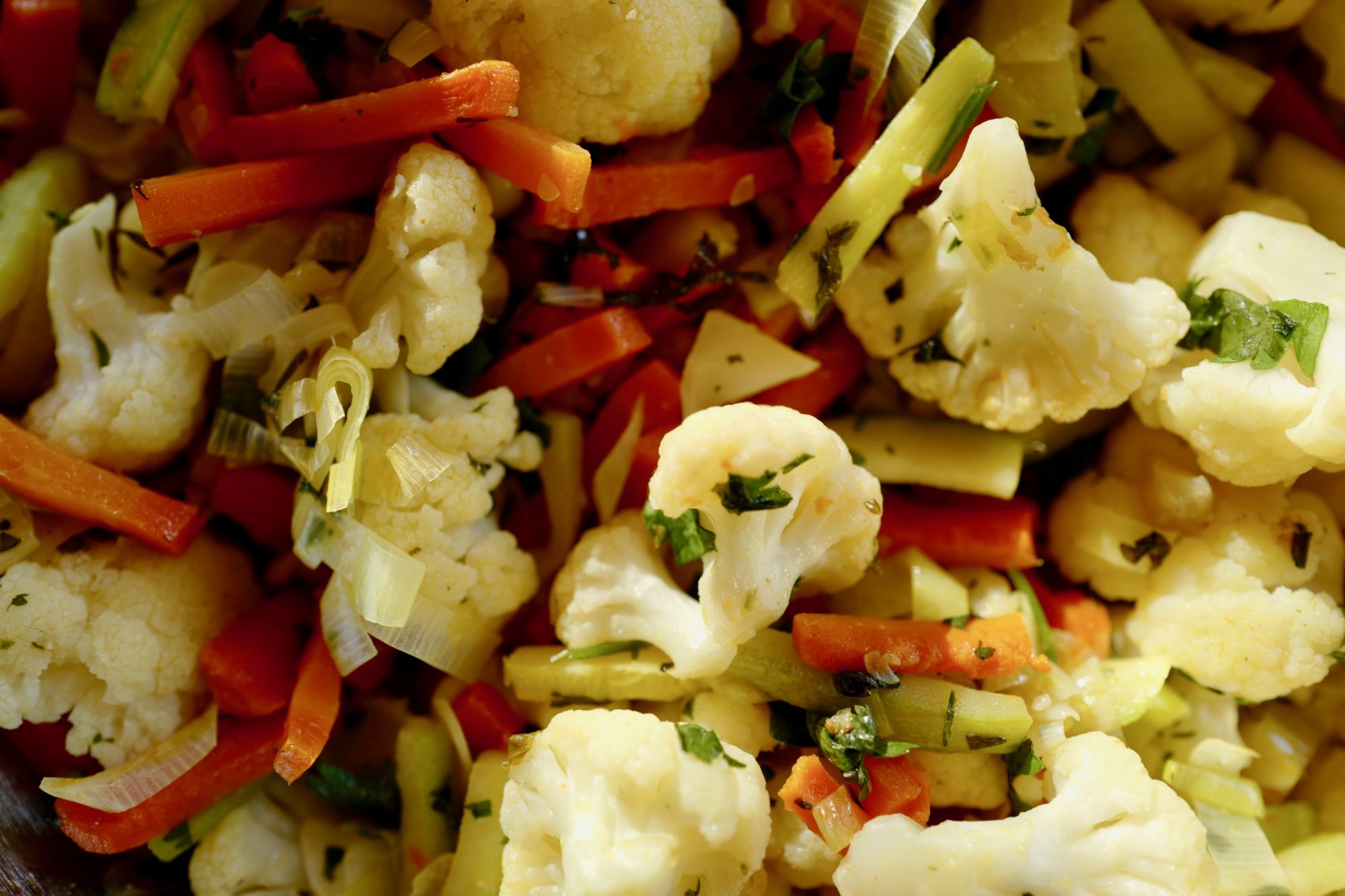 105