Introducing a unique, decadent – and healthy! – dessert for your special occasion! The Almond Orange Cake (Paleo) is made with just a few ingredients, including a handful of macadamia nuts and half a cup of honey. Yet, it's moist, with just the right density, tender and aromatic. The secret? This cake uses whole oranges (including their peel) that are first boiled and then pureed. Because it is flourless, grain-free and relatively light, the Almond Orange Cake (Paleo) is perfect for Passover, Valentine's Day, or any special occasion!
Vegetarian • Paleo • Gluten-, Grain- and Potato-free • Low Glycemic • Suitable for Diabetics •  Delicious
Did you know that pureed oranges make an utterly decadent, fool-proof, moist cake? They are the main ingredient of the Almond Orange Cake (Paleo), inspired by a festive cake from the Middle East. The combination of the pureed whole oranges (yes, whole oranges), eggs, and ground nuts creates an incredibly tender and moist cake. It's aromatic, with a perfect density, and not too sweet. The fat in the Almond Orange Cake, Paleo comes solely from healthy eggs and nuts. Ground macadamias contribute a pleasant crunch, and ground orange peel adds a sophisticated dimension to the flavor. And, in place of icing, honeyed orange slices decorate the Almond Orange Cake, Paleo, transforming it into sunlight on your table. Are you worried about the bitterness in the orange peel? Rest assured that none of it remains in the boiled oranges. The idea for this recipe comes from James Beard's Orange and Almond Cake (https://www.jamesbeard.org/recipes/orange-and-almond-cake), Claudia Roden's Orange and Almond Cake (https://cooking.nytimes.com/recipes/3251-claudia-rodens-orange-and-almond-cake), and from a German magazine Vital.
Prep Time35 mins
Cook Time2 hrs 30 mins
Total Time3 hrs 5 mins
What You Need:
3
small organic oranges, 4.5 oz each, for boiling. Alternatively, use 2 regular size organic navel oranges.
2
small organic oranges for decorating. Alternatively, use 1 regular size organic navel orange.
5
large eggs (preferably organic)
1
pinch
butter, for greasing the pan
4
unsulphured dried apricots, chopped (optional). Though they are optional, I like and highly recommend using dried apricots for an additional bite of pleasant sweetness.
What to Do:
Prepare the Oranges:
1
Place three small (or two regular size) oranges in a medium size saucepan, cover with water, and bring to boil. Reduce heat to low and simmer, with the lid tilted, for 2 hours.
2
Meanwhile, preheat oven to 375 F. Slice the remaining two oranges (or one regular size) into very thin slices. Then cut out the peel. Arrange orange slices on a lined baking pan and brush with 1 tbsp orange blossom honey. Roast for 15 minutes. Avoid browning.
3
Once the oranges are done boiling, cut them in quarters, preserving the peel. Now remove the seeds. Next, transfer all three oranges with peel of 2.5 small oranges (or 1.5 regular) to food processor. Add dried apricots and roughly puree. Make the puree coarse, not too fine.
Prepare the Batter:
4
In a medium bowl, combine almond flour, pinch of salt and baking soda. Using a fork, fluff and mix. Now add ground macadamias and combine.
5
In a large bowl, preferably using a hand-held blender, whisk the eggs until thick and very foamy. Gradually fold in the almond flour mixture and incorporate. Next, fold in honey and the orange puree and mix well.
Assemble and Bake:
6
Preheat oven to 375 F. To prevent the Almond Orange Cake Paleo from sticking, cut a 9-inch circle from parchment paper and grease both the 9-inch cake pan and the circle with just a pinch of butter. Arrange the roasted orange slices on the bottom of the pan. Pour the batter over the orange slices. Bake for 30-35 minutes, or until the toothpick inserted in the cake is clear. Carefully invert the cake before serving.
Enjoy!
7
Let the Almond Orange Cake Paleo cool before serving.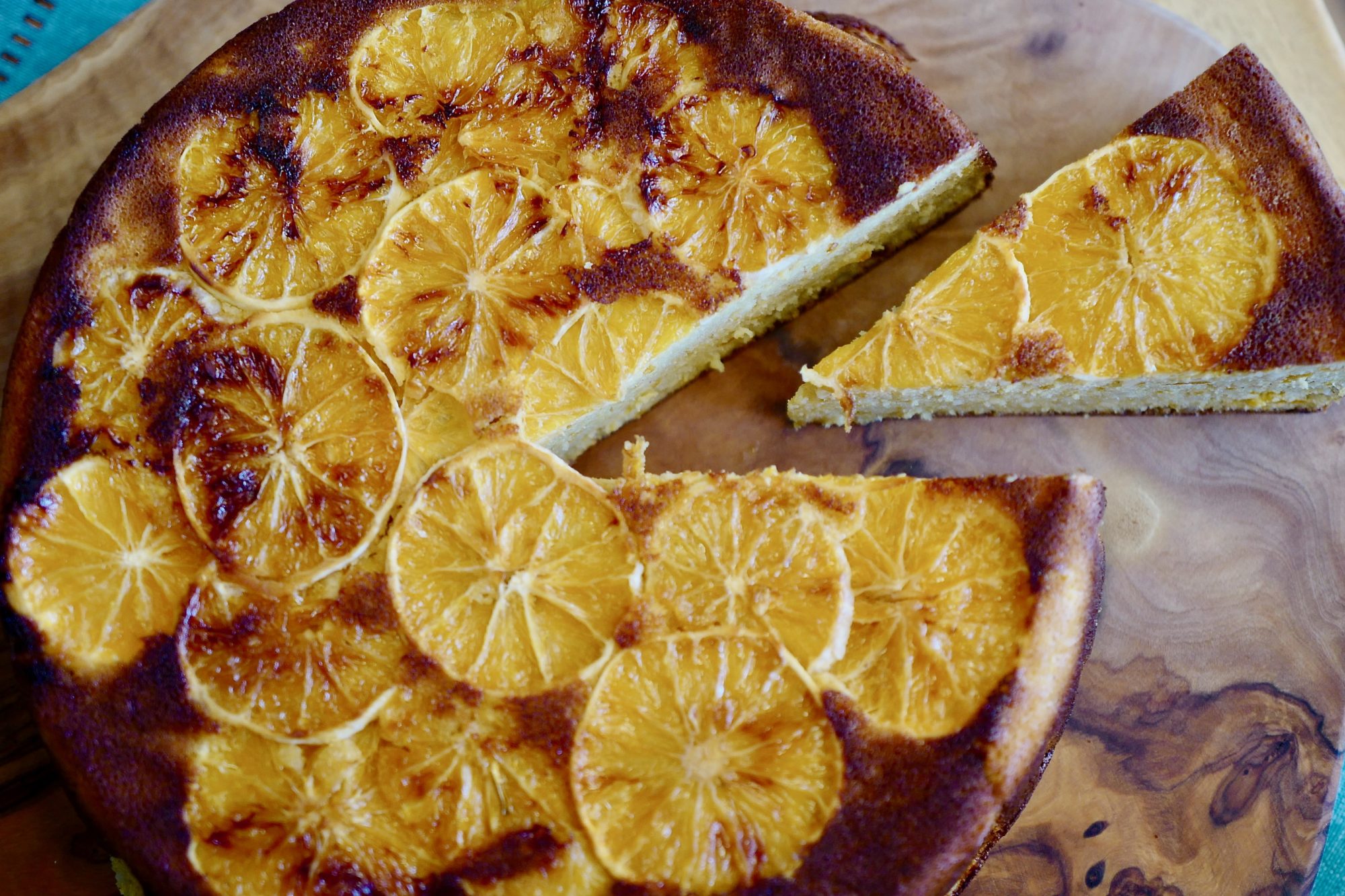 103