Plant-based • Vegan • Grain-free, paleo, nut-free • Low carb • Low glycemic • Nutrient-dense • Delicious
When I was growing up, Eggplant Caviar was our summer staple. We made it with sautéed or fried tomatoes and onion, raw tomatoes and onion, plenty of garlic, or mayonnaise. This version – with roasted tomatoes and herbs – is very tasty and light. Now, why French? After all, we hail from Moldova. Even though we did not know this dish as French, we call it now "Eggplant Caviar (French)" to distinguish from Baba Ghanoush. Baba Ghanoush is a heavier and smoother eggplant dish and more likely to be used as a dip. By contrast, our Eggplant Caviar (French style) is light and chunky, just like a salad. This recipe boils down to just a few steps: (1) roasting the eggplant, (2) letting the eggplant drain, (3) roasting the tomatoes, (4) mashing the eggplant and mixing in the tomatoes. Here are our tips. First, the eggplants for this recipe should be fresh (firm, without shriveling, and with crisp stems), medium in size, and oval in shape (tear-like or round eggplants will not cook uniformly). Second, the traditional method is to grill the eggplant on a gas or charcoal grill. That way you get a nice smoky flavor. But you can certainly roast in the oven instead. Regardless of how you cook your eggplants, though, you must cook them until they are not only soft, but also mushy inside. When the eggplant is ready, its skin is brown (if roasting) or dark (if grilling) and collapses, and its flesh is mushy when pressed with a fork. Finally, this salad serves 4 as a very generous side to any dish.
Prep Time1 hr 30 mins
Cook Time1 hr 5 mins
Total Time2 hrs 35 mins
What You Need for the Eggplant Caviar:
3
medium eggplants (or 6 Italian eggplants), poked all over with a fork
2
tbsp
avocado oil is preferred, because of its higher smoking point.
2
tsp
lemon juice, freshly squeezed
2
tsp
Kosher salt for salting and draining (these steps are optional, but recommended)
1
lb
cherry tomatoes, washed and dried
2
tsp
fresh thyme leaves (from at least 5 sprigs)
2
garlic cloves (more, if desired), pressed
1
tsp
Maldon salt for the salad. You can use more or less, but, again, here's a secret: eggplant loves salt (and garlic and oil).
2
tbsp
chives fresh chives, chopped, OR fresh oregano leaves, chopped
2
tbsp
fresh cilantro, chopped (more, if desired. Eggplant loves cilantro.)
How to Make the Eggplant Caviar (French):
Roast or Grill the Eggplants:
1
If grilling the eggplants, preheat the grill. Place the whole eggplants on a grate and grill on medium heat, turning every 5 minutes to make sure they cook through uniformly. Grill for about 30-35 minutes, until the skins become dark and begin to collapse, and the flesh is mushy when pressed with tongs or fork. Remove the eggplants from the grill and let cool for about 10 min.
2
If roasting the eggplants in the oven, preheat the oven to 500 F. Line a rimmed baking sheet with heavy duty aluminum foil. Using a sharp paring knife, make 2-3 lengthwise, shallow cuts in the eggplants in a few places (cut the skin, barely cutting the flesh). Arrange the eggplants on the lined rimmed baking sheet and roast, turning every 20 minutes, so all sides are uniformly cooked through. Roast for 50-60 minutes, until the skins turn brown, and the flesh is mushy when pressed with fork. Even if the eggplants break, you should still keep cooking until they are ready. Remove the eggplants from the oven and let cool for about 10 min.
Drain:
3
Set colander over sink or bowl. When the eggplants cool down, peel their skins off using your hands and, if needed, a paring knife. Be sure to leave the stems on (it's easier to mash the flesh with the stem on). Transfer the peeled eggplants (stems on) to the colander, sprinkle them with two teaspoons of Kosher salt, place a weight on top of the eggplants (e.g., one-quart bottle or bowl filled up with water), and let them drain for 30 minutes.
Roast the Tomatoes:
4
Preheat oven to 325 F. Line a baking sheet with unbleached parchment paper. Toss the tomatoes with up to 2 tbsp avocado oil, thyme, and pressed garlic. Place the tomatoes on the baking sheet and roast for 35 minutes, until shriveled. Turn the tomatoes half-way to ensure uniform cooking and prevent burning.
Mash the Eggplant Flesh:
5
While the tomatoes are roasting, using a fork shake off the salt of each eggplant and gently press them to drain. On a shallow plate, working with one eggplant at a time, coarsely mash the eggplant flesh using a fork (the flesh should be chunky). Do not use food processor for the Eggplant Caviar (chunkiness is the goal). Transfer the mashed eggplants to a large salad bowl. Add chives and cilantro (or oregano and cilantro), 3 tbsp extra virgin olive oil, 2 tsp lemon juice, pepper (if desired), and 1 tsp Maldon salt (if desired). Mix the salad.
Mix the Eggplant Caviar:
6
Once the tomatoes are ready, let cool for 10 minutes (so that they don't wilt the fresh herbs in the salad). Gently mix the tomatoes with the Eggplant Caviar, French - style (remember!).
Enjoy - for Dinner Today or Breakfast Tomorrow!
7
Unlike its relative Baba Ghanoush, our Eggplant Caviar keeps well and can be enjoyed for lunch, dinner or even breakfast – as a healthy spread on your toast! Take a look at one of our favorite breakfasts - Eggplant Caviar on a toast served next to soft boiled eggs: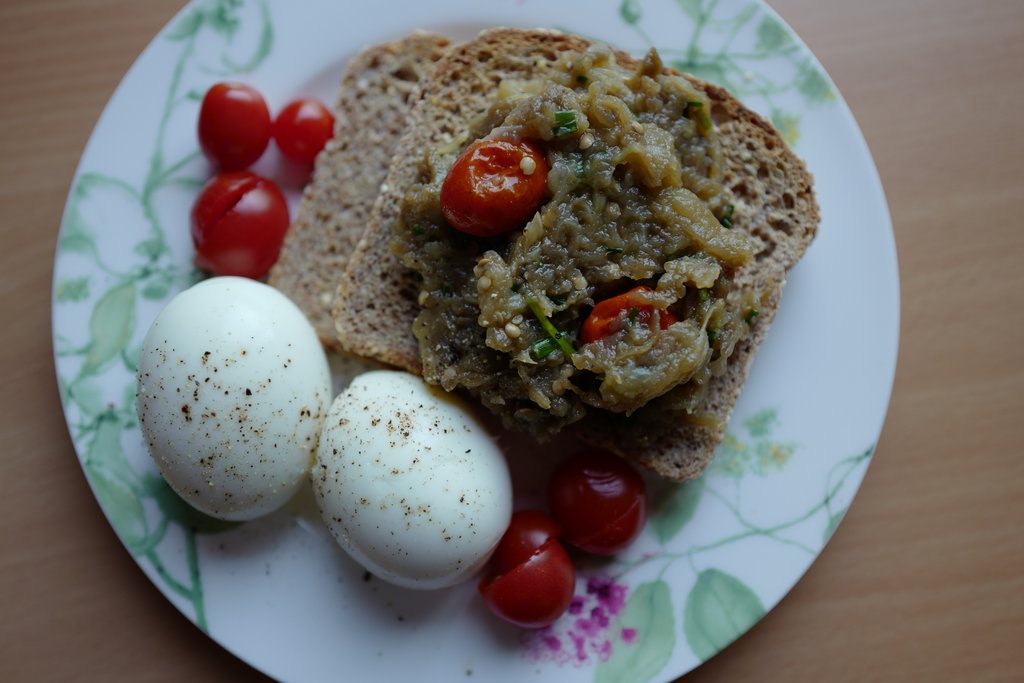 46