Ever wondered how to cook Jerusalem artichokes a/k/a sunchokes? Our Roasted Jerusalem artichokes with thyme hold the perfect – and easy – answer. They will remind you the taste of water chestnuts. Because we roast Jerusalem artichokes at a high temperature, they turn out slightly nutty and juicy on the inside and crisp on the outside. Thyme, a particularly versatile herb, adds a pleasant dimension to the slightly nutty taste of sunchokes. This irresistible, unique side fits most diets, including gluten-free, grain-free, diabetic, low glycemic, and vegan. Ready to try Roasted Jerusalem artichokes with thyme?
Vegan • Gluten-, Grain- and Potato-free • Low Glycemic • Suitable for Diabetics • Quick and Easy •  Delicious
Roasted Jerusalem Artichokes (aka sunchokes) are a fantastic, healthy, easy side dish. They have a mild creamy, nutty flavor similar to water chestnuts. Did you know that Roasted Jerusalem artichokes are nutritional powerhouses? These quaint root veggies contain iron, potassium, phosphorus, magnesium and water-soluble vitamins. See SFGATE, Health Benefits of Jerusalem Artichokes. Sunchokes are also high in inulin, an indigestible starchy substance that helps manage weight and prevent diabetes. See WebMD, Inulin.
Prep Time10 mins
Cook Time35 mins
Total Time45 mins
What You Need:
1
lb
Jerusalem artichokes, washed and scrubbed to remove any dirt
1
tbsp
fresh thyme leaves, stems discarded
What to Do:
1
Preheat oven to 400F (204 C). Line a baking sheet with parchment paper. Wash and scrub Jerusalem artichokes (aka sunchokes). Cut the bigger sunchokes in thirds and the smaller sunchokes in halves.
2
In a large bowl, mix the sunchokes with thyme, oil, pepper (or grains of paradise ) and salt.
3
Transfer to the baking sheet and roast at 400F (204 C) for 35 to 40 minutes. To ensure uniform cooking, flip the sunchokes after the first 20 minutes of roasting. Serve the Roasted Jerusalem Artichokes warm. It's a nourishing, low carb side to a light meal.
Enjoy!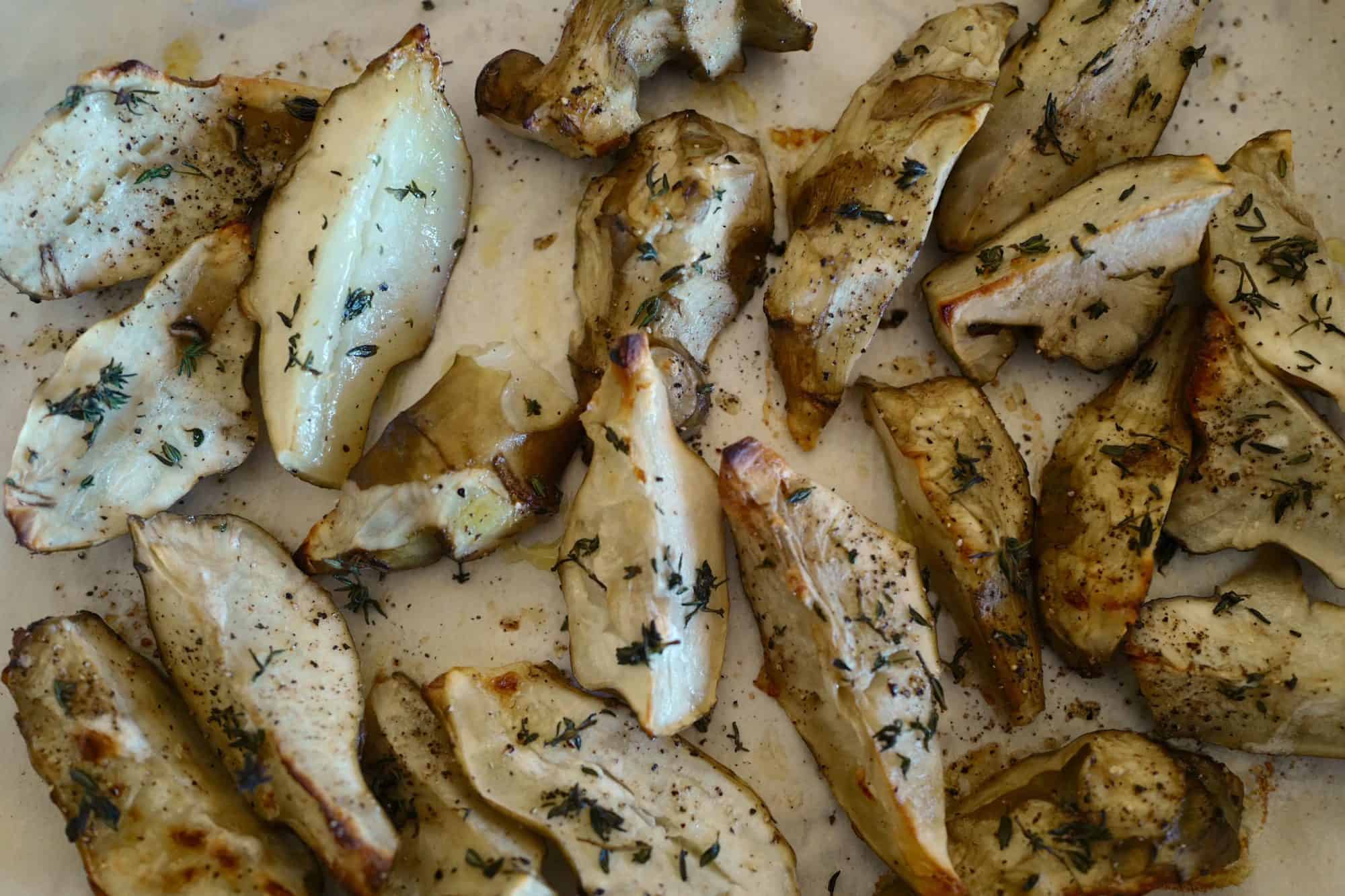 45