Vegetarian • Gluten, grain and potato free • Low carb • Low glycemic • Quick and easy • Delicious
I love mushrooms. When I was a child, my grandma took me mushroom-picking in the forest. She pickled most of the small mushrooms with cloves and bay leaves and cooked the bigger ones. And no one had ever cooked mushrooms in sour cream better than my Mom! After spending the entire morning in the forest, nothing tasted better than her fresh mushrooms sautéed with sour cream! In Oyster Mushrooms, Tarragon, and Sour Cream, I use my Mom's time-tested technique for cooking mushrooms. It results in oyster mushrooms so tender that they melt in your mouth. Tarragon complements that tenderness wonderfully. For this recipe, please use only oyster mushrooms. Do not cook chanterelle or shiitake mushrooms using this recipe. Please also do not replace sour cream with yogurt (e.g., Greek or Icelandic), because yogurt curls up on the hot pan and doesn't taste good. (We've tried.) Finally, note that this dish is finished under the broiler (we'd used the broiler function in our Wolf Gourmet Countertop Oven). This step helps settle the flavor and eliminate any excess moisture from sour cream. Finally, this dish (Oyster Mushrooms, Tarragon and Sour Cream) yields 3 servings as a small rich side.
Prep Time14 mins
Cook Time15 mins
Total Time29 mins
What You Need:
1
lb
fresh organic Oyster mushrooms with short stems and substantial caps, stems discarded, large caps sliced lengthwise or crosswise in 2 stripes. If using small mushrooms, do not slice the caps. Note: This recipe calls for oyster mushrooms, as opposed to King Oyster mushrooms.
4
oz
shallot (that's 1 big shallot or 2 small), thinly diced
3
sprigs of tarragon, stems discarded, leaves finely chopped
2 ½
tbsp
pasture raised organic sour cream
1
handful Italian parsley leaves, stems discarded, leaves finely chopped
1
tbsp
avocado oil or extra virgin olive oil for sauteeing the shallot
What to Do:
Sauté the Mushrooms:
1
On medium-low heat, in an oven-proof 10-inch pan or wok, warm up 1 to 2 tablespoons avocado oil or organic olive oil. First, add mushrooms, black peppercorns, and bay leaf and sauté, uncovered and stirring, until the mushrooms release their juices, about 2 to 3 minutes. Next, increase heat to medium-high and cook for another 2 minutes, stirring, until the juices have evaporated. Do not sauté oyster mushrooms for more than 5 minutes.
Sauté the Shallot and Garlic:
2
Remove oyster mushrooms from the pan or wok and set aside in a medium bowl. Add up to 1 tablespoon avocado oil or organic olive oil to the same pan and slightly warm up the oil on medium heat. (Because the pan is still hot, the oil will warm up quickly.) Next, add shallot and garlic and sauté, uncovered, stirring frequently, until the shallots have just begun to brown, about 1 to 2 minutes. Turn off the heat.
Sauté and Broil:
3
Place the rack in the middle position and set the broiler on high. (We are using the broiler function in our countertop convection oven.)
4
While the broiler is preheating, return the mushrooms to the pan (where the shallot and garlic are now). Next, add salt, stir in tarragon, parsley, and sour cream. Cook oyster mushrooms, tarragon, parsley and sour cream on medium-high, stirring, until the liquid of the sour cream has evaporated, about 4 minutes.
5
Finally, discard the bay leaf and place the mushrooms on the middle rack of the oven under the broiler. Broil for 4-5 minutes. Serve Oyster Mushrooms, Tarragon and Sour Cream warm.
Enjoy!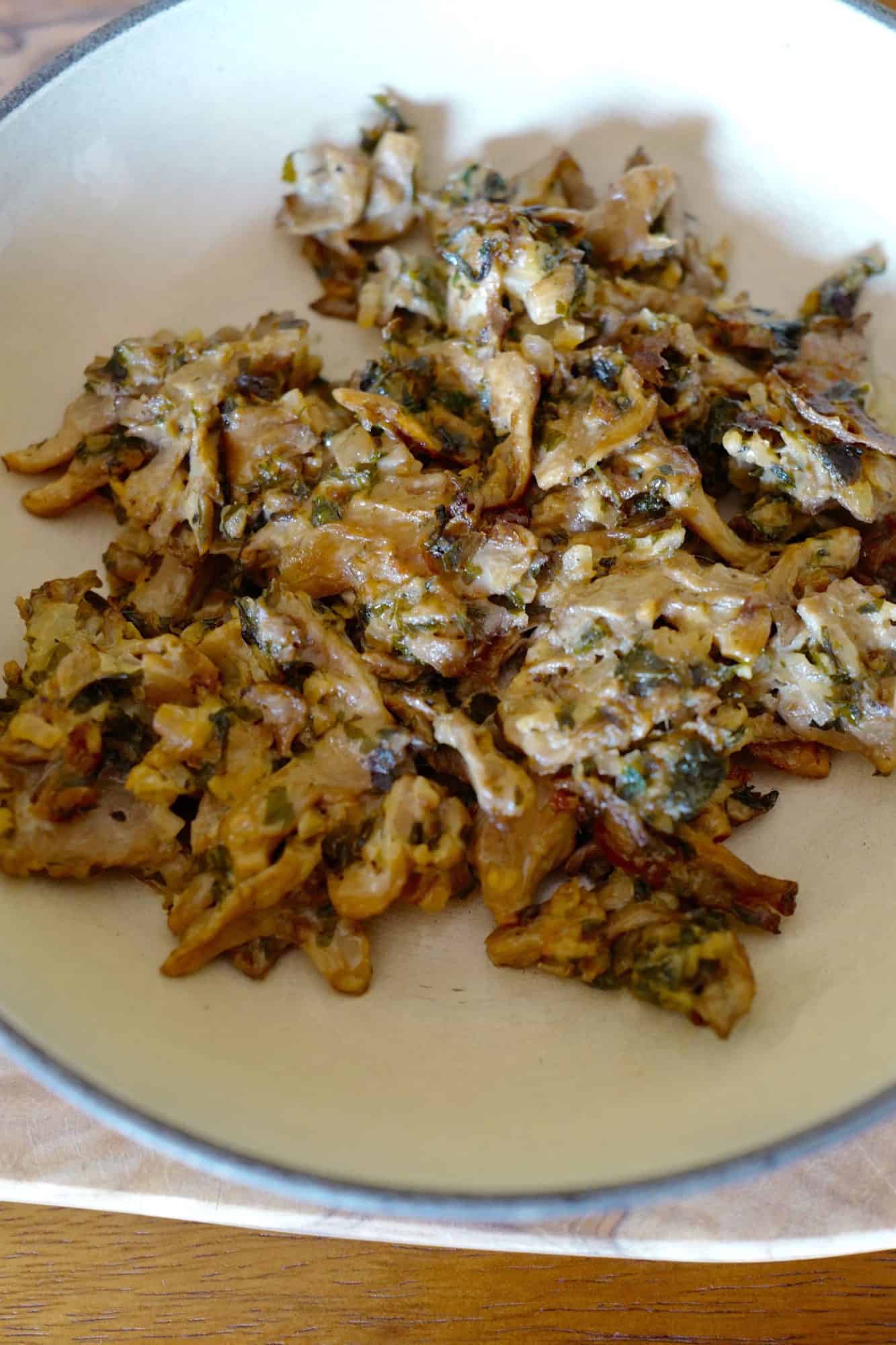 49