Vegan • Gluten-, grain- and potato-free • Low carb • Low glycemic • Quick and easy • Nutrient-dense • Nut-free • Delicious
Our Roasted Brussel Sprouts with Spicy Carrots are soft inside and crispy on the outside. Thanks to the spices and the lime juice, they are zesty and not bitter. We achieve softness by roasting them covered for an extended period of time. We make the outer leaves crispy by finishing our brussel sprouts under broiler. After years of roasting this wonderful vegetable, we've noticed that lime juice - especially in combination with mint and chives - substantially softens its bitterness and brightens up its color. The idea to add carrots came from Food & Wine's America's Greatest New Cooks 18 (2012). Spices, herbs, cooking methods, and even vegetable cutting methods are entirely ours.
Prep Time10 mins
Cook Time30 mins
Total Time40 mins
What You Need:
1
lb
Brussel sprouts, small- to medium-sized. Halve the medium-sized ones and leave the smallest ones whole. Discard the stems and wilted leaves.
1
medium carrot, cut into 0.2-inch wide and 2.5-inch long sticks. (Do not shred or julienne your carrot, because the dish won't taste as well!)
⅔
tsp
ground chili pepper (red serrano works)
0.30
oz
fresh mint leaves (about 4 mint stems will yield that amount), finely chopped
0.30
oz
fresh chives or 1 scallion spear, very thinly sliced
freshly squeezed lime juice from 3 small limes or 2 medium limes. (You'll have 10 to 11 tbsp.)
⅓
bunch of cilantro, leaves roughly chopped, thick stems discarded
What to Do:
Roast:
1
Preheat oven to 400 F (200 C). Meanwhile, in a medium bowl, toss the brussel sprouts with the diced shallot, 2 tbsp avocado oil, and salt to taste. Now nestle the vegetables on a baking pan. Tightly cover the pan with aluminum foil, crimping the foil around the edges.
2
Next, roast the brussel sprouts for 35 minutes, or until the vegetables are tender when pricked with a fork. For uniform cooking, flip the vegetables after the first 20 minutes of roasting and cover again.
Make the Lime-Herb Dressing:
3
Meanwhile, in a small bowl combine the lime juice with chives and mint. Set aside.
Broil:
4
Next, arrange the rack on the highest position and set the broiler on high. (We use the broiler function in countertop gourmet convection oven.) Then place the pan with the roasted Brussel sprouts under the broiler and broil for about 3 to 4 minutes (until outer leaves are crispy but not burned).
Sauté the Carrots:
5
When done, transfer the roasted vegetables to a large bowl, add the lime-herb dressing and mix together well.
6
In a small pan, heat 1 tbsp avocado oil over medium heat. Once the oil is hot (but not bubbling), add ground coriander, cayenne pepper, and ground chili pepper. Then toast the spices until fragrant, for about 1 minute.
7
Next, add the carrots and toss them with the toasted spices. Because the carrots should remain somewhat crunchy, cook on low heat for about 4 minutes.
Finish:
8
Scrape the spices well and distribute over the carrots. Then add the carrots to the bowl with roasted Brussel Sprouts. Finally, garnish with cilantro and serve.
Enjoy!
9
Do you want to see the recipe that inspired the addition of the carrots? You can find it inthis book. (Once again, the cooking methods, spices, herbs, and even the way we have incorporated the carrots are entirely ours.)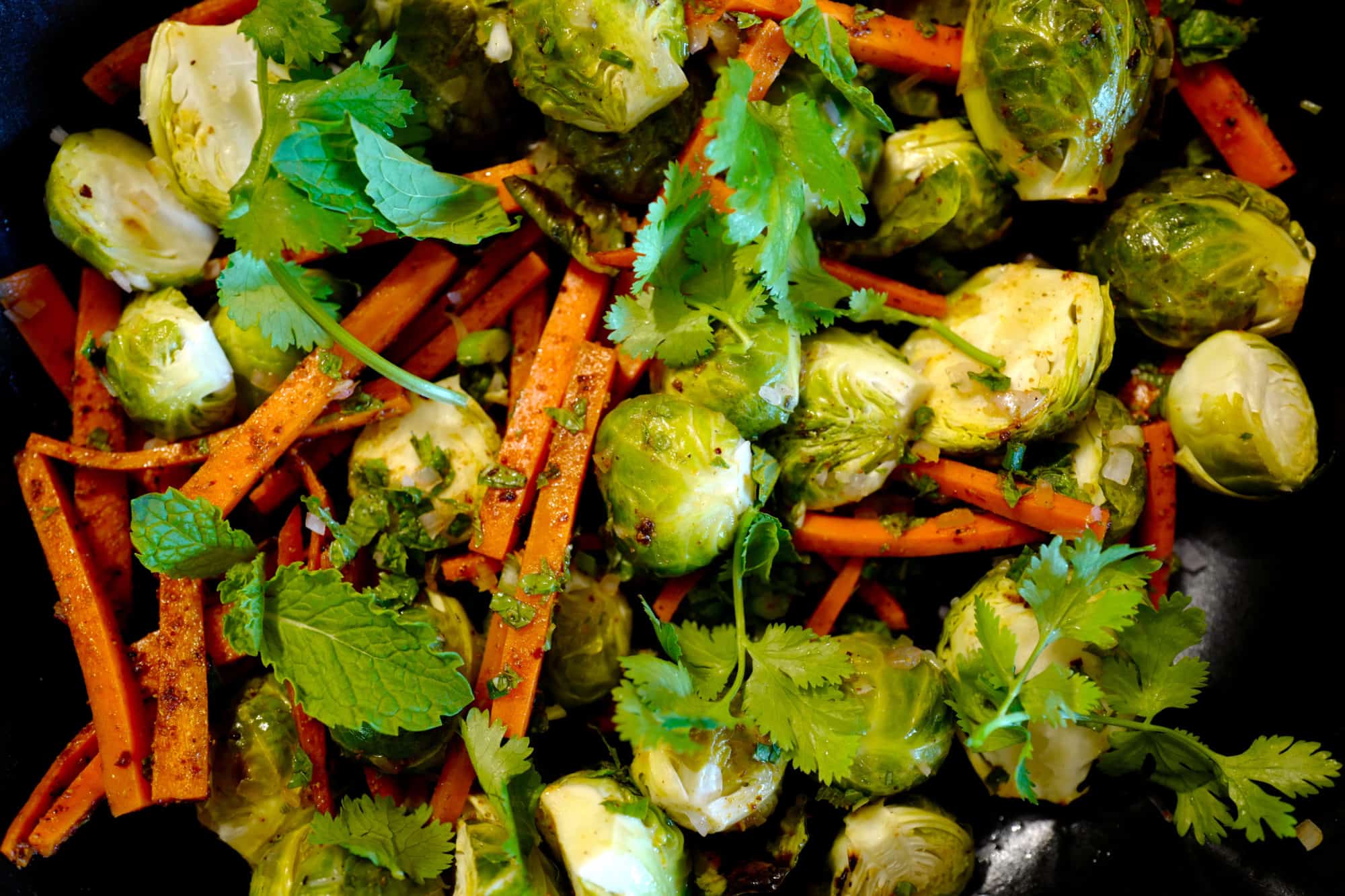 64