Vegan • Gluten-, Grain- and Potato-free • Low Glycemic • Suitable for Diabetics • Quick and Easy •  Delicious
This Paleo No Bake Dessert - the dried plums (aka prunes) stuffed with walnuts and served with whipped cream and chocolate - originates from my native Moldova. You can find the original on this site (in Romanian). No matter what delectable desserts were on the menu, stuffed prunes with cream and shaved chocolate were the only dessert I'd ever order in a Moldovan restaurant. I learned how to make this dessert from my aunt and over the years perfected it. First, to make it a really healthy Paleo no bake dessert, I omit the sugar used in the original version. To add complexity to the taste of the dried plums, I presoak them in a little cognac. Finally, to achieve some sweetness, I melt high quality semi-bitter chocolate over the dried plums. The best part: this sugar-free, super-easy, paleo no bake dessert is packed with nutrients from the superfoods like prunes, walnuts, and dark chocolate! Make it and you're guaranteed to love it!
What You Need:
8
oz
dried plums, or 20 pieces, preferably plump and moist
What to Do:
1
Arrange dried plums side-by-side in a shallow container. Pour cognac over them and cover. Soak for a few hours, preferably overnight.
2
Stuff prunes with walnut halves. Transfer the stuffed plums onto a plate lined with parchment paper.
3
Melt the chocolate in a lightly greased pan or in the oven. Distribute over the dried plums and refrigerate.
4
Leave the cream (heavy whipping or coconut) in the fridge until you are ready to whip it. (Just as the whipping cream, coconut cream must remain in the fridge overnight.) Prior to whipping, refrigerate or freeze the mixing bowl (or the blender jar) and beaters for at least 20 minutes. See Martha Stewart, whipped cream tips. Pour the cream into the mixing bowl or blender jar. (If working with the coconut cream, use only the solids.) For the first minute, beat the cream on medium-low speed until foamy. Then increase the speed to high and whip until the soft peaks form, for about 3 minutes for heavy whipping cream, and for about 7 to 8 minutes for coconut cream. See Cook's Illustrated Cookbook, or all recipes coconut cream vegan whipped cream . Note: Do not overwhip the heavy whipping cream, because you'll end up with butter.
5
Arrange the cream over the dried plums. Shave chocolate over the whipped cream. You are ready to serve Paleo No Bake Dried Plums!
Enjoy!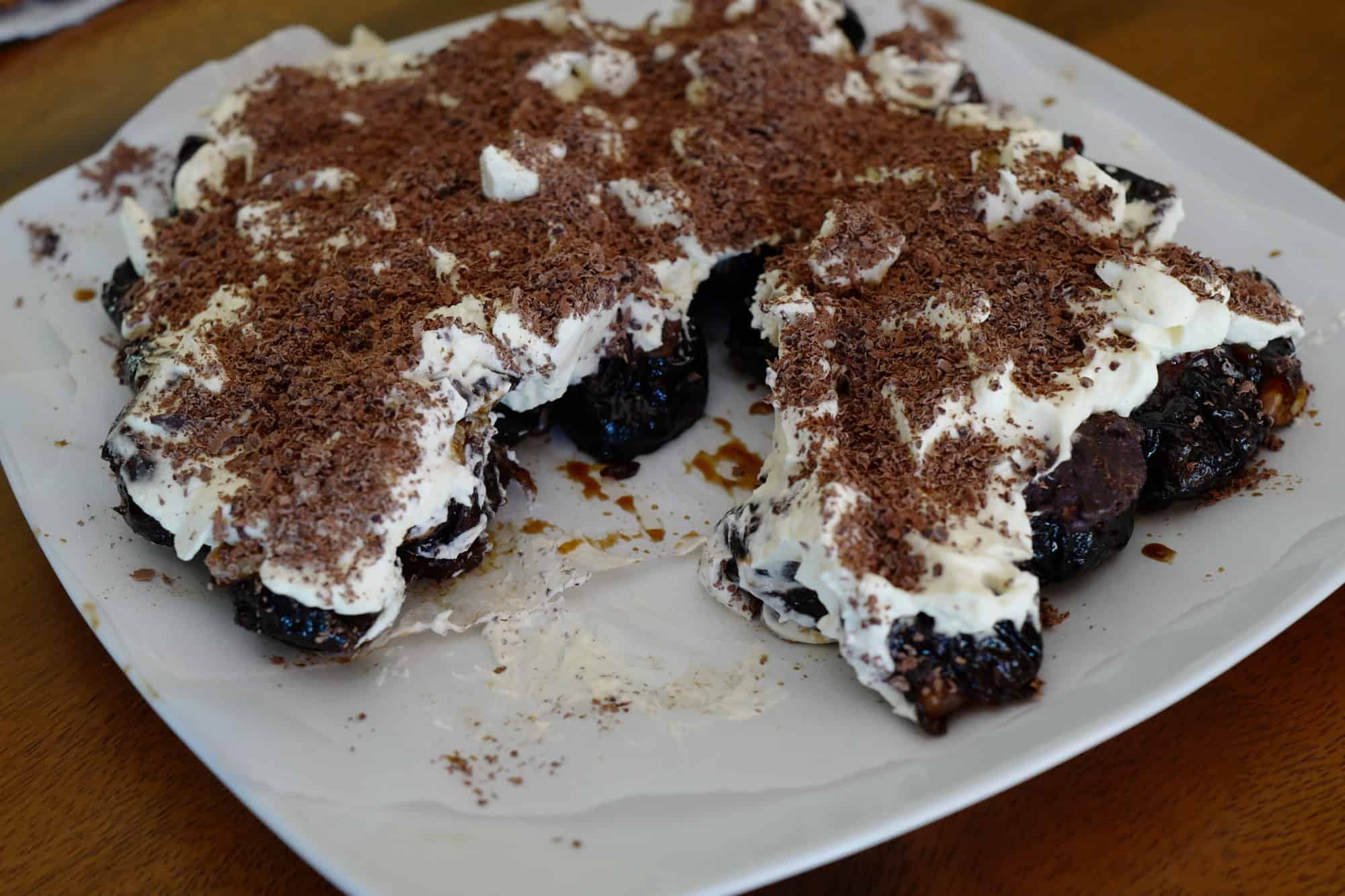 32